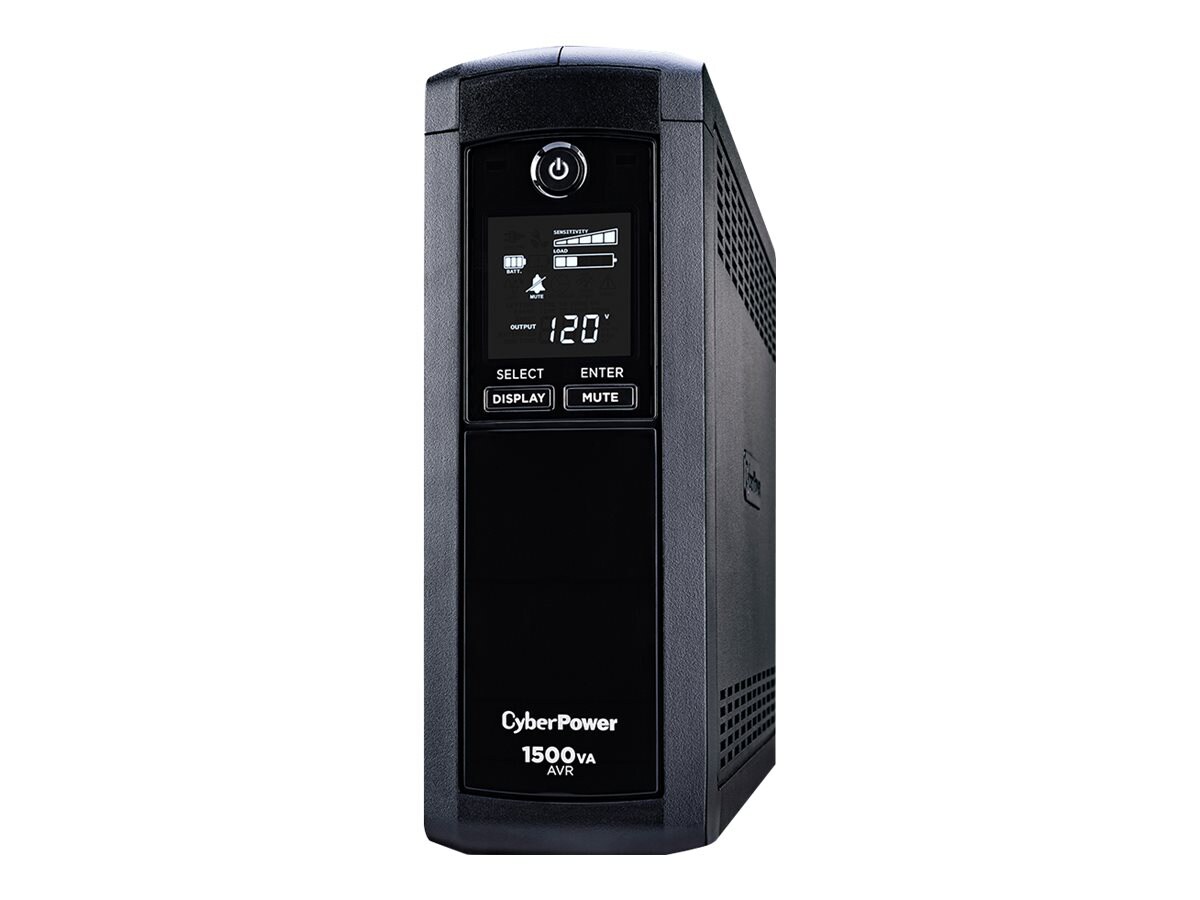 Cyber Power CP1500AVRLCD
N° de pièce fab. : CP1500AVRLCD | N° de pièce CDW : 1738035 | UNSPSC : 26111701
Aperçu du produit
Aucune description marketing n'est disponible.
CyberPower CP1500AVRLCD is rated4.74 out of5 by19.
Rated 5 out of 5
by
alejandrocartaya
from
null
CyberPower UPS systems have always treated me right. I've used them at home and in the office with great success since 2010.
Date published: 2015-09-11T00:00:00-04:00
Rated 5 out of 5
by
brent
from
Caused a catastrophic PC failure, company did NOT honor Connected Equipment Guarantee
After a couple months of light usage, the unit failed and resulted in the loss of my Power Supply, Motherboard, CPU and Gaming Monitor. All units connected directly to UPS were negatively affected. Furthermore, Cyberpower claims took months of jumping through hoops to tell me that they were NOT going to honor their protection guarantee.Here is a brief of my experience:My home gaming calibur PC & monitor were plugged into a Cyberpower UPS (CP1500AVRLCD). After a few months of usage, one morning the system all shutdown unexpectedly. The UPS gave an error tone, and showed 0v was passing through the unit. I powered down the unit and restarted. The unit seemed to be working again, however the PC would NOT power on. I immediately called Cyberpower tech support, and was told to file for a "Connected Equipment Warranty" given the circumstances. More details below. My response from Cyberpower, is that no evidence for surge was found and the claim has been denied. Other items in the room, including lights on the same outlet, though NOT connected to the UPS and other computer equipment also not on this UPS unit did not show ANY signs of a surge or flicker. Within a few seconds of the loss of power to the PC, the UPS began alarming with an error tone and the unit itself indicated that 0 volts were passing through, while 120v is typical, though I noted that the battery indicator showed full. I saw no other indication of a surge in the home, and believe that the UPS unit itself failed and directly damaged the equipment that was connected to it. Furthermore, it is not possible that the power supply or other PC component caused the failure, as the UPS generated an error code and both items (PC & Monitor) showed damage, indicating the common denominator is the UPS. Equipment that has been damaged includes the Power Supply, Motherboard and CPU as well as the LCD monitor. I haven't been able to fully test the RAM, hard drives or Video card, but initially they and the remaining components appear functional. In my appeals to Cyberpower I have been clear, yet they are claiming the unit showed no signs of a surge and therefore they will not honor the Connected Equipment Guarantee. There may not have been a surge that entered the unit, however the unit clearly passed a damaging signal to my PC, OR power was abruptly cut which then damaged the sensitive PC components. This is the very reason a UPS is needed, so that power outages do not damage PC equipment. Cyberpower has replaced the offending unit, with what appears to be a newer model > different housing, though similar specifications.The response from Cyberpwer has been that some other component failed, and resulted in the selective damage I'm seeing. But how can a power supply remote blow up a monitor, without affecting the PCIe lanes of MB or the Graphics card?? There is no explanation, except that Cyberpower will do anything to keep your money once they have it! Buyer beware
Date published: 2017-04-04T00:00:00-04:00
Rated 5 out of 5
by
racerx
from
This product has great features
Excellent value for the dollar. Nice features for the size and capacity.
Date published: 2017-05-24T00:00:00-04:00
Rated 5 out of 5
by
JKool
from
null
I actually one one at home and at work.Very solid unit and keeps whatever you plug into it on for a very very long time.The interface is easy and keeps good track of whats going on when there is power issues.
Date published: 2015-09-11T00:00:00-04:00
Rated 5 out of 5
by
Yorkshire Wolf
from
null
When Belkin decided to get out of the UPS business we found ourselves in need of a new supplier. We tried out a few Cyberpower models, and this was certainly one of our favorites. I have not yet had to replace the batteries in one of these units, but have done so in the smaller 825va and they were very easy to do, so I expect no less from these.Cyberpower now provide all our replacement workstation UPSs.Great price, Great reliability, what more can you ask for?
Date published: 2015-09-11T00:00:00-04:00
Rated 5 out of 5
by
IT-Peon
from
null
I have one of these for my personal computer, I love it, and I am seriously thinking about getting a few more for other devices
Date published: 2015-09-11T00:00:00-04:00
Rated 5 out of 5
by
carlosantuna
from
null
This has been keeping alive a modem server for a couple of years now. It survived to major power failures. I have replaced the internal batteries myself and it keeps on ticking.
Date published: 2015-09-11T00:00:00-04:00
Rated 5 out of 5
by
Vihx
from
null
We use those battery for our designer PC and they have been flawless. Great product no battery used needed replacement.
Date published: 2015-09-11T00:00:00-04:00
Rated 5 out of 5
by
mikeellis6
from
Well designed UPS
Purchased the CyberPower CP1500AVRLCD UPS Battery Backup for a client, the appliance has been good, a good purchase and I'd recommend it for other clients as well!
Date published: 2018-09-01T00:00:00-04:00
Rated 5 out of 5
by
RoguePacket
from
null
Great small-ish UPS at a reasonable price point. Have found these handy to supplement NAS devices placed in non-server room areas. *Big* LCD screen makes it handy to assuage power users to get an immediate feeling for the power situation. Devices been deployed for a a few years, and haven't had to re-evaluate them...they just work.
Date published: 2015-09-11T00:00:00-04:00
Rated 5 out of 5
by
S_F
from
null
Recently came into possession of one of these; a fine unit we've used for overnight testing on our workbench (program test runs tend to not go well when shutdown unexpectedly). Would recommend for daily needs.
Date published: 2015-09-11T00:00:00-04:00
Rated 5 out of 5
by
Mark Adcock
from
null
Have several of this unit around the office and have found them to be solid reliable units. Currently providing UPS capacity for several desktops and also one Tower form factor server and a Synology disk array. Have yet to have a problem with any of them after almost 2 years of usage. Batteries are still holding up properly in all of the units and saved me a trip out to the office to restart the server when our power went out two days ago.
Date published: 2015-09-11T00:00:00-04:00
Rated 5 out of 5
by
Ian_Z
from
null
This is used for my desktop. So far it has always performed as intended and designed. Power here is very bad and fluctuates constantly, so having a dependable UPS is a must. This UPS has stood up to many power failures.
Date published: 2015-09-11T00:00:00-04:00
Rated 5 out of 5
by
Scott1408
from
null
This unit has more features than I expected, the software is top notch as well. I use this unit for my test environment at my house, the features are comparable to other manufactures. It is nice to be able to run the business software without having to pay an extra fee and the display is very visible at almost any angle.
Date published: 2015-09-11T00:00:00-04:00
Rated 5 out of 5
by
Larry
from
UPS works great!
I've used CyberPower for years and they work great.
Date published: 2017-09-05T00:00:00-04:00
Rated 5 out of 5
by
Brad6513
from
null
This is my go to desktop UPS. I have used this in many situations, and never have had a sudden failure. I used to use another brands similar product, but I had two fail without warning on our first power outage.... now I know better!
Date published: 2015-09-11T00:00:00-04:00
Rated 5 out of 5
by
TedGuru
from
Great UPS for power users / heavy load
this is a workhorse of a UPS for a heavy load workstations, I use them for my developers, and it keeps them up and running when they need it, giving them time to save their code when there is a power interruption. I also like the LED readout that can show the remaining battery power, and quality of power being supplied. I even purchased one for home to protect our entertainment center (game console, TV, tuner, etc...)
Date published: 2018-09-05T00:00:00-04:00
Rated 5 out of 5
by
Sean Wolsey
from
Great UPS for the price
To be completely up front about this review: CyberPower gave me one of these to review, specifically, the current model - the CP1500AVRLCDa. I just want to be very clear on that.Having said that, I'd buy these things all day long for a variety of uses. I already had several at the library I work at part time, including at my own desk on my work computer. I also have one on each of the self checkout stations where patrons can serve themselves to check out books. The CP1500AVRLCD really is a great little UPS.On the self checkout computers, the CP1500AVRLCD gives us a run time of about 15 minutes. These stations have a Core i5 CPU (not sure about which one, they are provided by 3M and built by HP), a 22" LCD screen, a barcode scanner, an RFID reader pad, and a thermal receipt printer. They each get used about once every 3 to 5 minutes to check out materials. On my own computer, I get about 20 minutes of run time with a 6th gen Core i5 3.2 GHz, 16 GB RAM, an SSD, and a 7200 RPM SATA 2 TB data drive. I also have 3 LCD monitors, a 27" and two 25".
Date published: 2019-01-03T00:00:00-05:00
Rated 5 out of 5
by
WeekendMedic
from
null
I've used one of these for over a year now in a local fire station. Very tough environment - humid, dusty, cold, hot, dirty. It's been maintenance free, and was considerably less expensive than other comparable units.
Date published: 2015-09-14T00:00:00-04:00