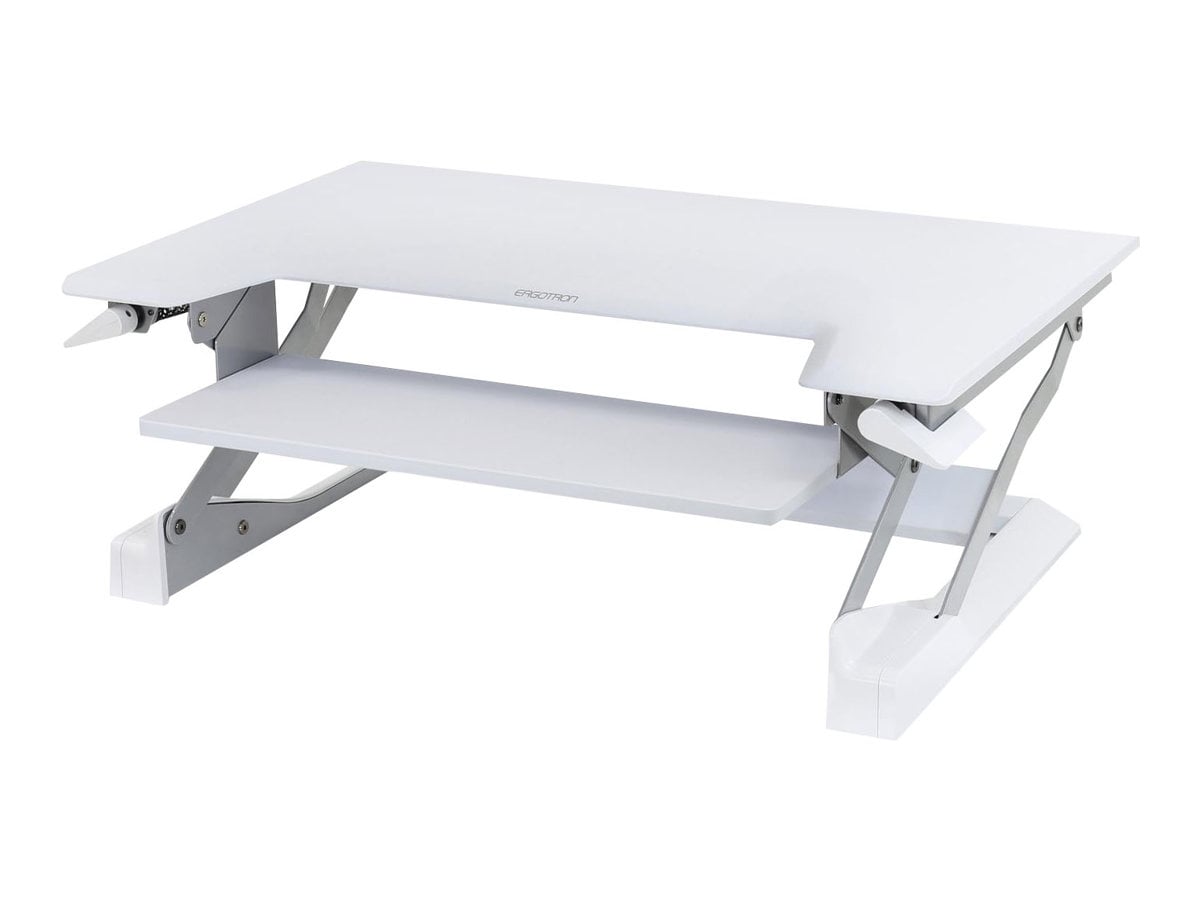 Caractéristiques techniques en un clin d'œil
Convertisseur de poste de travail debout
Blanc
Voir tout
Connaître son équipement
Aucune description marketing n'est disponible.
Coordonnées du soutien après-vente
(800) 972 3922
,
du lundi au vendredi, de 8 h à 22 h HE
Ergotron WorkFit-T - standing desk converter
is rated
4.75
out of
5
by
4
.
Rated

5

out of

5
by
Julia
from
So far, I am loving the desk add-on
It was really easy to setup, I pretty much just pulled it out of the box and set it on my desk. It is a bit heavy so my spouse helped me but I'm sure I could have done it alone if I needed to. It's got a lot of surface area on the top which is awesome. I haven't felt cramped in the space I have available for my notebook or coffee, etc. and I've got a 25" monitor plus my 15" laptop on a laptop stand. The selling factor for me was the surface area AND the fact that this sit-stand desk converter goes straight up and down and doesn't come out over the edge of the desk when its raised. I have a limited space for my desk and chair and if this came out, forward into the space, I would have almost no room behind me to stand freely. It's also very smooth up and down and I haven't had any trouble setting it to the height I want and make small adjustments as needed. As far as aesthetics, I got the white version and it looks pretty clean on my medium-light wood grain desk top. So far, I am really loving this sit-stand converter and its been the perfect addition to my home office space.
Date published: 2020-09-02T00:00:00-04:00
Rated

5

out of

5
by
LWK1
from
Great for standing only
This is a great product when you're short on desk space, and the standing functionality is great. The problem is when you decide to sit down, and the keyboard ends up being a little higher than is comfortable. Overall, a great product if you want to stand more when working.
Date published: 2017-08-15T00:00:00-04:00
Rated

5

out of

5
by
dstambaugh
from
Love my new desk!!
I've had this desk for nearly two months now and I love it! It is plenty big enough for my two 22" LCD monitors. The keyboard tray is at a perfect height for my 5'11" frame. It glides effortlessly from sitting to standing position and is completely stable at all times. My monitors never move. There is a lot of space in front of my monitors for paperwork, pens, etc but I usually keep it clean. The mechanics on this desk seem like they will last for many years. I have many coworkers who come over to check it out and they want one for themselves (I'm the first person in this office location to have a standing desk). I find that I stand about 75% of the day now. I originally got this desk due to my back issues: I have a herniated disk with sciatica on the left leg and could not sit for more than 10 mins before without a lot of pain. This desk has enabled me to perform my job in spite of my injuries and I will be forever thankful to my employer for purchasing it for me! I highly recommend this desk as it is well built, and exceeded my expectations for a standing/sitting desk. Make sure you have a mat to stand on. I cut up a foam camping mat for a cost effective solution. I have to move it out of the way when I want to sit down, but that's OK.
Date published: 2016-10-04T00:00:00-04:00
Rated

5

out of

5
by
AC00
from
Sturdy, easy to use
The stand desk operates as shown and expected. The ONLY thing that could have made it better is for the keyboard plate to extend outward. Other than that, its pretty sturdy when elevated. Only minor shaking if someone is walking past.
Date published: 2019-03-21T00:00:00-04:00