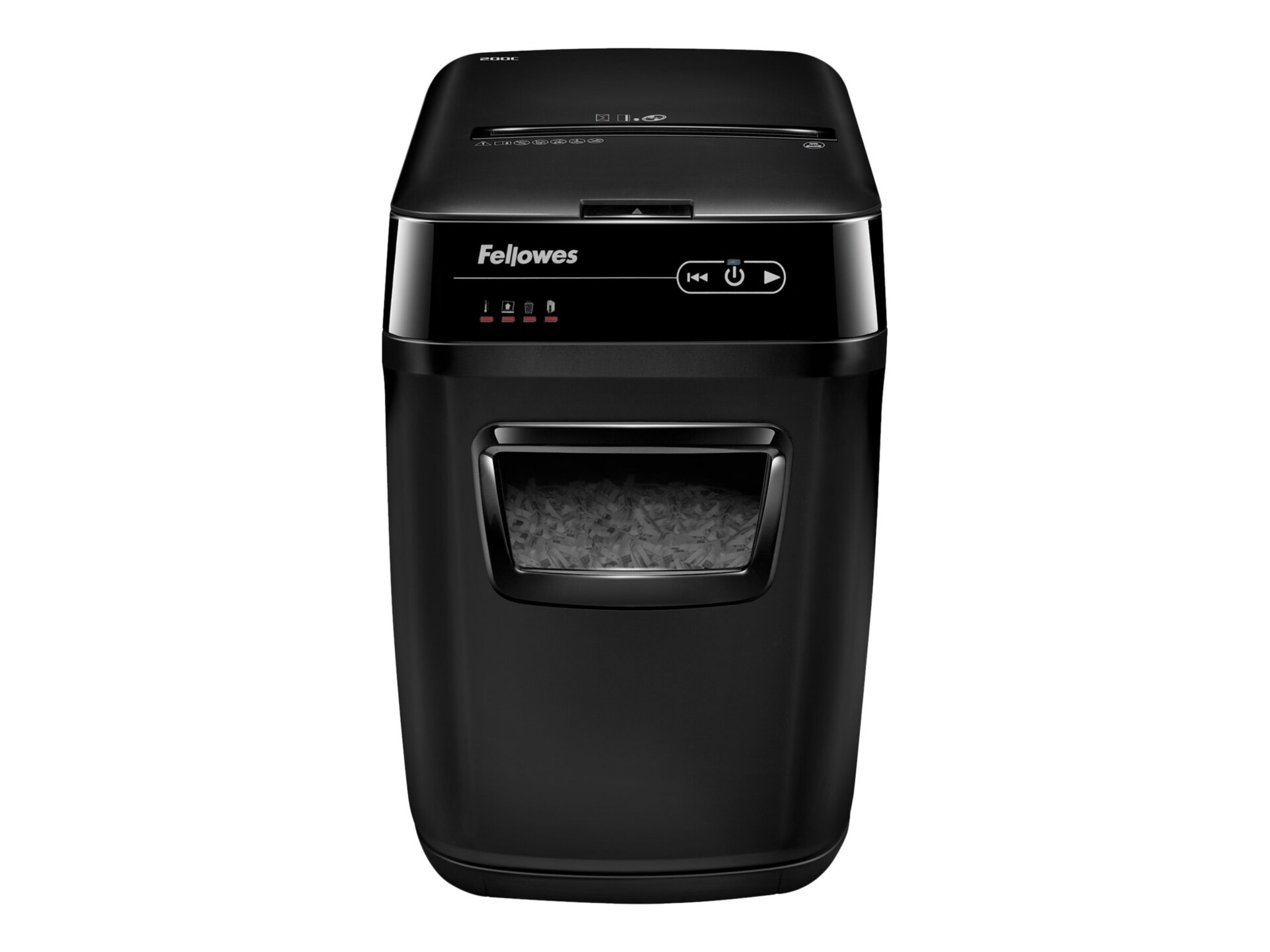 Fellowes AutoMax 200C - destructeur de documents
N° de pièce fab. : 4653501 | N° de pièce CDW : 3970329 | UNSPSC : 44101603

Fellowes AutoMax 200C - destructeur de documents
Détails du produit
Caractéristiques principales
Déchiqueteur
cross-cut
3,97 x 25,4 mm
P-4
Aucune description marketing n'est disponible.
Fellowes AutoMax 200C - shredder is rated4.75 out of5 by4.
Rated 5 out of 5
by
luckyd
from
Works well
I like that this shredder is quiet and that I can put many sheets of paper in the auto feeder. You have to be sure that the papers are aligned correctly for the feeder, as I experienced one paper jam. For this reason, you can't just load it and walk away in case it jams.This shredder was able to shred a good quantity at one time before it overheated. I highly recommend it.
Date published: 2018-05-22T00:00:00-04:00
Rated 5 out of 5
by
LMSE
from
Love this shredder
Just bought this shredder for our small office and we all love it! It's quiet, convenient and saves us nearly $200.00 per month on outsourcing shredding fees. It's easy to use and very versatile whether we have 200 sheets to shred or as little as 1. This shredder handles it all. This truly is a walk away shredder. We should have bought one a long time ago. Highly recommend this one for home offices or smaller businesses.
Date published: 2017-09-14T00:00:00-04:00
Rated 5 out of 5
by
Rman
from
AutoMax 200C
The short time I have had this machine the one word I can think of is IMPRESSIVE. Zero problems and doing the jobs as advertised tells me the company believes in their product and advertises accordingly. I would recommend this machine to anyone. This is a wonderful feeling in this day and age.
Date published: 2017-02-20T00:00:00-05:00
Rated 5 out of 5
by
Tiger123
from
LOVE The auto Feeder
Really using and liking my 200 auto feed shredder. Wish I had had this model many years ago. I definitely recommend this model to anyone.
Date published: 2015-02-18T00:00:00-05:00
Rated 5 out of 5
by
bayboat
from
Workhorse Shredder
We used the heck out of this shredder and it probably shredded an entire room full of paper over the years, it has been so good we bought the same model to replace old trusty!
Date published: 2019-02-15T00:00:00-05:00
Rated 5 out of 5
by
PSARCH
from
Automatic Shredder
We recently purchased this shredder for our office. So far it has worked fairly well. It is nice to not have to stand and feed paper into it for a change but if you have a rather large amount to do it does fill up quite quickly. After only about a couple of full stacks in a row, and then also, the "overheat" light comes on and it shuts off for about 30 minutes. Which can be very obnoxious if you are trying to shred a large amount of documents. So I would suggest If you often have larger than a couple hundred items to shred at any one time that this particular shredder would not work for you but if you are using it for home use or light office shredding then it is ok. Also, be aware that it carries a "medium security" rating which means it does not shred your documents quite as finely as you might expect, but for most office documentation, that is I'd say semi private information, it is ok. the Strips are cut vertically at about 3/16ths of an inch and horizontally about every 1-1/2 inches. Therefore, there is information that can be read, but not complete enough to be able to put anything together.
Date published: 2016-01-18T00:00:00-05:00
Rated 5 out of 5
by
Farmgirl
from
Works Well!!
This is the second time purchasing this machine. Works really well. Quick and doesn't heat up too quickly like other machines do. I love that I can put a stack of papers in, press play and it does it's thing!!
Date published: 2019-03-22T00:00:00-04:00
Rated 5 out of 5
by
Officegirl57
from
Quiet & easy to use
Much more quiet than our previous shredder & the autofeed speeds up the work. the big bin mean less emptying too. It's just what we needed for our small office.
Date published: 2016-02-22T00:00:00-05:00
Rated 5 out of 5
by
Evyy
from
Ce produit semble très intéressant
Nous venons tout juste d'acheter ce produit donc, nous n'avons pas beaucoup de mois d'essais. Par contre, je peux dire tout de suite que la machine est très silencieux et déchiquette très bien le papier. Je crois que nous serons très satisfait de ce produit
Date published: 2017-03-22T00:00:00-04:00