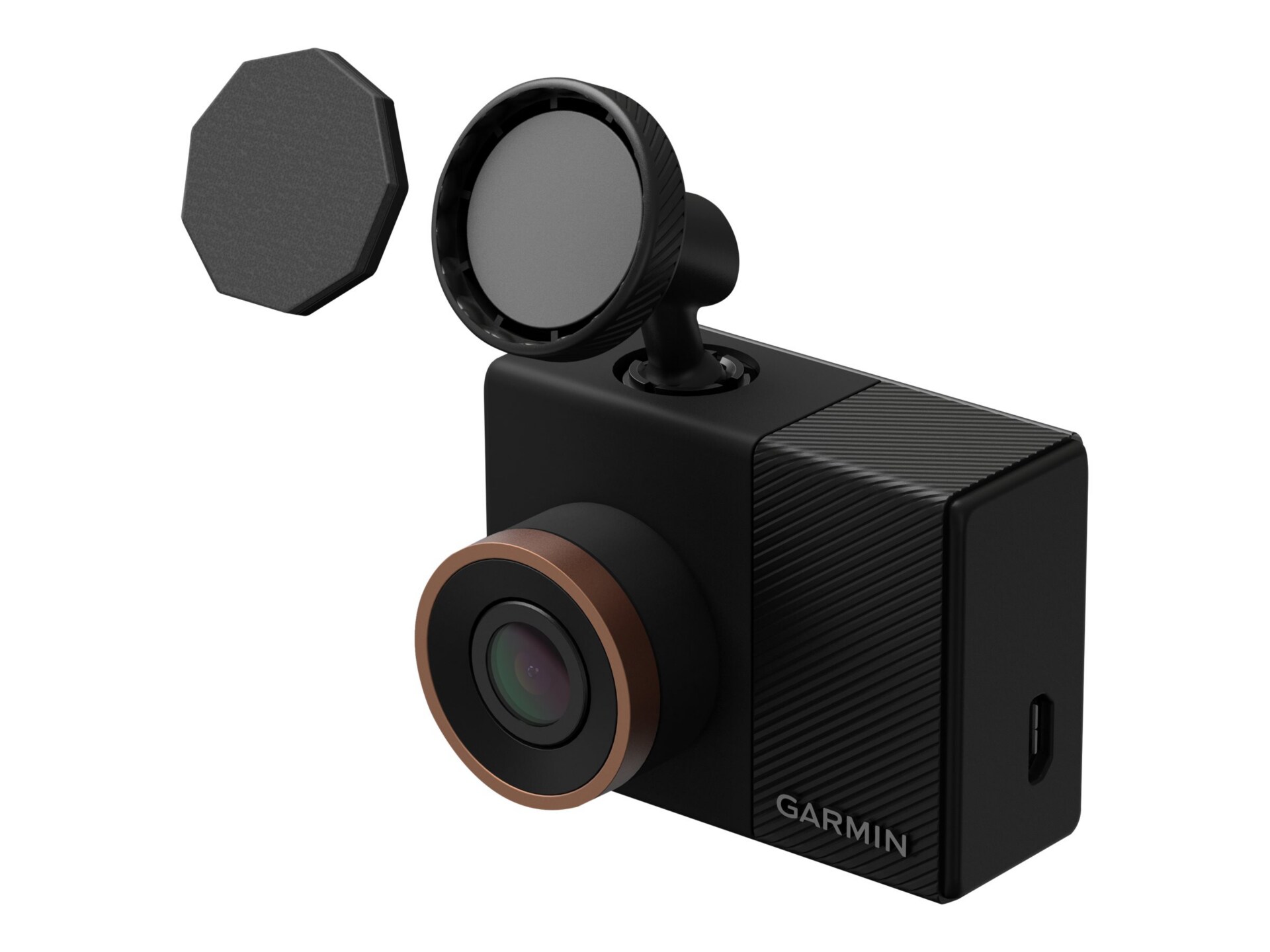 Caractéristiques techniques en un clin d'œil
Appareil photo avec fixation sur tableau de bord
2,1 Mpx
G-Sensor
Voir tout
Connaître son équipement
Garmin Dash Cam 45 est une caméra d'aide à la conduite haute définition équipée d'un écran LCD 2 pouces. Dotée d'une lentille grand angle elle capture toute la route et comprend un GPS pouvant fournir des données détaillées sur la position et l'heure, afin d'indiquer précisément où et quand les événements se sont déroulés. Fiez-vous à votre caméra Garmin Dash Cam 45 pour capturer des vidéos ultra-détaillées dans des conditions de fort ou de faible éclairage. Installez la caméra sur votre pare-brise et enregistrez votre trajet en résolution 1080p. La caméra enregistre en continu, sur la carte microSD remplaçable incluse. Pour augmenter la capacité de mémoire, ajoutez une carte microSD de plus grande capacité. Regardez les séquences vidéo directement sur l'écran ou plus tard sur votre ordinateur.
Garmin Dash Cam 45 - dashboard camera
is rated
4.57
out of
5
by
47
.
Rated

5

out of

5
by
Wayne h
from
Overated
I bought this 2 months ago . Had to send first one back because it just stop working 2nd keeps overheating and I have to direct aircondition to keep it going . I bought 3 rexon dash cam and no problems . I'm a diehard Garmin person because of fishing but really disappointed with this product
Date published: 2018-08-24T00:00:00-04:00
Rated

5

out of

5
by
Huskydog56
from
Great dash cam
I bought this camera as a replacement to a Dash Cam 20 that was stolen.This camera works great. Video quality is excellent. Alerts can be annoying but they do what they're supposed to do,( they can be turned off )The only issues are that the camera get very hot and shuts off, even after the updates. Doesn't get as hot on 720P. the other issue is that you only get one replacement adhesive back mounting tape. Order the suction mount if you want to move to other vehicles.
Date published: 2018-08-24T00:00:00-04:00
Rated

5

out of

5
by
Borisovich
from
Great product
I bought this camera about 2 weeks ago and it's a great camera with great features, easy to use and install, I do like magnetic mount for windshield, I like that you can instantly watch what the camera recorder on your phone using the mobile app.
Date published: 2018-12-11T00:00:00-05:00
Rated

5

out of

5
by
palm
from
GREAT FOR PRICE
Bought this a month now.to day i went through some of the features and based upon what i have reviewed so far i will give 4 stars. i was able to play back the videos on my phone and i am very surprise at the clearness of the video especially the day time video, the night viedo good but could be better i hope garmin can send updates to give a clearer night picture. just be careful of your discussion in your vehicle it has a voice recorder that records everything you say in your vehicle and it plays back clearly in your replay. other gps feautres are good. the only problem i have now is having problem playing back the videos on my laptop i may not be doing something right so for that i will call the company to get help. ITHINK GARMIN HAS A GOOD PRODUCT all i think they should do is continue upgrading the product to make i clearer especially at night. overall i am very surprise of the clearness of the video. as a matter of fact i just recommend a friend to buy one.good neat camera and i hope garmin can continue to uprade. very very good product
Date published: 2018-12-24T00:00:00-05:00
Rated

5

out of

5
by
Djack3291
from
So far so good
It quit working after 5 months. I sent it back for repairs. It worked the last time I used it.
Date published: 2018-08-24T00:00:00-04:00
Rated

5

out of

5
by
astrorad
from
Works well
I like this dash cam and use it everyday. I use it in our auto and in our class C motorhome. The only negative is that it only comes with one metal mounting disc. I had to fabricate my own disc so I could have a mount in my motorhome. Fortunately the unit comes with an extra double stick mounting adhesive pad.
Date published: 2018-08-24T00:00:00-04:00
Rated

5

out of

5
by
ScubaChip49
from
best ever for the price
Love this model, I have bought two more of the same for my granddaughter and my farm truck. The dash cam has saved my granddaughter from responsibility in a rear end wreck caused by road rage. The dash cam proved she was not at fault
Date published: 2018-08-24T00:00:00-04:00
Rated

5

out of

5
by
Nelson
from
Great Product
I have this couple of days. So far so good despite of some negative reviews. I'm happy with this product and i recommend it.
Date published: 2019-02-12T00:00:00-05:00
Rated

5

out of

5
by
YoTTa
from
Geat divice overall
Stuck on 3.50 firmware. Can't update to 3.70. Plus constantly shut downs in high temperatures (summer)
Date published: 2018-08-25T00:00:00-04:00
Rated

5

out of

5
by
Junior
from
Great so far!
Very happy with it at this moment. The video is outstanding on my computer like looking at a movie.
Date published: 2018-08-24T00:00:00-04:00