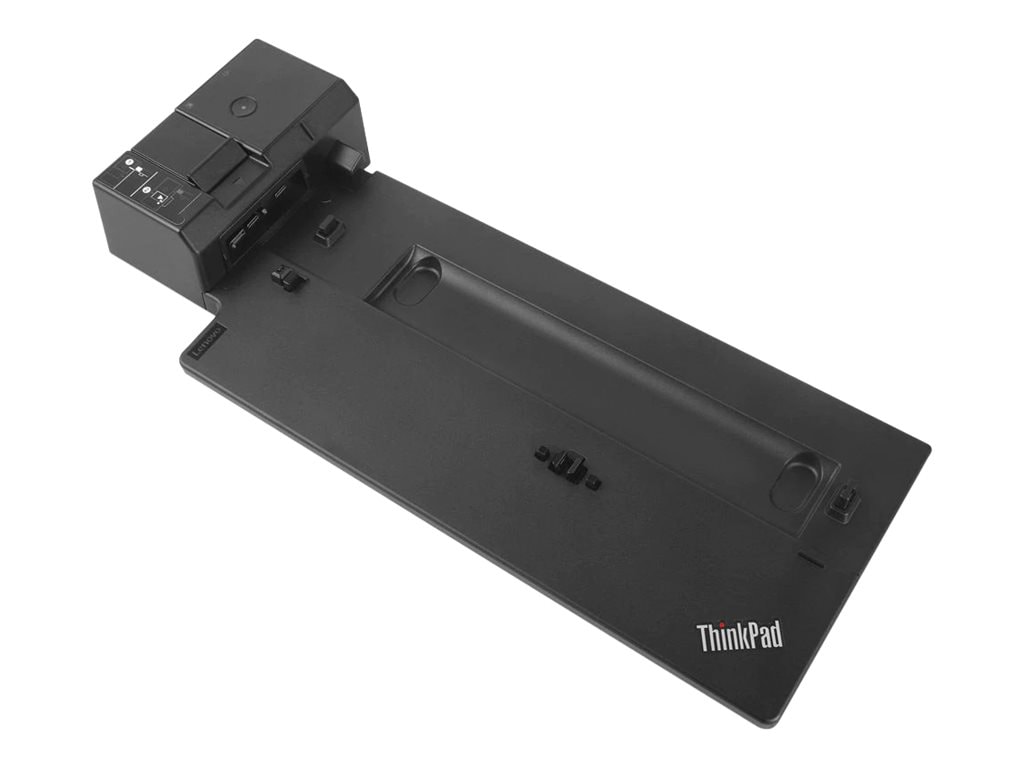 Caractéristiques techniques en un clin d'œil
Station d'accueil
HDMI
135 watts
for ThinkPad L13 Gen 2; L13 Yoga Gen 2; P14s Gen 2; T14 Gen 2; T14s Gen 2; X13 Gen 2
Voir tout
Connaître son équipement
Les stations d'accueil ThinkPad offrent la meilleure expérience d'arrimage pour les grandes entreprises clientes du ThinkPad. Le connecteur latéral novateur, conçu exclusivement pour les portables ThinkPad, offre un moyen sans pilote de se connecter de façon pratique et sécuritaire à une gamme d'accessoires et d'écrans externes USB, tandis qu'une base à chargement rapide et un bouton d'alimentation en mode mémoire vous permettent d'aller et venir en toute simplicité. Conçues pour les environnements de grandes entreprises, les stations d'accueil ThinkPad prennent en charge l'amorçage PXE, le réveil de l'ordinateur en mode veille, hibernation ou éteint, et la transmission de l'adresse MAC, simplifiant ainsi la gestion des actifs pour les responsables des TI. Minutieusement conçues et ayant fait l'objet de tests complets, les stations d'accueil ThinkPad offrent une expérience d'arrimage sans heurts.
Lenovo ThinkPad Ultra Docking Station - docking station - VGA, HDMI, 2 x DP
is rated
3.14
out of
5
by
7
.
Rated

5

out of

5
by
nelson
from
Not like the old ones
We have had nothing but issues with these new docks vs the old one that were top mounted.
Date published: 2019-08-21T00:00:00-04:00
Rated

5

out of

5
by
ecolson
from
Must-have for Multi-Monitors marred by misbehaving firmware
The Lenovo ThinkPad docking station is an essential tool for those of us using multiple monitors. Can't live without it. However, the shipped-with firmware performed erratically when waking up the laptop. Sometimes it recognized my two external monitors, sometimes it didn't. This is a known problem for at least six months. Took a firmware upgrade to fix it. Given the market both the Lenovo ThinkPad and the docking station is aimed for, this is surprising. Couldn't the upgraded firmware come pre-installed at this point? I also found the two-step process for engaging and disengaging the laptop to the station awkward compared with the "push button" process in prior models. Despite this, I gladly live with it to gain my screen real estate.
Date published: 2019-08-27T00:00:00-04:00
Rated

5

out of

5
by
NotUsuallyNegative
from
Docking is not secure and cumbersome
Computer can easily be misaligned and when latched damage the C connection. Not user friendly design for docking at all! We have several that will seem to be docked but then disconnect from the network or video displays when bumped. Poor design compared to previous model.
Date published: 2019-01-09T00:00:00-05:00
Rated

5

out of

5
by
RGilbert
from
Endless Firmware Troubles
Our company has been purchasing these style docks for the past 5 years or so and have never had issues with them from the Lenovo T430 through the T470. These new thunderbolt docks however have been nothing but trouble. A large quantity of the ones we've deployed have display output issues, and USB detection problems, all software/driver based out of the box. It took a while, but Lenovo finally started pushing firmware updates out to rectify these issues. However their Windows 10 app is so bad it will sometimes fail to ever find updates, and when it does, they will sometimes fail to install. Even after all updates are completed a few users still experience problems. When these docks work they're fine, but our experience so far has been nothing but frustration.
Date published: 2019-04-18T00:00:00-04:00
Rated

5

out of

5
by
AC00
from
No problems!
Very easy to set-up. Although it's a tad old school, it works perfect. Tried two others, but come to find out they weren't compatible.
Date published: 2019-02-12T00:00:00-05:00
Rated

5

out of

5
by
Ron999
from
Lenovo ThinkPad Docking Station
Station works well, Nice that it comes with its own power cord and you don't have to use the PCs cord for power. Get rid of the key lock option.
Date published: 2018-09-12T00:00:00-04:00
Rated

5

out of

5
by
ken0921
from
Takes l;ittle time to get used to it but once it does, it pretty cool
Its different than pushing your laptop to doc station conventional method. its actually easy with the help of slider to connect to Dock.
Date published: 2019-05-05T00:00:00-04:00