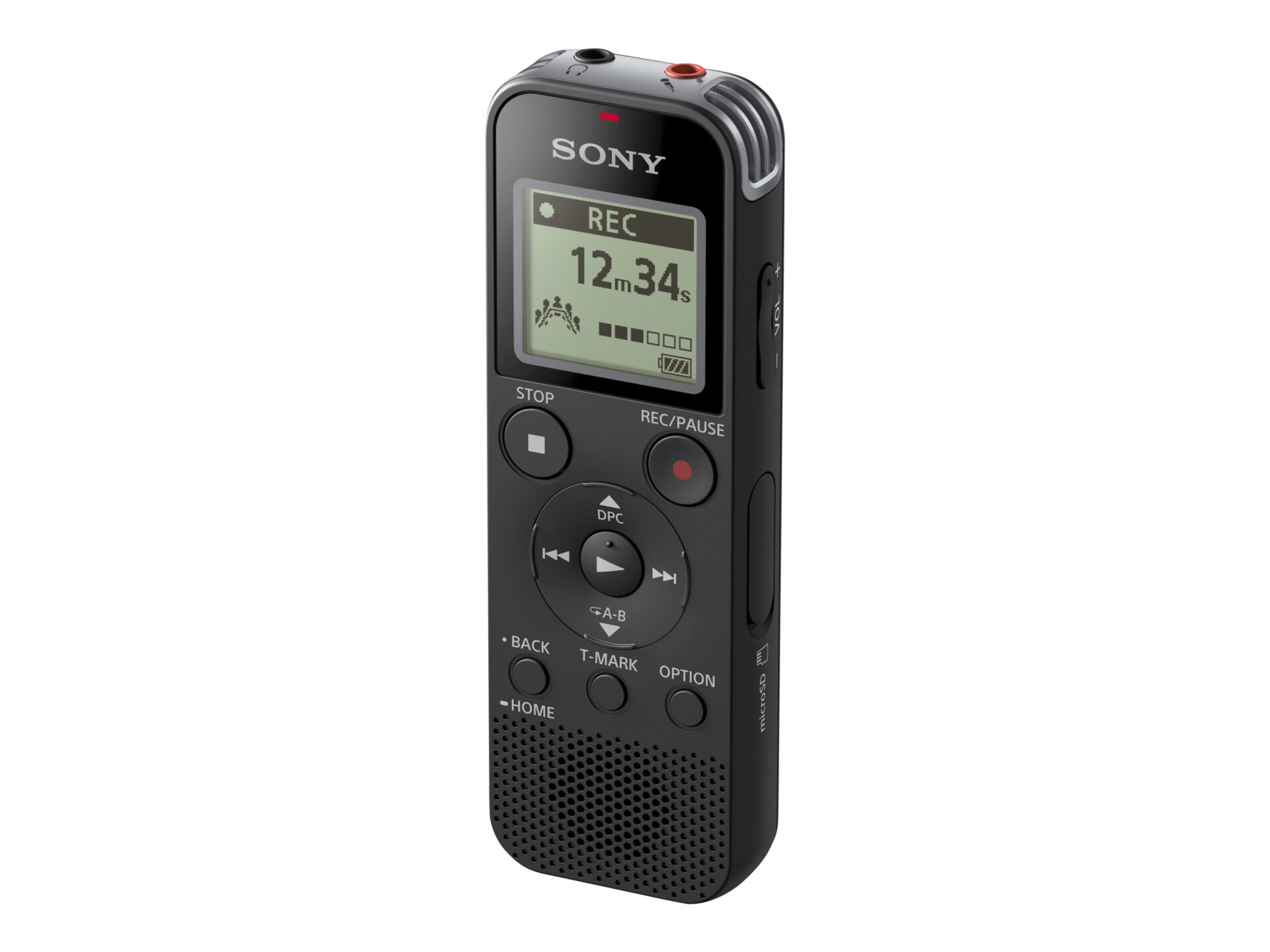 Sony ICD-PX470 - enregistreur vocal
N° de pièce fab. : ICDPX470 | N° de pièce CDW : 4471553 | UNSPSC : 52161535

Sony ICD-PX470 - enregistreur vocal
Détails du produit
Caractéristiques principales
PX470
Enregistreur vocal
4 Go
Aucune description marketing n'est disponible.
Sony ICD-PX470 - voice recorder is rated4.47 out of5 by15.
Rated 5 out of 5
by
Jackiefife
from
Excellent machine ideal for pocket.
Superb recorder, lots of in built memory.Good reproduction for voice recordings.
Date published: 2019-09-15T00:00:00-04:00
Rated 5 out of 5
by
Echo41
from
ICD PX470
I am not a sound recording buff. I purchased the item simply for personal note taking. To this end it has met my requirements well. It is lightweight and compact. I particualrly like the simplicity of operation.
Date published: 2017-05-23T00:00:00-04:00
Rated 5 out of 5
by
KayakingPhotographer
from
Well balanced audio
I got this for my narration during kayaking video productions so having a external mic jack was paramount but finding a suitable lapel mic was a challenge. But I found the Sony ECM-CS3 lapel stereo mic which solved all my problems. The recorder is well designed with exceptional features. The audio was imported into a audio program to see if the analyzed audio would make many changes. To my amazement only a very small amount was suggested. So I played the analyzed audio then the raw audio and could not hear a difference. Having the USB connector builtin is a plus because all I need is more cords. This product deserves 5 stars but I would have given that if the recorder was voice activated. Being I use this while kayaking; to start the audio I have to pull the recorder from my PFD take it out of the case and hit the record button then reverse the process to store the recorder. Not a big deal but would be a nice to have as my cameras are voice activated to have everything voice activated would be a plus.
Date published: 2018-09-12T00:00:00-04:00
Rated 5 out of 5
by
Bbdecher
from
Excellent quality
This recorder is absolutely amazing. Fairly easy to use and the quality and range of the sound is unsurpassed! The only suggestion is put in a back light and then this would be the only recorder you will need!!
Date published: 2018-09-23T00:00:00-04:00
Rated 5 out of 5
by
SteveP59
from
Very pleased
I've been using the voice recorder for taking personal notes and am very pleased with the ease of use and quality of the sound. The voice recorder is well made and nice to handle. Some of the menus are a bit difficult to navigate at first but I soon got used to them. Being able to playback at a slower speed but retaining the speech pitch is a really useful feature for transcribing notes. A backlit screen would be useful but for me it's not a deal breaker.
Date published: 2019-01-07T00:00:00-05:00
Rated 5 out of 5
by
Jimmie Patterson
from
A wonderful recording device
I use this to record singing and Gospel meetings in wav format and battery and recording times are really great place about a meter away from speaker boxes to the side or behind them it records really well you just have to set it every time you switch it on that's the only thing to remember my settings were recording settings scene select soft music, rev mode LPCM 44.1KHz, built-in mic sensitive For Music and High, Focused/Wide Wide, and go back and press record and just press stop when your finished and just use safe removal on the computer to take them back out of the usb port and I have had great Recording success with them they record like Studio mics really pleased at all the price of them
Date published: 2018-10-03T00:00:00-04:00
Rated 5 out of 5
by
Gil253
from
Difficult to select correct navigation.
Disappointed with purchase. Box indicates micro SD card but doesn't mention size (which is limited to 32gb). Shop salesman didn't give adequate explanation of product. Very time consuming adding mp3's to sd card and once loaded doesn't always recognise the card. Not able to search by genre. Didn't realise it's actually a dictaphone able to play MP3s and not a dedicated MP3 player.
Date published: 2019-05-29T00:00:00-04:00
Rated 5 out of 5
by
Chucklesome
from
Does what it should
The recorder is easy to use, quick to start up and a reliable replacement for a budget brand recorder that had let me down too often. The sound and recording quality are very good, belying low expectations of an affordable price and plastic housing.
Date published: 2019-05-10T00:00:00-04:00
Rated 5 out of 5
by
homme de fer
from
Good recorder but...
Bought this to record conversations with my elderly Mum. She recommended Sony because she has an older one which she used for her lectures. The sound quality of the recording is excellent (though not great played back through the tiny speaker of course, but that's not it's primary function) and the storage capacity largely sufficient.I have to say though that the documentation says that the included software is uniquely compatible with Microsoft windows and that the reader is uniquely compatible with this software! Now I don't know if Sony has a pact with Microsoft but this is nonsense. True enough I have been unable to use the software under linux but the recorder is recognised just like a USB memory stick and files can be transferred back and forth. The device also plays back music in MP3 format. So what is the need for their software?One thing that would have been really nice though especially at this price is to include MP3 to text software, because it takes an extremely long time to transcribe conversations, and such software comes free with devices costing less than a third of the price. Also at this price and from such a reputable company I really would expect support for Linux and possibly Apple as they are very popular, so a little disappointed there but the hardware seems good :-)
Date published: 2019-04-07T00:00:00-04:00
Rated 5 out of 5
by
Choco80
from
Crystal clear voice recording
About Sony LCD-PX470. I have purchased a few recorders that have cost over twice the price I paid for this one. From Sony, Zoom, Olympus,and Tascam.This is very easy to use. Has great settings for sensitivity and a great size. Sound is crystal clear,lots of advanced options and features.Very well made device! In few minutes all settings were set and I started recording. There is no light for the screen, and that's HUGE negative point with no logical explanation.LIke most Sony products it is well made and the Internal mics are excellent.Mic Lavanier turned out great.Sony LCD-PX470,great product.
Date published: 2018-12-31T00:00:00-05:00