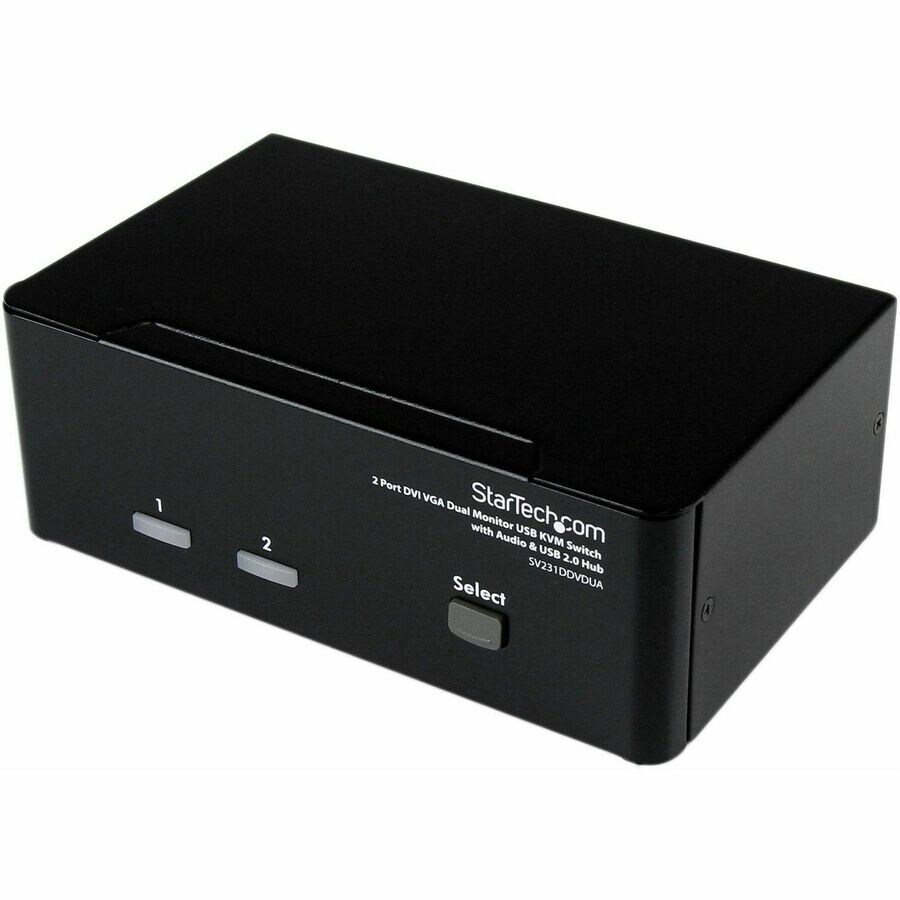 Caractéristiques techniques en un clin d'œil
Share a keyboard and mouse as well as 1 VGA and 1 DVI displays between 2 computers
Dual Monitor KVM Switch/Dual Display KVM/DVI VGA KVM/Multi-Monitor KVM
USB 2.0 hub and Mic/Audio ports
Dual system control for a single user workstation with dual monitors,increasing productivity in the office or at home
Compatible with the ViewSonic VA2446M/2246M
Supports resolutions up to 1920x1200
Control 2 dual display computers with a single set of console peripherals
Voir tout
Connaître son équipement
Le commutateur KVM double écran 2 ports (DVI+VGA), référence SV231DDVDUA, offre une solution de commutation multimédia complète, permettant aux utilisateurs de contrôler deux ordinateurs double écran à l'aide d'un seul ensemble de périphériques USB (souris et clavier).

Grâce à la prise en charge des interfaces vidéo de haute résolution, ce commutateur KVM double moniteur offre une connexion d'ordinateur par port VGA (analogique) et DVI-I, ainsi qu'une capacité de commutation audio entre les ordinateurs connectés.

Garantissant une polyvalence pour quasiment toutes les applications, le commutateur KVM DVI/VGA est doté d'un concentrateur USB 2 ports intégrés, permettant le partage de périphériques USB 2.0 connectés entre les ordinateurs connectés; il supprime ainsi la nécessité d'acheter des périphériques supplémentaires.

Adapté à tout espace de travail, le commutateur KVM double écran offre une conception KVM de bureau compacte et inclut un châssis métallique robuste qui garantit des performances durables.
StarTech.com 2 Port DVI VGA Dual Monitor KVM Switch USB with Audio
is rated
5.00
out of
5
by
2
.
Rated

5

out of

5
by
SawTech
from
As easy as 123.
Superb bit of kit,Typical Scenario, two tower servers, one tower style UPS. two LT06 tape drives.Virtually no space for one monitor keyboard and mouse, let alone two.Solution = This little baby, connect all the cables (You supply these) but it is as easy as 1 2 3. plug in the mains a wow instant push the select button to trigger what server is required.
Date published: 2015-07-16T00:00:00-04:00
Rated

5

out of

5
by
rap1999
from
Stops working with Windows update
Passable on windows 8. (Slow switching and some non-switching problems requiring reboots) Updated to Windows 10 (forced due to PC Update) and now the KVM does not work at all.
Date published: 2018-06-23T00:00:00-04:00
Rated

5

out of

5
by
WilliamRyan
from
When you're done with KVM failures
To begin, I am a reviewer that gets access to products in exchange for an unbiased review.In my case, I frequently upgrade monitors and components. Where possible I try to use Networked components and share them, but in my office I have a desktop as well as a laptop. I got really tired to flipped back and forth between them so I started with a different KVM that I got from StartTech. Based on my experience with it, I decided to try one for some of my older components. I have several monitors and components that are a little older but in great shape. I didn't want to buy additional items for newer laptops when I had existing ones that would work.This arrived and I was really pleased with it. The first thing you'll notice is the construction. This isn't a toy, it's not a beginner KVM and you don't need a lot of knowledge to use it, but if you're tired of playing with cheaper models this is for you.The only thing I'd suggest it to make sure you understand the product. If you need VGA ports, this is for you. If you have mixed monitors with VGA and DVI this is perfect. If you don't and only have HDMI, you'll need an adapter but would be better off getting their HDMI enabled model.In any case, the biggest metrics I care about other than ultimately functioning is the setup time and ease of use. Setup will take you about 2 minutes if you have the right components, if you need adapters you'll be set back by another minute or dead in the water if you're missing them - but that applies to everything.It's a few minutes to set up, not even a minute to figure out how to use. You'll have two full ports outside of the base, USB ports and shared microphone ports and headphone ports.Built well, works well, easy to use. What else can you ask for?
Date published: 2017-09-14T00:00:00-04:00
Rated

5

out of

5
by
colincollect
from
Worked great!
Now I need something to manage all of the 10+ cables that are going into this thing...
Date published: 2014-11-05T00:00:00-05:00
Rated

5

out of

5
by
BonesMahoney
from
null
This is a very nice KVM switch. Solid construction. It switches audio as well. it even picks up the wireless mouse/keyboard receiver (on both computers!) when it's plugged in the USB hub on the switch.
Date published: 2018-03-03T00:00:00-05:00