More than ready to meet your data protection and management needs. Together.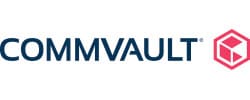 Explorer les solutions de Commvault
Commvault delivers data readiness and is committed to ensuring your data is protected, secure and available when you need it. Systématiquement. Commvault's software automates mind-numbing IT tasks and makes your data work harder for you. With Commvault, you can know, move, manage, recover and use your data to get the most business value from it.



Commvault Complete™ Backup and Recovery won gold in the backup and disaster recovery hardware, software and services category of the 2019 Storage Magazine and SearchStorage Products of the Year.

Commvault Complete™ Backup and Recovery
Complete coverage starts and ends here. Commvault Complete Backup & Recovery is a single, powerful solution for data protection — wherever your data lives.

Multicloud data management software should provide flexibility to move, manage and use data across diverse cloud and on-prem environments. From a single Commvault dashboard, you can understand the current state of your data across public, private and hybrid cloud environments.
Récupération après sinistre
Whether you're hit by a natural disaster, data breach or ransomware attack, you need to get your data back quickly and painlessly. Your recovery timeframes should be tied to the importance of the data, but you want a single solution to reduce complexity. Commvault's easy-to-use solution lets you recover the data wherever it is.
Commvault HyperScale™ Technology
Commvault HyperScale Technology enables you to transform the data protection and management of your enterprise workloads by building these services on a scale-out infrastructure and leveraging Commvault Complete Backup & Recovery capabilities.

Commvault HyperScale Software with Reference Design
Scale-out data protection designed your way. HyperScale is a single, easy-to-use software package that accelerates deployment, management and support through validated reference designs from eight leading technology companies.
Appareil Commvault HyperScale
Get an integrated backup appliance built on Commvault Complete Backup & Recovery software and a scale-out infrastructure.
Information risk and value — revealed. Commvault Activate is an insight toolset for utilizing your data in business, search, discovery and governance contexts. Commvault Activate can help you overcome your data governance and compliance challenges.

Know More About Your Data
Knowing more about your primary and secondary data enables you to better act on and respond to your business' needs. In short, with better data you can make better decisions.
eDiscovery and Compliance Search
Commvault Activate makes it easier for IT personnel to deliver on data requests by reducing or eliminating reactionary collection.
Metallic™ Backup & Recovery
Metallic, a Commvault venture, brings you enterprise-grade backup and recovery technology with simple SaaS delivery. You'll be up and running in as little as 15 minutes with cloud data protection for Office 365 (SharePoint, Exchange, OneDrive, Teams); laptops & desktops; and VMs, file server and SQL data.


Know More About Your Data
Metallic enterprise-grade data protection is fast, flexible, and powerful with the simplicity of SaaS. Proven technology from Commvault and built-in best practices mean you'll get secure backups and speedy, granular restore to protect you against data loss. With Metallic, you'll also get flexibility — from pricing to storage options — in a solution that truly scales.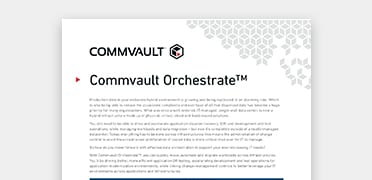 Quickly move, automate and migrate workloads across infrastructures. Drive better, more efficient applications.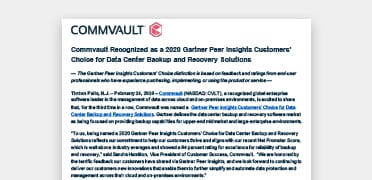 Gartner 2020 Peer Insights Choice
Commvault was recognized as Gartner's 2020 Customer Choice for data center backup and recovery.