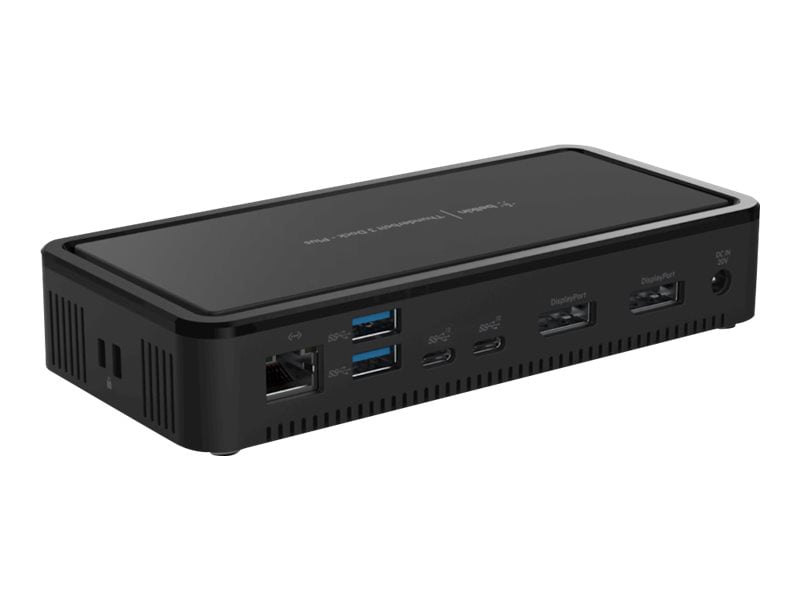 Caractéristiques techniques en un clin d'œil
Compatible with macOS and Windows USB-C laptops
Ultra-fast data transfer speeds up to 40Gbps (Thunderbolt 3),Connect Dual 4K HD displays @ 60Hz
Ports: (1) Thunderbolt 3,(3) USB-A 3. 1,(3) USB-C 3. 1,(2) DisplayPort,(1) 3. 5mm Audio in/out,(1) Gigabit Ethernet
Connect multiple devices to your laptop through a single dock,including hard drives,monitors,drawing tablets,mouse,keyboards,- internet,and more
60W upstream charging allows you to charge your laptop through the dock
Voir tout
Connaître son équipement
Aucune description marketing n'est disponible.
Belkin Thunderbolt 3 Dock Plus - docking station - 2 x DP
is rated
4.11
out of
5
by
37
.
Rated

5

out of

5
by
JMott
from
Worked well for year and a half, now having issues
I bought this hub at the beginning of the pandemic and it served me well for 18 months. Then it began to have connectivity issues. Never used the ethernet (so I can't confirm that common issue) but I began having so many issues with it losing connectivity with my USB microphone, headphones through the front headphone jack, and any USB mice. Then it began power cycling (almost like it was restarting). Basically I can no longer rely on this hub. I would have never made it through the first months of the pandemic without this hub, so I felt I couldn't give it one star. However, for the price, I hoped it would have lasted for more than 18 months.
Date published: 2021-08-26T00:00:00-04:00
Rated

5

out of

5
by
Takim
from
All the ports you'll ever need.
Good dock with all the ports you would need. It helps to connect my laptop to multiple monitors (I could only test one) and gives me back gigabit Ethernet, which is much faster than most people's WiFi. Also plenty of other ports to connect other external devices such as legacy keyboards and mice that don't have usb-c. You do need pricey monitors with DisplayPort to take advantage of the dual monitors though. Maybe a DisplayPort to HDMI or Mini DisplayPort dongle would work to support other monitors. Something to note, the dock itself is small but the power brick is just as big as the dock itself and at least 2-3x the weight. I guess it'll be out of sight since the design of this is to turn your laptop into a workstation, but something to take note of, this is not something that you will take with you on the go. I also wish the power cable were longer for better cable management.
Date published: 2020-10-16T00:00:00-04:00
Rated

5

out of

5
by
europass5
from
Great connectability
This Thunderbolt 3 Dock Plus works great for connecting my dual monitor setup and has plenty of power to charge my laptop while working, I like having a place where I can plug everything I need in one dock.
Date published: 2020-10-18T00:00:00-04:00
Rated

5

out of

5
by
SonomaGuy
from
Easy to use
Very easy to set up. So many ports that can handle all of my peripherals
Date published: 2020-10-23T00:00:00-04:00
Rated

5

out of

5
by
Fire Pro
from
Great Step Up From Slower Hubs or Fewer Features
I had previously used the Thunderbolt 3 Dock Core, and found this Dock Plus to be even better. The included power-supply is more than sufficient to charge my MacBook Pro without having to pull its factory power supply out of my travel kit. It makes reconnection to my home office quick and easy by eliminating more devices that have to be pulled out and reconnected every time I travel. The unit also runs much cooler than other hubs I've used. Having two Display Ports (rather than one Display Port and one HDMI) made for a cleaner setup, and ran my pair of 1440p monitors flawlessly, with no issues at all. The hub's network port has no problems saturating the gigabit network link. The USB-C cable that connects to the computer is removable, and can be replaced with a longer cable if desired. That ability allowed me to distance the hub further from my MacBook, and kept more clear workspace on my desk. The addition of a couple of available USB-C ports is a great feature that I'm sure I will use more in the future. In short, this Thunderbolt 3 Dock Plus is very high quality, and does everything promised without a single problem.
Date published: 2020-11-10T00:00:00-05:00
Rated

5

out of

5
by
EricByers
from
Great for 13" Laptops
This is a really nice thunderbolt dock, that works quite well (no issues with unplugging/plugging in that I've seen). It has most of the ports you'd want -- and aligned closely to a lot of the docks out there (although I've found the thunderbolt specific ones are a bit nicer). The dual display port is much nicer than HDMI I have found -- especially trying to get 60hz out of it -- much easier. It also has 3 (2 on back) usb 3 type a ports, 2 usb-c ports, network (only 1gbs). The cable from the laptop needs to plug in from the front, so this is more of a docking station style computer, otherwise I would expect the cable on the back to be a bit neater about it. This works great for our 13" laptops that spend a lot of time on the go, and then one cable gets mouse, keyboard, display, network, etc. The power delivery is also really nice true one cable solution. Its only 60w -- which is good enough for smaller laptops and may work for larger ones if you're not pushing them (although I'd recommend going up to the Pro version of the dock. It doesn't look as nice as the Pro version, and it's mostly just a black plastic square, and you're only saving $50 from the Pro version -- really feels like it should be slightly cheaper.
Date published: 2020-10-29T00:00:00-04:00
Rated

5

out of

5
by
mrhowiedoin
from
The BEST Connection for Mac & Blazing Fast
At my office I had the 'manager's work station' that I used every day when I would go in to work. Now that I'm working mostly from home due to the pandemic I had to find a 'home work station' that I could use with my Mac to connect all my devices. The Belkin Thunderbolt 3 Dock Plus is super fast, and for the first time in a long time, the quality ported out of my Mac computer and into my monitor displays is 4k. There are a ton of peripheral ports, more than I need, but I plan to change that. The Belkin Dock is exactly what I needed to maximize my potential during the transition to working from home.
Date published: 2020-10-27T00:00:00-04:00
Rated

5

out of

5
by
EatChikinMor
from
Works so well it's nearly invisible
I've been using this for little over a week now. It blends into my workflow so well I never notice it, which I think is the highest form of compliment. Something working so well it's forgotten. I haven't had any of the monitor issues several other reviewers cite - but I'm also using a single 4K monitor. I think the number of ports is sufficient, I like the chosen ports on the front. A single USB, and audio jack for when you need something temporarily hooked up. I suppose my single complaint would be that there's a single thunderbolt port and it's on the front. It makes it a bit difficult to maintain a clean look. But otherwise the rear ports are generous, and the dock works incredibly well
Date published: 2020-10-23T00:00:00-04:00
Rated

5

out of

5
by
MartyPhoto
from
Every thing you'll need in a dock
The Thunderbolt™ 3 Dock Plus is a powerful dock solution in a relatively small package with great versatility. I found it easy to set up and it worked beautifully in the ways I was able to use it. It has a good variety of ports that will meet most people's needs. I found one of the best features were it has 1 USB-A 3.1 Gen 2 port and 2 USB-C 3.1 Gen 2 ports. I had never used the Gen 2 ports before I got a dock and they are super fast with a Gen 2 peripheral hard drive or SSD and the drive/SSD can be powered by the port. I also appreciated the Gigabit ethernet connection, audio input/output port and the additional 2 USB-A Gen 1 ports. There are 2 display ports but I only have one monitor so I was unable to test using dual displays. The product web page provides the monitor characteristics when utilizing a single monitor or dual monitors. The small size takes up very little desk space although the power supply unit is pretty large. But there are separate cords for wall power and power supply to dock so it is easy to arrange them conveniently. I connected my iMac to the dock via the included Thunderbolt cable (thank you Belkin). The only thing I would have liked was a second Thunderbolt 3 port. However, Belkin does have several other models of their docks with 2 or more Thunderbolt 3 ports.
Date published: 2020-10-16T00:00:00-04:00
Rated

5

out of

5
by
Niecy
from
Dock with great options
I would still give this dock 5 stars because the only pet peeve I have with dock is....no power indicator. Ease of set up was great, I love the multiple ports, this dock affords me the luxury of not having so many cables in my work area which is always a plus. I believe this dock will also benefit those that do programming, creating Web pages and multiple desktop usage etc..... I was not able to test two monitors since I only have one at the moment, but will be testing soon. Belkin always produce quality products!
Date published: 2020-10-25T00:00:00-04:00
Rated

5

out of

5
by
tfirma
from
Functional and good performance
Admittedly, I haven't had the need for a dock for a while. In fact, when I received this to review, there was no documentation on how (or why) to use this. I think that is a miss - people might receive this as a gift or something. It would be nice if there was at least a one pager / diagram showing HOW it can be used. The print on the documentation that WAS included was the smallest font I have ever seen. However, I did set this up and it worked exactly as expected. I only wish it would come in black (and maybe it does, mine came in white).
Date published: 2020-10-23T00:00:00-04:00
Rated

5

out of

5
by
panman91
from
Everything You Need in One Small Package!
Let me just say, this docking station from Belkin couldn't have come at a better time. During the pandemic I have tried to hold out on purchasing a docking station for my MacBook Pro, but my current workflow requires me to have one If you own a MacBook Pro you must try out this device. The party piece of this dock is the support for Dual 4K monitors at 60Hz using the single Thunderbolt 3 port. This has increased my productivity being able to work from 2 monitors since we are all working from home during these difficult times. This dock also comes with all the ports you will need helping me eliminate my USB 3 hub. It has 3 USB 3.1 ports, 2 DisplayPorts, a 3.5mm audio jack and a gigabit ethernet port. And best of all, it supports power delivery charging at 60W helping me quickly charge up my MacBook laptop so that I can work on the go.
Date published: 2020-10-14T00:00:00-04:00
Rated

5

out of

5
by
Alexh4
from
Works beautifully
So much easier to connect my dual ultra wide screen and have great resolution.
Date published: 2020-10-28T00:00:00-04:00
Rated

5

out of

5
by
AverageJoeNY
from
Great universal Thunderbolt 3 Dock
I received this Thunderbolt 3 Dock Plus from Belkin to test. Out of the box, it was easy to setup with a plethora of ports, such as two 4k 60Hz compatible DisplayPorts, Ethernet, and USBs ports, along with a single USB-C Thunderbolt connection to my Windows laptop. My Windows laptop automatically recognized the Belkin Thunderbolt 3 Dock Plus and setup the necessary drivers. It will also charge my laptop with the included 60W power supply. Out of curiosity, I connected my Google Pixel 3, and it will charge my phone. However, the phone does not have the necessary hardware/drivers to support all of the features on the Belkin Thunderbolt 3 Dock Plus.
Date published: 2020-10-30T00:00:00-04:00
Rated

5

out of

5
by
Clarkbar21
from
Makes my life so much easier
I have had this for a couple of weeks now and it has completed my work from home set up. It allows me to connect all my work devices (webcam, laptop, mic) into a shared monitor with my Mac Mini. Desk top is so much cleaner and makes my life so easy. Now when I have to grasp my laptop and work someplace else with it .. it is a simple single unplug and go. Love it.
Date published: 2020-10-28T00:00:00-04:00
Rated

5

out of

5
by
lsamirle
from
Provide a single display connection only
When using the "Belkin Thunderbolt 3 Dock Plus" connecting to a single display port (no mater which one) it works flawlessly; However I couldn't make the two display port work in the same time (meaning was not successful into connecting two monitors at the same time). I used a high quality DisplayPort cable and make sure they work since I have used them on another 2020 Dock on my possession. When using two displays I also tried to change the resolution setting starting with lower resolution and ending at the recommended one. Unfortunately, I was not successful to make the two monitors work at the same time. "Belkin Thunderbolt 3 Dock Plus" seems to allow only one display port to establish a connection (no matter which port: DP#1 or DP#2) when connected to two monitors. The only way for me to make a connection to the second monitor is by using an HDMI cable and connect it directly to my Laptop. Other that allowing only a single display port to establish a connection, "Belkin Thunderbolt 3 Dock Plus" looks pristine but accompanied by a bulky power unit which make my work station looks clumsy and defeat the purpose of having a slick "good looking hub unit". I hope Belkin could fix the issue of the two Display Ports not functioning at the same time and not going thru hoops to make it work (As a consumer we want our experience to be easy, seamless from the time we unwrap the Unit Box. Users also do not want to put an additional bulky power unit on our working space. In my testing I used 4 monitors (Two Dell S2716DG, and two Dell P2213) using DP#1 or DP#2, or DP#1 & DP#2. Phase 1: Using a single display port connecting to either Dell S2716DG or Dell P2213 Phase 2: Using a two display ports connecting to both Dell S2716DG Phase 3: Using a two display ports connecting to both Dell P2213 Phase 4: Using a two display ports connecting to Dell S2716DG and Dell P2213 Dell S2716DG tested resolutions: 2560 x 1440 (Recommended) 1920 x 1200 1920 x 1080 1680 x 1050 1600 x 1200 Dell P2213 tested resolutions: 1050 X 1680 (Recommended) 1024 x 1280 900 x 1600
Date published: 2020-10-22T00:00:00-04:00
Rated

5

out of

5
by
FON54
from
Great Thunderbolt Dock
Has all the ports you'll need, and ethernet much faster than wireless. Size is just right. Uncluttered my iMac 27 Desktop. I did not hook up another monitor to it so I can't comment on that but otherwise it performs perfectly
Date published: 2020-10-14T00:00:00-04:00
Rated

5

out of

5
by
Mirchseth
from
Simplified my setup
I was running out of ports on my MacBook and the this thunderbolt dock made it so easy to setup accessories/monitors connected to my MacBook. Definitely recommend the product. I have 2 5K monitors, external drives connected to my machine. Checks the box on looks as well.
Date published: 2020-10-25T00:00:00-04:00
Rated

5

out of

5
by
Maddog
from
Solid Dock With A Great Number of Ports
I've been using the Thunderbolt 3 Dock Plus for about a month now and I've been very happy with its performance and compatibility with my Macbook Pro and USB accessories. I've currently got a Webcam, wireless keyboard adapter, wireless headset, ethernet, and single monitor connected without any issues. The one gotcha I had when switching from my previous dock to the new one is that I had a HDMI connection and not Displayport. Bought a new cable and voila, fixed! One other item worth noting is that this dock is pretty small for all the connections it offers!
Date published: 2020-11-18T00:00:00-05:00
Rated

5

out of

5
by
LosAngeles1
from
Excellent dock, but consider the Pro version too
I have been using this dock while traveling between my regular home and my vacation home. I have Ultrawide monitors in both places and I use the dock to connect my MacBook Pro to both monitors using the DisplayPort ports. This works very well as it makes it so much easier to disconnect and reconnect my laptop using only one Thunderbolt cable if I want to temporarily remove my laptop from my desk-based setup. I know I'm probably in the minority, but I wish this dock had an HDMI output as well, for those times where I wanted to throw a movie up on an HDMI television screen. It's also nice that this dock has a Gigabit ethernet port. I used to have to run a separate cable for ethernet and that would take up one of my Thunderbolt ports on my MacBook Pro, so having it built-in is great. One thing I do miss is having an SD card reader built in. This dock is fairly large and the heavy power supply do not make it the most portable device, if you plan on moving it between homes like I do. If I were to buy another one, I would opt for the Pro version, mostly because for only $50 more it has an SD card reader that I would definitely use, plus it has an extra Thunderbolt port built-in. Finally, this dock has two gold screw holes on the bottom of the unit. I have not been able to figure out what those screw holes can be used for and the spartan included documentation does not mention them.
Date published: 2020-11-12T00:00:00-05:00
Rated

5

out of

5
by
Alex2345
from
Amazing for Laptops!
Received this in the mail a week ago and for my first week I must say it has helped my productivity 10 fold! I use this on both a windows laptop and also on my desktop! I found its most useful on the newer laptops that don't include an Ethernet port or multiple USB ports to save space. It worked AMAZING for that. I can finally connect my laptop to Ethernet and enjoy faster browsing speeds. I can also connect all my devices to my desktop now without having to move the whole tower and connect the USB's to the back of it. This perhaps is my favorite feature. The fact that I don't have to have a huge mess of cables or adapters or have to waste time moving my desk around to connect devices! It also includes USB-C plugs that charge my iPhone 11 Pro Max in almost 30 mins! In terms of build quality it feels premium HOWEVER it looks like it can be damaged if dropped so keep it away from the edge of your desk! This product worked great for me and I hope this review helps you out!
Date published: 2020-10-19T00:00:00-04:00
Rated

5

out of

5
by
Cupcake
from
Excellent dock!
I have really enjoyed using this dock although I experienced some hiccups along the way, however these were all software and hardware/firmware related rather than related to the dock itself. There are many things I enjoyed about this dock. One of these is the two full-sized DisplayPort connectors on the back. I like that they used these instead of using HDMI connectors since DisplayPort connectors are much more flexible and can be adapted to more other types of display connections from VGA, DVI, to HDMI. Another big plus of this dock is you get a full complement of USB ports. You get two USB-C ports and three USB-A ports and all five ports support USB 3. Having a front USB-A port perfect for thumbdrives was a great design choice since I did not need to reach behind to plug in thumbdrives or card readers. The front headset port which is supported by an internal USB DAC is also very helpful since you can plug in a headset whenever you need it without reaching around the back or trying to find the headset jack on your docked computer. This dock has a gigabit ethernet port which can be very useful since many laptops don't come with a built in ethernet port anymore. I am glad they chose to implement this through the Realtek RTL 8153. This particular chip connects via USB 3 internally and has very wide software support from OSes such as macOS, Windows, ChromeOS, and Linux. For all of these OSes, it is plug and play out of the box which is a huge plus. The dock itself is made of plastic and has a medium weight. It is not so light that it moves all over the place, but not so heavy that it is difficult to transport. The fit and finish is excellent and it looks great sitting on the table. I would take this over quite a number of the metal docks I have seen just based on the way it looks. It does not have the cheap look and feel of some of the docks I've tried (even those made from metal). There is venting on the sides to allow for ample cooling since the dock does get somewhat warm when operating. The power brick is quite weighty since it delivers a fair amount of power and it comes with a velcro tie to help wrap the cord and cable manage so you can have a neat workspace. It also allows you to wrap the cord if you are taking the dock somewhere with you. I also appreciate the Kensington lock slot since it makes this a viable option for a dock one can install in a meeting room or library for public use. Power delivery works excellently. I tested this with a larger 2017 15-inch MacBook Pro with touchbar, and it was able to charge it and power it even when the computer was running power hungry tasks (although very slightly slower than the 85 watt brick that comes with that computer). I do like that Belkin provides a short Thunderbolt 3 cord with this dock. It is long enough that you can place the dock under a monitor and use your laptop as a third monitor next to your two full sized monitors, but not long enough for it to get in the way. I think it is one of the most perfectly sized cables I have seen. Overall, this is one of the most well rounded and designed docks I have used. It really allows for a one cable solution where you can plug in your computer, power your computer, connect wired input devices and storage, connect to a wired network, and use two monitors even if you are using a Mac which does not support DisplayPort Multi Stream Transport. The only drawback to this dock, as with all docks is spotty hardware and software support. This is mostly evident with the dual monitor support on the dock. The only computers I tested that could recognize and use both monitors connected to the DisplayPort connections on the dock consistently were Macs. I even tested with a MacBook Pro 15-inch from 2017 (running Catalina), this is original touch bar MacBook Pro and one of the first Macs to come with USB-C/Thunderbolt 3 ports. That computer recognized and could use both monitors without any issues. It even was able to run as a three display setup with the computer open to use the built in display as a third monitor. Macs do not support DisplayPort Multi Stream Transport, so ordinarily you can only connect one monitor per port. This dock goes around this limitation. As far as the PCs I tested, I tested both in Linux and Windows 10. Some of them had a hardware/firmware issue that prevents them from seeing more than one of the two displays connected to the two DisplayPort connections on the back of the dock. This is because not all computers implement Thunderbolt the same way. Oftentimes these computers would only see one display even if you asked it to detect displays manually. Even on the same hardware, Linux (OpenSuse Tumbleweed) often fared somewhat better than Windows did. Many PCs support DisplayPort Multi Stream Transport, so the workaround with this issue was to connect only one display to the dock and daisy chain the second display to the first one using a DisplayPort cable. When this is done, most all of those PCs were able to connect, detect, and use two monitors both in Linux and Windows 10 when connected to this dock. The other issues I observed was that oftentimes when waking up a Mac from sleep, it would not remember the arrangement of the two displays, especially if the lid is closed. That would be more of a software issue. Also, on some Macs, there is a problem where if the computer goes to sleep, it has difficulty putting the ethernet port to sleep properly causing others connected to the same network switch network issues. All of these issues are software issues and are common experience when using ThunderBolt 3 docks. I spoke with someone who works in an office that provides docks to all users, and they reported the exact same problems, and these users use different docks from different companies (not Belkin). Overall, if I needed a dock, whether I had a Mac, PC, or Linux computer, I would get this one based on the excellent connectivity, well thought out design, and the fit and finish. These software and hardware support issues are common with all ThunderBolt 3 docks. Hardware-wise, this dock is here. It is ready. The software and hardware/firmware support need to catch up. I think it would be good if Belkin was able to compile a list of known working computers that can handle two displays on both ports on the rear of this dock. That may alleviate some of the frustration that users have when they are searching for a dock and temper customer expectations.
Date published: 2020-10-23T00:00:00-04:00
Rated

5

out of

5
by
echo
from
Works Well
It's very nice having just one thunderbolt/usb-c connection to connect to my laptop. All peripherals plug in to the dock and then just the single cable to the laptop. The unit works very well and I had no trouble going to max resolution, and it charges the laptop as well. The size of this thing is perfect! It's small enough to go in your laptop bag. The usb-c cable that comes with the unit is a little short. The laptop has to be placed pretty close to the dock to use the included cable which doesn't work for my setup but it is easy enough to fix by buying a longer cable. Also, the unit does not have an integrated HDMI port. If you don't already have a displayport cable, you will either need to buy one or buy an adapter if your monitors are HDMI only. There is no power button on the unit that I could find. What that means on a windows laptop is whenever you close the lid with the intention of just working off of monitors, it puts the laptop to sleep. You can change that behavior but then when you're not connected to the dock and close the lid, the laptop won't sleep even when you want it to unless you go back and change that setting back. Overall this dock works very well. Having multiple screens is great!
Date published: 2020-10-23T00:00:00-04:00
Rated

5

out of

5
by
PhantomHelix
from
Great Functionality
Very happy with the functionality, all devices I have test with the dock work as if they were directly connected to the Computers (Asus Desktop with built in TB3 Windows/Hackingtosh, Genuine iMac, MacBook Pro) Speeds on my USB 3.2 gen1 USB stick were just as fast 280mb/s. The Connector layout is perfect to have the dock tucked under a Monitor with the TB3 connector right out front so you don't have to move anything just plug in your laptop and BAM! I have been purchasing Belkin products now for some time, I will not buy any cables made by anyone else and this Dock does not disappoint on quality. Thank You Belkin for another great addition to my devices!
Date published: 2020-10-23T00:00:00-04:00
Rated

5

out of

5
by
oppositepro
from
Plug and play
I have a display port monitor in my desk and when I got the dock all hooked up, everything is tidy and efficient. I can't believe how easy it was to accomplish. Having added USB ports available right next to my monitor is huge for productivity!
Date published: 2020-10-23T00:00:00-04:00
Rated

5

out of

5
by
Danny350
from
Ultimate dock for productivity!
This dock is the best space saver for your Macbook Pro when you're at your desk. It can charge the laptop, provide dual monitors and an Ethernet connection all at the same time. Before I would have to use a dongle for each and my Macbook only comes with 2 USB-C ports so it was pretty limiting. I also enabled a third monitor with an active USB dongle so I have a total of 3 monitors at my desk. Being able to look at multiple spreadsheets and email at the same time makes life so much easier.
Date published: 2020-10-26T00:00:00-04:00
Rated

5

out of

5
by
dbud
from
Easy to set up, plenty of ports, and great speed!
I was able to set up the Belkin Thunderbolt 3 Dock - Plus in just a few minutes, so easy the diagram/instructions weren't really needed. Once plugged in self-installed. With all the USB ports I've been able to incorporate any devices I wanted into my workstation. It is small enough to set up anywhere and have the space to work or for personal use. I would recommend this product.
Date published: 2020-10-20T00:00:00-04:00
Rated

5

out of

5
by
jpack
from
Fast Thunderbolt hub with plenty of ports.
This hub quickly became my favorite option for connecting my MacBook. I was using a basic USB C hub before, and was blown away by the speed difference and options available on the Thunderbolt 3 Dock Plus. Being able to continue to use my other Thunderbolt devices through the hub was excellent. The dual DisplayPort connections greatly expanded my work from home setup. I used an active DP to HDMI adapter to connect my 27" 4K monitor at full resolution. The gigabit Ethernet is perfect for my gigabit internet connection and I am able to take full advantage of all of the speed. Being able to use a single USB-C Thunderbolt PD connection to my computer makes it so easy to just plug one cable in for everything. I can charge my MacBook and use the full speed of everything without a mess of cable going to/from my laptop.
Date published: 2020-11-04T00:00:00-05:00
Rated

5

out of

5
by
Redweezy
from
Another winner from Belkin, right out of the box!
I am a daily user of a 2016 MacBook Pro w/ TouchBar in lid-closed mode. This is my latest dock, the Belkin Thunderbolt 3 Dock Plus. I connected my Apple 2010 LED Cinema Display using a mini display port adapter to one of the full-size display port inputs. Even though this monitor is over 10 years old, it works flawlessly. Other docks in the past have had an issue with USB control of brightness after waking from sleep. After disconnecting and reconnecting the dock (so as not to charge at 100% all the time), the brightness controls would not operate, or only operate the laptop screen's brightness screen. I am happy to report that this issue seems to have been fixed by Belkin! To the Cinema Display, I have connected an Apple USB keyboard and that works too. The rear ports on this dock are USB-C without Thunderbolt 3 capability so my external Thunderbolt 3 SSD is faster when connecting directly to my laptop. Lastly, the power-delivery capability of this dock is rated at 60W so it is capable of charging my computer, but I am uncertain under what conditions it might need more power (my original Apple power adapter is 87W). Good dock, and good value for the price!
Date published: 2020-10-14T00:00:00-04:00
Rated

5

out of

5
by
FG80
from
Does not work for 2020 MacBook Pro!!
A horrible product. Wasted hours on trying to fix what this poor product was not able to do
Date published: 2020-08-17T00:00:00-04:00
Rated

5

out of

5
by
anders
from
No problems here
Got it to work with 2x display port, in 2020 macbook pro 16"
Date published: 2020-09-14T00:00:00-04:00
Rated

5

out of

5
by
mailinh
from
Doesn't work
Only picks up one monitor, as others have complained about, which means it's useless for my office needs. Will be returning
Date published: 2020-08-22T00:00:00-04:00
Rated

5

out of

5
by
PeterPan 714
from
only one monitor works
hi, I bought this docking station to connect 2 monitors to my new MacBook Air 2020. Only one monitor is working. it doesn't pick up the other monitor, it stays in Power Save mode. I can't believe I paid over $200.00 for this, any help will be appreciated.
Date published: 2020-07-01T00:00:00-04:00
Rated

5

out of

5
by
Newton77
from
Almost Usable
One of the main reasons I picked up this dock, was to have the ability to change and have Ethernet Connections all in one, while I'm working from the house. While the dock does works as expected, the Ethernet connection works when it feels like it, and disconnects at random. After doing some research, I found out this is VERY common for this dock, and the only way I've found to fix this issue so far, is to disconnect and reconnect, the TB3 cable. Save your money for a better/different dock, and avoid this one, if Ethernet Network is one of your main goals for this dock.
Date published: 2021-04-01T00:00:00-04:00
Rated

5

out of

5
by
NmN325
from
Nothing but issues
I really wanted to love this dock as it has all the ports I need while working form home. However, the first one I purchased caused my external monitor to flicker and disconnect multiple times a day. No sweat, the warranty process was simple and I got a new dock shipped to me. This one not only has that same DisplayPort issue (but only on one port), but the thunderbolt charging port will disconnect if I bump it at all.
Date published: 2022-05-02T00:00:00-04:00
Rated

5

out of

5
by
DanielE
from
Dock
Excellent product that met our needs nicely. Quick turnaround.
Date published: 2022-04-22T00:00:00-04:00
Rated

5

out of

5
by
wmw1234
from
This dock will destroy your USB-C port
Belkin sent me a replacement for the first faulty dock and now this one has destroyed the USB-C port on my MacBook Pro that I always plugged it into. Please do not buy this product. They won't honor your warranty and they won't refund your money. Now my brand new laptop is broken because of Belkin.
Date published: 2022-06-02T00:00:00-04:00