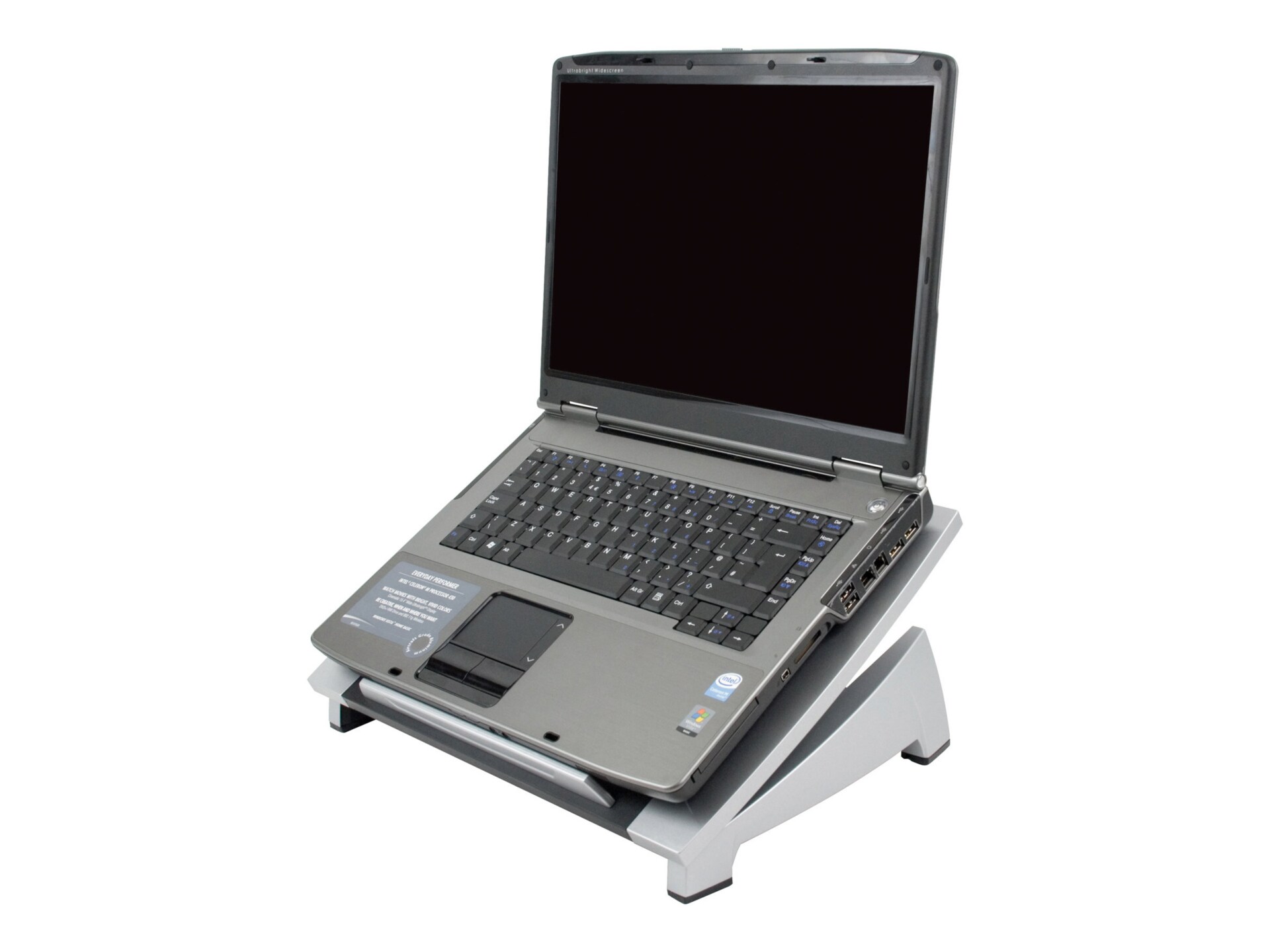 Caractéristiques techniques en un clin d'œil
Voir tout
Connaître son équipement
Raise your productivity by raising your laptop to your eye level. Adjustable angle puts your laptop screen at the optimal viewing level. Stabilizing front edge prevents laptop from sliding off stand.


Fellowes Laptop Riser notebook stand
is rated
3.31
out of
5
by
13
.
Rated

5

out of

5
by
Kimby
from
Love my riser !
Just keep doing what you are doing and you will reach the stars with all of your excellent products you offer and the services you offer.
Date published: 2007-05-27T00:00:00-04:00
Rated

5

out of

5
by
sthamikat
from
Perfect accessory for laptop
I use my laptop at my desk most of the time and the riser is perfect for desktop use. It puts the keyboard at just the right level and angle to keep my wrists from cramping while writing a paper etc. It also puts the screen at a better level.
Date published: 2010-04-07T00:00:00-04:00
Rated

5

out of

5
by
jjbfoster
from
null
Pros - Raises the laptop to eye level which is great when expanding the view onto two screens. Cons - Constructed of plastic and I am a little concerned about the durability, but so far so good. A little pricy since I found another version for less than $15, a contemporary metal design, looks really nice in my office.
Date published: 2011-07-14T00:00:00-04:00
Rated

5

out of

5
by
Debbie
from
Good ergonomics!
I bought this product to raise my screen when I'm sitting in meetings to prevent neck and back strain. It has helped tremendously. I would definitely recommend it.
Date published: 2018-10-19T00:00:00-04:00
Rated

5

out of

5
by
RockyRotti
from
Not as good as I expected.
I bought a laptop riser made by Fellowes three years ago and have been very pleased with it. Now, I decided to buy one for my husband to use with his laptop. I'm a little bit disappointed with this new one, though. The good features are that the size is great; there's plenty of room for the laptop. I really like the height of the front edge that keeps the computer from sliding off the riser. My old riser has two cut-out areas to dissipate heat from the laptop, which this new one does not have. Although the riser keeps heat off my lap, I always thought it was also important to dissipate heat from the computer itself. The construction is very flimsy. I thought I'd already broken the riser as I was removing it from the box when it twisted and made a cracking sound. All things considered, I would still recommend the product for light use. If you're on your laptop several hours every day, I'd recommend buying a riser that's sturdier and has areas cut out for heat dissipation.
Date published: 2015-03-04T00:00:00-05:00
Rated

5

out of

5
by
daelia
from
Cheap
Don't waste your money! It's so cheap I couldn't beleive it. The only reason I didn't return it was I simply didn't have the time, but we will use it, but it won't last long if it's moved around a lot...
Date published: 2011-03-31T00:00:00-04:00
Rated

5

out of

5
by
drmom
from
super saver
This is a life saver as it helps keep your laptop cool by allowing airflow and keeping the heat off of you. It also allows you to change positions so that you can use it almost anywhere. I would highly recommend this product to anyone who uses a laptop and has hands and wrists that get numb or sore.
Date published: 2010-11-10T00:00:00-05:00
Rated

5

out of

5
by
moose33
from
something is missing
I purchased this laptop riser because I needed a platform for my Dell laptop which INCLUDED a ventilated platform since all laptops have incredibly poor clearance from the flat surface on which they are set - i.e., they all overheat unless ventilation from below is adequate.There is NO ventilation on the flat surface of this Fellowes laptop riser and I'm wondering how much (or little) thought went into its design. I am returning this riser to Amazon and ordering one that has been thoughtfully designed to keep my laptop from overheating - possibly a "Designer Suites Laptop Riser" or a "Laptop Cool Riser".
Date published: 2015-07-21T00:00:00-04:00
Rated

5

out of

5
by
willmser
from
excellent product - except for
Recently purchared a laptop riser. It's a great product but has a major design flaw. The strip mounted on the front edge to keep laptops from sliding off when in the angled position, is too shallow and does not accommodate a Dell Inspiron 17R. This laptop has a rounded front edge on the case and will slide up over top of stop and can fall off. I had to modify mine by adding a Bar Pull (cabinet handle) that is 1 1/2" high and 10" long. My laptop fits just below cross bar, thus saving my laptop from destruction.
Date published: 2012-12-08T00:00:00-05:00
Rated

5

out of

5
by
nicw
from
Does not support most laptops, causing accidents.
Does not hold up most laptop sizes or shapes. They slide off, causing accidents, collapses, trapped my finger. Awful design.
Date published: 2015-02-23T00:00:00-05:00
Rated

5

out of

5
by
Bubby
from
Fellowes Laptop Riser # 8032001
The 80320 Does not hold a Dell Laptop 5720 (17R Notebook). In fact Fellowes does not have a riser that has a 1" "lip" required to hold my Dell to PC securely and prevent it from sliding off the riser. While trying to open my Dell 17R Laptop, the 80320 riser collaped because the "lock" mechanism does not lock securely! The slighest movement makes this riser unstable. The two small stops at the forward end that prevents the upper portion of the riser from moving forward are too short in length and too small in diameter. This model is definitely for a lighter PC and one that is much thinner than a Dell 5720 Inspiron bottom half which is 1" high. The better model for the weight on my Dell PC is a #80384 but needs modification to the front physicall stop which is only approximately 0.4" high. Luckily I had a scrap piece of 1/4" thick clear plexiglass and cut a 1" wide stip by approximately 8" long and fastened it using 3, small beveled head (countersink) type screws. This was a tedious fix and I had the hardware - drills, countersink tool and various other small tools to complete the job. I fastened the plexiglass to the existing 0.4" high lip using three screws. I could send a photo to those interested. As a retired mechanical engineer this was not too large a challenge but again tedious and requiring some special hand tools. And very time sensitive. It is NOT a 15 minute job!!!! Fellowes is missing an opportunity here especially for DELL PC's that are larger and heavier than some PC Laptop competitors. It is an "easy" fix but obviously requires retooling for their molding process.
Date published: 2012-08-16T00:00:00-04:00
Rated

5

out of

5
by
Sesel
from
Completely useless
Does not do what it is designed to do. The lip at the front edge is completely inadequate to hold any modern laptop (ie anything with a curved profile) in place, meaning your laptop is guaranteed to slip off sooner rather than later (if you can get it to sit there in the first place). End result? Expensive laptop hits the floor, coffee gets knocked over, complete disaster... Avoid at all costs.
Date published: 2015-10-20T00:00:00-04:00
Rated

5

out of

5
by
Godzilla
from
Laptop riser
Plenty of adjustability, gets my screen to the perfect working height.
Date published: 2021-01-21T00:00:00-05:00