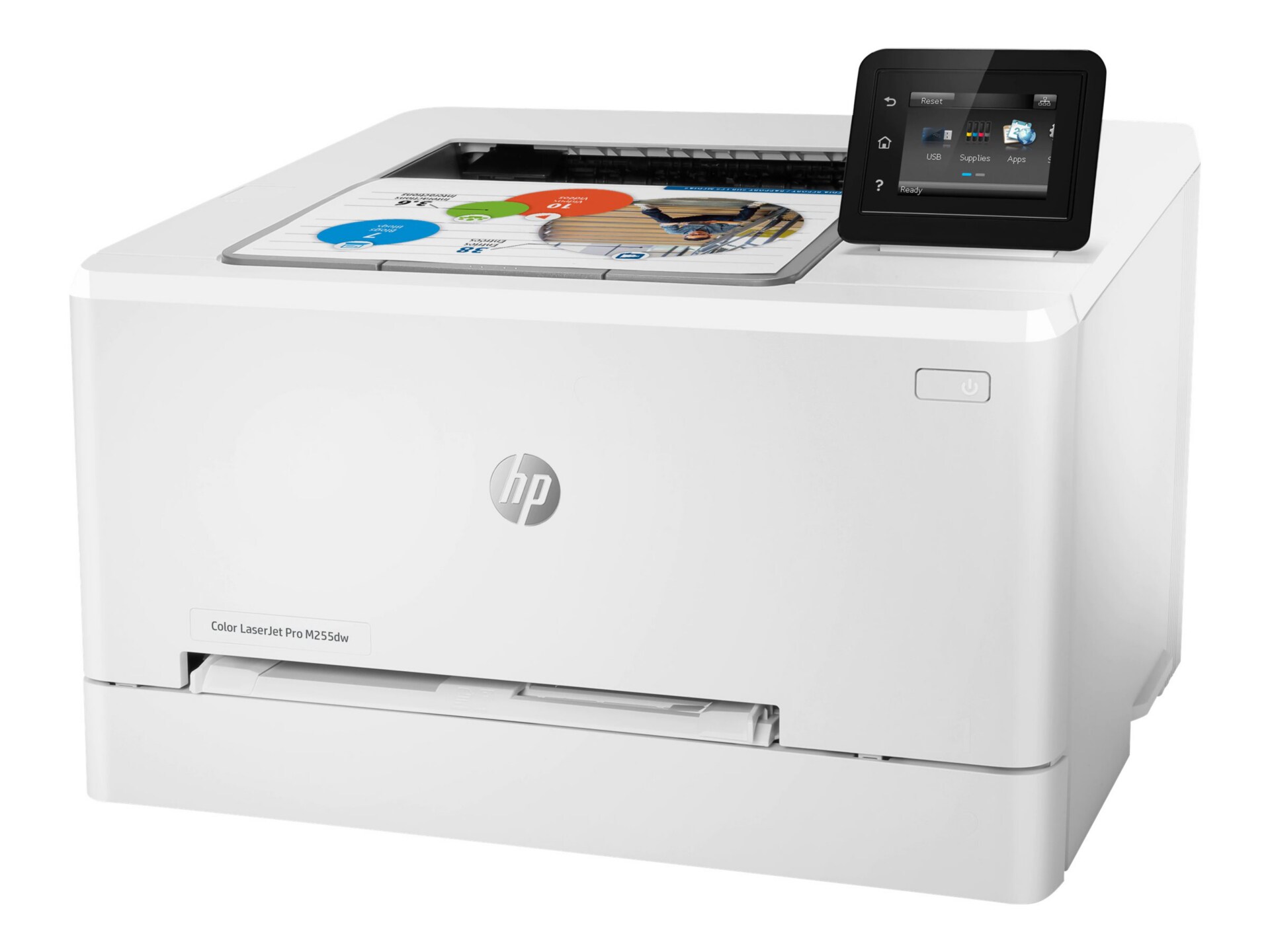 Caractéristiques techniques en un clin d'œil
Imprimante
Recto verso
A4/Légal
Jusqu'à 22 ppm (mono) / jusqu'à 22 ppm (couleur)
USB 2.0
Wi-Fi(n)
Couleur
Laser
101.6 x 152.4 mm (min.) - A3/Ledger (297 x 432 mm) (maximum)
Capacité : 250 feuilles
Réseau local (LAN)
Hôte USB
Voir tout
Connaître son équipement
Impressionnez par la couleur et augmentez la productivité. Obtenez des couleurs de haute qualité et des vitesses d'impression recto-verso rapides. Gagnez du temps avec les raccourcis Smart Task dans l'application HP Smart et imprimez et numérisez depuis votre téléphone. Obtenez des connexions transparentes et des solutions de sécurité renforcées.

Imprimante avec sécurité dynamique

Certaines imprimantes HP ont été conçues pour fonctionner uniquement avec des cartouches disposant d'une puce ou d'un circuit électronique HP neuf ou réutilisé. Ces imprimantes sont équipées d'un dispositif de sécurité dynamique pour bloquer les cartouches utilisant une puce ou un circuit électronique non-HP. Les mises à jour périodiques du micrologiciel permettent d'assurer l'efficacité de ces mesures et bloquent les cartouches qui fonctionnaient auparavant. Les puces et circuits électroniques HP réutilisés permettent d'utiliser des cartouches réutilisées, reconditionnées ou recyclées.
HP COLOR LASERJET PRO M255DW
is rated
4.40
out of
5
by
14
.
Rated

5

out of

5
by
HENRY G.
from
don't fear the bloatware; this is a great SOHO color laser
Affordable, and EASY to set up. Basically pull it out of the box, connect to your network and go. Wireless printing, color, duplex, and barely larger than a comparable b&w unit. Until I have to buy expensive toner cartridges, nothing not to like for a SOHO color laser printer.
Date published: 2020-12-16T16:16:56-05:00
Rated

5

out of

5
by
KIRK C.
from
Good Printer
Printer was amazingly easy to set up... just take it out of the box and plug it in (no shipping spacers, tapes, etc.) Had to install the driver for Ubuntu Linux, but once that was done the printer worked like a champ and produced very nice color prints. I am happy with the purchase.
Date published: 2020-12-09T15:27:06-05:00
Rated

5

out of

5
by
THOMAS A.
from
Great Printer for the Price!
I've only had this printer a couple of weeks, but it works great! I was particularly impressed with its "plug and play" operation. My computer recognized it and I was printing in minutes. I've had a similar HP product in the past at work, and it served me well. I purchased this one for home use.
Date published: 2021-01-13T16:43:04-05:00
Rated

5

out of

5
by
Keith Chang
from
Laser jet Pro M255dw
Great printer. I like particularly the Wi-Fi promoting capability from my mobile device.
Date published: 2022-06-01T00:00:00-04:00
Rated

5

out of

5
by
Daniel MM
from
Great printer!
This printer is great, it's quite compact, it was very easy to set up and prints perfectly from our iphones and ipads via airprint. I didn't even install the drivers or hp smart utility and we've been able to use it just fine. Print quality is good enough for our purposes (family usage, we don't need super high quality photo prints).
Date published: 2021-08-31T00:00:00-04:00
Rated

5

out of

5
by
Milaine
from
Exactement ce que nous cherchions !
L'imprimante a toutes les fonctions que nous voulions et en plus, elle imprime vraiment tres tres bien. Nous avions hâte de la voir, car nous nous demandions si elle sera tres grosse, mais elle fit parfaitement dans le bureau :) merci !!
Date published: 2020-10-12T00:00:00-04:00
Rated

5

out of

5
by
Rajinder Sidhu
from
Excellent printer
I have owned HP Products for several years now. This is my fifth HP Printer and it works really good. I am pleased with its performance. The product looks and feels sturdy and durable. The setup took about 10 minutes.
Date published: 2021-06-14T00:00:00-04:00
Rated

5

out of

5
by
Linda D
from
No Printer. No Printer. A "0" on Cust Service
Have not got printer yet. Why do you keep asking for evals. Ordered 4 weeks ago and no updates on when it will ship.
Date published: 2021-12-29T00:00:00-05:00
Rated

5

out of

5
by
NLHarker
from
Very nice printer
It was easy to set up and prints flawlessly on my Macs, iPads and iPhones. Very pleased. After 1 month I have had no problems.
Date published: 2021-04-05T00:00:00-04:00
Rated

5

out of

5
by
Ejaz
from
Number one customer service
Excellent and timely delivery. The printer performance is 5 star
Date published: 2020-12-24T00:00:00-05:00
Rated

5

out of

5
by
Paul K
from
Good printer. Connecting was a chore.
I consider myself reasonably well versed in setting up technology devices. I found that HP did a reasonably good job wit their instructions but it still took a long time to connect the printer and it only works well and consistently in a wireless fashion while hard wire connected to the main PC on my home network — with wireless printing only working via the HP app - which I understand is bypassing my home network and using the internet as well. Print quality wise it's very good so far and fast. I bought this and a Brother portable scanner to replace a Brother 3 in 1 and I'm happy with the change so far. The Brother scanner was much more difficult to set up. It does not connect at all unless via hardwire.
Date published: 2021-03-02T00:00:00-05:00
Rated

5

out of

5
by
DLCanada
from
Multiple Problems that Keep Reoccuring
I had my printer for about 1.5 years and in that time I've had several different issues with it. I've worked with the HP technical department on a couple of occasions to try to fix the problems (e.g. loss of wifi connection, white spots printing on the pages, colour fading from the left to right side of the page, or splotchy colour). We work through the problems but within a month or two the problems come back or I lose connectivity again. I only use HP ink, and I'm getting a little tired of having to replace cartridge that are still half full to try to eliminate what the problems might be. I've still got my old HP LaserJet P1005 and it works great. I wish this printer had a little more longevity to it.
Date published: 2022-01-06T00:00:00-05:00
Rated

5

out of

5
by
MikeK
from
Great laser printer
Great printer! Fast and efficient with plenty of features. Only thing keeping it from being rated 5 stars is that it's a bit noisy when printing.
Date published: 2020-06-30T00:00:00-04:00
Rated

5

out of

5
by
Good man
from
My HP printer
Easy to install . Satisfied completely up to now . Better than my previous one
Date published: 2020-10-12T00:00:00-04:00