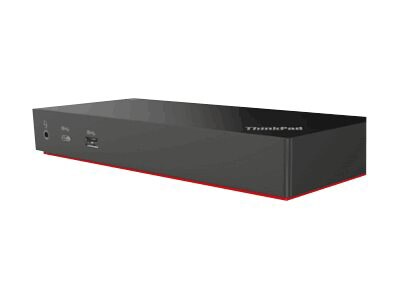 Caractéristiques techniques en un clin d'œil
Réplicateur de port
2 x HDMI
Thunderbolt
230 watts
for ThinkPad E14 Gen 4; E15 Gen 4; L13 Yoga Gen 3; L14 Gen 3; T14s Gen 3; X1 Nano Gen 2
Thunderbolt 3
2 x DP
GigE
États-Unis
Voir tout
Connaître son équipement
Aucune description marketing n'est disponible.
Lenovo ThinkPad Thunderbolt 3 Dock Gen2 - port replicator - 2 x HDMI, 2 x D
is rated
3.00
out of
5
by
4
.
Rated

5

out of

5
by
BENJAMIN J.
from
Nice features but not as reliable as I had expected.
Functionally the Dock is very good. It works well with external monitors - I use it with two additional ASUS 2K monitors and the image quality is perfect from the dock on both HDMI and Display Port connections. I also have my phone connected through the pass-through USB-C (Thunderbolt) port. I can even use an Apple Thunderbolt 3-to-2 adapter and from there, a Thunderbolt 2 - to - IEEE1394 and have a Roland FA-66 Audio interface working perfectly for audio and MIDI. So everything works well to standard. However, two things bring off two stars for me: 1) This dock failed within 3.5 months of use. I did not power anything from it other than the computer, and indeed the power supply did still work and power the laptop. But all the PORTS DIED! CDW were champions and sent me a replacement under warranty. But I would have expected far better reliability from a Lenovo (ie. ex-IBM) product. 2) It does not have easy power supply connections. To power a workstation laptop you need to use a stupid Y-split cable for 130W and 65W connections. That's just bad design and bad engineering. Also, the equivalent DELL dock I have used in the past had more USB 3 and USB C ports which I need. On this dock I still have to connect a USB 2.0 powered hub for all my basic peripherals.
Date published: 2020-11-18T17:48:22-05:00
Rated

5

out of

5
by
KIMBERLY D.
from
More Headache than Worth
Definitely not functioning as expected. I needed to purchase separate cables and to this day keep getting an error message that I need to use the power supply that was sent with the dock because the one being used does not have enough power, however it is the one that was sent. It requires many restarts to finally work. Working with Support but sounds like this is a bigger issue
Date published: 2020-04-02T10:20:10-04:00
Rated

5

out of

5
by
KRABA - 11 - K.
from
Confusing Power Connectors
Once you figure out how to connect it, it works great. Power connectors are confusing, 230W, 65W, 170W... just follow the connection diagram and plug all the cables...
Date published: 2020-08-03T15:58:30-04:00
Rated

5

out of

5
by
LISA F.
from
Read Your Setup Literature... both of them!
There are many things about this docking station I like. I purchased this dock at the same time as I purchased the new laptop. The only reason why I didn't give it 5 stars, is that it was fairly painful to setup. Yes, I admit I did not follow the instructions during setup because it seemed fairly straight-forward. There were numerous driver updates and still we encountered problems. When I did run into problems (problems that my IT person was struggling with as well), we did resort to the diagram included in the literature. The problem was that there were two conflicting diagrams! It all worked out, but this is my first docking station that required two different power plug-ins!
Date published: 2020-08-20T15:39:03-04:00