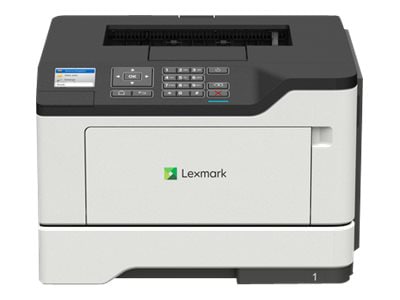 Caractéristiques techniques en un clin d'œil
Imprimante
Recto verso
A4/Légal
Jusqu'à 44 ppm
USB 2.0
Wi-Fi(n)
Noir et blanc
Laser
54 x 70 mm (min.) - Legal (216 x 356 mm) (maximum)
Capacité : 350 feuilles
Gigaoctets LAN
Voir tout
Connaître son équipement
Soutenez la réussite de votre groupe de travail de taille moyenne tout en gardant votre budget en tête. Équipé d'un processeur bicœur de 1 GHz, le Lexmark B2546dw offre jusqu'à 46 pages par minute d'impression, le Wi-Fi standard et une capacité d'alimentation de 350 feuilles, avec une possibilité d'extension jusqu'à 2 000 feuilles. Configurez et surveillez les renseignements essentiels sur le système et interagissez avec ces derniers grâce à l'écran couleur ACL de 6 cm (2,4 po) et au pavé numérique ou au moyen du serveur Web intégré. Gérez les travaux volumineux et arrêtez moins souvent grâce aux cartouches de poudre d'encre de rechange pouvant produire jusqu'à 10 000 pages et à l'unité d'imagerie durable. Vous obtenez une qualité d'impression supérieure, une sécurité rehaussée et une consommation énergétique réduite.
Lexmark B2546dw - printer - monochrome - laser
is rated
3.50
out of
5
by
4
.
Rated

5

out of

5
by
Shayred
from
Love this printer
I received this product in exchange for my unbiased opinion. I had a good feeling about this printer when I received it. I love that it can be wirelessly connected or hardwired. It prints quickly and efficiently, no assembly was required and the prompts were good for setup as well. I would recommend this product to friends, family, as well as anyone that is maybe running a small business. Overall, I was thoroughly impressed with this product and am really enjoying it.
Date published: 2019-03-12T00:00:00-04:00
Rated

5

out of

5
by
MicahM
from
Good Printer!
The printer came in a box at my front door. The box was damage, however the printer and materials were still in good, undamaged condition. The instructions on setting up the printer were picture only-- no words-- however it was very easy to set up and plug in. The printer came with a CD to set up the software. I was disappointed because my computer does not have a spot to insert a disc. Unfortunately, there were no alternatives listed on where to go to install the software aside from using the CD so, I had to research and google it myself. It took time on the Lexmark site to locate my model and select my operating system to install the printer (45 minutes). This was disheartening because unless you are tech savvy, you are on your own for set up. The printer itself works great! It is easy to use and the documents print quickly and efficiently-- within seconds of hitting the print button. I also very much appreciate how easy it was to set up Wifi, something that has been difficult with our prior printers. It can be done right on the printer itself versus on each computer it will be synced too.
Date published: 2019-01-22T00:00:00-05:00
Rated

5

out of

5
by
ShalaundaB
from
Reliable product
I really like this product, the set up was fairly simple, although I wasn`t too clear on the wireless set up, but I will revisit this later. Luckily, I was able to hardwire the printer and the set up was easy. It prints very well, quickly, and the ink doesn`t bleed which is a plus if you are in a rush to print documents. I really like the touchscreen and the large numbers panel. It is a little bulky, so if you are in a small space, you will need to be creative with storing it. The product meets my expectations because it is easy to use, durable, and prints quickly. Overall, I really like this product and would definitely recommend this product to anyone for home or a small business.
Date published: 2019-01-22T00:00:00-05:00
Rated

5

out of

5
by
Steve
from
New printer
I can't get the printer to print anything — whether via wireless or hardwired.
Date published: 2021-01-04T00:00:00-05:00