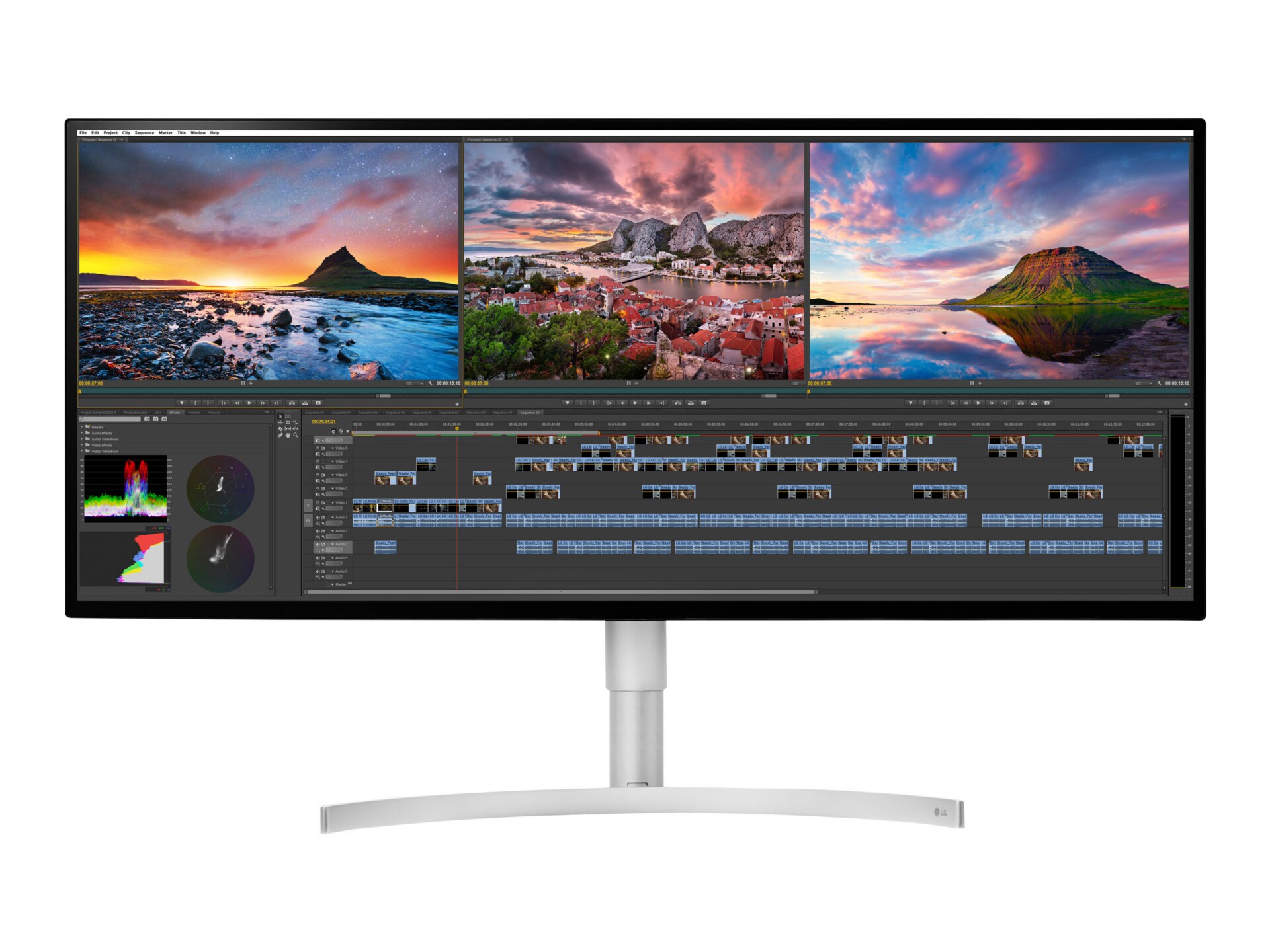 Caractéristiques techniques en un clin d'œil
W
34 po
Système de prévention des intrusions (IPS)
1200:1
2xHDMI
Thunderbolt 3
black front with white back
Écran à DEL
5120 x 2160 WUHD @ 60 Hz
450 cd/m²
5 ms
DisplayPort
Haut-parleurs
argent (support)
Voir tout
Connaître son équipement
Aucune description marketing n'est disponible.
LG 34WK95U-W - LED monitor - 34"
is rated
2.90
out of
5
by
88
.
Rated

5

out of

5
by
LG ultrawide 34WK95UW
from
null
Great monitor for all types of productivity on one screen
Date published: 2023-05-20T00:00:00-04:00
Rated

5

out of

5
by
34 in 5k Ultra Wide
from
Pretty Good, but….
After a few days of use, I had a shadow appear about 8 inches wide, left of center, from top to bottom of screen. I can make it go away by unplugging the power cable and letting it sit for a few minutes. It solves this issue temporarily. Pretty frustrating.
Date published: 2023-05-21T00:00:00-04:00
Rated

5

out of

5
by
stimoceiver
from
Good, but I wish I bought the BK model.
I bought this monitor in April of 2020. Great monitor, great image quality. About 10 days before the 1 year warranty was up, the displayport connector failed. Manufacturers have quality control down to a science. Always buy the longest warranty you can afford. Monitors and hard drives especially! The WK models have a 1 year warranty, the BK models have a 3 year. I would have bought the BK but they sold out just before I was ready to make my purchase. Once the BK's were gone I ended up paying almost the same for the WK. I initiated my RMA just days before the 1 year mark from my date of purchase and so far LG has been excellent about honoring the warranty.
Date published: 2021-06-12T00:00:00-04:00
Rated

5

out of

5
by
MacGuru
from
Good Image Quality, Speakers just OK, Limited Mac
This monitor has a great image. On a 2016 MacBook Pro 15" using Mojave 10.14.6, I needed to option click the Display Resolution Scaled button to get the full resolution of the monitor. It defaults to 2560 x 1080 to use 2x resolution scaling for high image quality. I tend to scale it to 3360 x 1417 to have readable text. This is about the same size of text as my Apple Thunderbolt Monitor. The OnScreen Control app is not worth downloading. It is just a window resize and positioning app. BetterTouchTool does much better control of windows. I was expecting to be able to control the Sound, Brightness, and other monitor settings, as shown on the videos on the LG website. However, it only tile windows across the monitor. The speakers are just OK. The Thunderbolt Monitor has much superior audio. The MacBook Sound panel indicates that this monitor has no audio controls. So you have to move the button under the monitor left and right to increase volume. The controls on the MacBook keyboard do not work with this monitor. The brightness control on the MacBook also does not work. To change brightness, you need to activate the on screen display, toggle into a menu and change it. The connection with Thunderbolt 3 charges the 15" MacBook and also provides USB support with a USB 3.0 Hub. The monitor itself enumerates with USB controls to the Mac, but not compatible with the standard keyboard controls. The display housing is cheap plastic. The curve stand portion that holds the monitor on the desk is the only piece of metal. The rest of the stand is plastic. The monitor has to be grabbed at both and pushed up or down to change its height. It is a little hard to get to the right spot since you have to put exert some force to get it moving. It only tilts a little and does not swivel left to right. Overall very pleased with it, but buy it at discount, since the low quality speakers, lack of keyboard controls, detract from a good Mac experience.
Date published: 2019-11-11T00:00:00-05:00
Rated

5

out of

5
by
Joereg
from
Great Monitor
Easy setup, was a little confusing on best way to install, but once done it has been great and adjustments are simple. Plan to buy second one for our RV.
Date published: 2019-11-08T00:00:00-05:00
Rated

5

out of

5
by
tyler92
from
Great Screen, but it struggles with Burn-In
Love the monitor. It looks great. Amazing workflow. I don't know if I have the colors setup perfectly on it, but it does feel a little cold in color. My biggest struggle has been burn-in. I work in music production/mixing/editing/Etc. so I may leave the same window up for hours. This monitor doesn't do well with that. It leaves some phantom images of that up... I mean. It's super subtle. You have to take like a dark "Finder" window and hold it over the edges of the screen, but then you can tell it's still ghosting you with some burn-in. I really do love the monitor. It's been extremely advantageous to my workflow, but this one issue annoys me to no end!
Date published: 2021-05-05T00:00:00-04:00
Rated

5

out of

5
by
darthmom
from
LG Support sucks, the monitor is okay
I purchased this with the intent to get 5K resolution with my brand new Dell XPS system. Despite having the proper build (Displayport 1.4 on the NVIDIA GeForce RTX 2060 SUPER 8GB GDDR6) and using the cable provided, the monitor continually warns me that I am not at the 5K resolution. I set the display to 5K and it also won't allow 60 hz refresh rate... again despite it being paired to a new XPS system with the proper build. I've consulted with LG and the degree of zero f's given were staggering. On the chance it was just one unfortunate person, I called 3x. They all read a script that basically said 'your system is incompatible' which is patently untrue and would not help me troubleshoot. I am able to change the display manually to 5K but lack of complete functionality for the price and sub par service make me think I will return it.
Date published: 2021-04-16T00:00:00-04:00
Rated

5

out of

5
by
MrMauro
from
Awesome image quality... When it works :(
I had this monitor for over a year. When you finally set it up and it works (it can takes a while, it doesn't digest very well many drivers combinations)... The image quality is stunning! However, LG released recently a fw update and since that moment, my PC doesn't charge anymore via the thunderbolt cable (I've a Spectre 13" x360 with 10th gen CPU)!!! I tried to change the cable, the port, whatever but it doesn't charge! Please allow us to revert the fw version!
Date published: 2021-01-28T00:00:00-05:00
Rated

5

out of

5
by
industrial designer
from
very disappointed in my investment
I am a diehard LG fan. I've had their phones for ages, I love their OLED displays, I trust their tech. This however is the exception. This display suffers from massive temporary screen burn in issues. The feature set makes it perfect for professionals, a dream display, but you'll be left with burnt in backgrounds and pretty much anything while you're trying to professionally edit a photo or whatever it may be. Might as well work with dirty glasses on.
Date published: 2021-01-30T00:00:00-05:00
Rated

5

out of

5
by
Elkewlbeanz
from
Works great with 2019 15" MacBook Pro -Radeon 560X
I received this monitor Feb. 3rd 2021 and have had it for a few days. I read through both the good and bad reviews. So far I haven't experienced any of the major issues. I purchased an Apple Thunderbolt 3 cable just in case the LG supplied cable gave me issues. I will be returning the Apple Thunderbolt 3 cable. I've purposely and repeatedly put my laptop to sleep for a few minutes and also left over night had haven't had issues with the LG screen not waking up in any case. I downloaded the OnScreen Control App and was prompted to update the monitor's firm ware. Note that you may have to plug in the factory supplied USB-C to USB-A cable to complete the firmware update. Screen Split options are limited but do the job. The monitor by default was in display port 1.2 when using the Thunderbolt 3 cable. You'll have to use the option key when clicking on scale to get 5k2k resolution. Things to keep in mind while using Thunderbolt 3 cable: Display Port 1.2 - Allows DCI-P3 and 5k/2k but NO HDR Display Port 1.4 - Allows HDR but NO 5k/2k and NO DCI-P3 On to the reason why I didn't give it 5 stars. The image retention (different than image burn) is REAL. I've only noticed it when I used a dark background after having a few lighter colored windows open. I did have to look for it and so far it hasn't been noticeable while editing on programs such as LightRoom. I will keep on eye on this to see if it gets any worse. After only using this monitor for a few days, the 5k2k resolution and added real estate has definitely increased my productivity. The color accuracy in DCI-P3 is fantastic and great for editing both photos and video.
Date published: 2021-02-05T00:00:00-05:00
Rated

5

out of

5
by
TomTX
from
Perfect Idea with Poor Execution
On paper, this was the perfect monitor. - 4k screen with USB-C connectivity and lots of USB ports - Sweet spot from a size standpoint - Beautiful no-logo thin bezel - Built-in KVM switch for multiple computers both PC & Mac that is easy to use In reality, it is unworkable for professional work. - First, only USB-C is 4k. The HDMI ports are only HD meaning if you have two computers (one for work, one for personal) that you want to use in 4k you will have to manually change the USB-C from the back. - Second, when your computer goes to sleep when it awakes it will reset the default resolution to SD. It happened on my Mac Mini, M1 MacBook, and Lenovo laptop. You have to unplug your computers each time and reconnect them for the resolution to reset. - Third, the wake-time from when I clicked on my trackpad or mouse to when the monitor woke up was frequently close to 20 seconds. If it happened once in a blue moon then no biggie, but the majority of the time at this price point - really frustrating. The most beautiful monitor on the market imo and I would pay the price in a heartbeat if it worked. But it doesn't. I read the reviews before buying and took the chance anyway. Don't make my mistake - pass on this version.
Date published: 2022-03-07T00:00:00-05:00
Rated

5

out of

5
by
tujger
from
Great for work
I am a software developer. I work with frontend and backend. I need comfortable working conditions. One of them is two monitors on which I can perform my duties without frequently switching between applications. But I still do not have enough space to solve problems on the frontend part. This is a good excuse to replace my old 27" monitor with a new 34" one. At first I chose 34" at 3440x1440. But it showed too small elements on the screen, and scaling led to blurry fonts. Then I tried 34" at 2150x1080. It was terrible! You will be able to recognize every pixel effortlessly. It may be good for games or movies, but it's completely unsuitable for work. Finally, I got this 34WK95U-W monitor. Unfortunately, my iMac 27" (2016) does not support ultra wide resolution and all resolutions break. But I already ordered a Macbook 16 Pro M1, it definitely works with this monitor as it should. I expect it in a month, but for now I connected my iMac to the monitor with two cables (DisplayPort and HDMI), split the screen into two parts and work as with three monitors :) An interesting experience!
Date published: 2022-02-15T00:00:00-05:00
Rated

5

out of

5
by
Home consumer
from
Easily broken.
I had this just over the warranty period where I got a slight hit on the side. That was enough to crack the screen under the outside screen. Very disappointed. Next time get extended warranty.
Date published: 2022-09-03T00:00:00-04:00
Rated

5

out of

5
by
dougc84
from
Checks (almost) all the boxes, but poor execution
I purchased this monitor a few years back to replace another LG panel that was exceptional - a 34UM95. It looked to be the ideal panel. But this panel was not ready for prime time. It's a really good looking panel if you can get native resolution working on it. I tried via HDMI and DisplayPort through numerous cables and adapters from my previous 2018 MacBook Pro, and USB-C was the only way that it would work. I understand HDMI doesn't (generally) have the capacity to output 5k60, but DisplayPort does. Otherwise, it would downscale to a resolution that looked blurry at best, jagged and unpleasant at worst. And half the time, I'd have to pull and replug the power cable just to get my MacBook Pro to understand its resolution. Ghosting. I sent this in for repair due to terrible ghosting issues. They... replaced the control button. Any brighter window that sits in the same place on the screen for more than a few minutes will 100% leave a ghost. It's an IPS panel and should absolutely not do this. You can search for this and find people with these problems all over the place. Start-up time is horrendous and the OSD is sluggish. Often times it won't boot into the proper resolution. The brightness is OK, but, even in a dark room, I've always craved a bit more from it. Compared to my Ultrafine 5K, it looks dim and gray by comparison. Don't even get me started with its "pseudo-HDR," because HDR isn't HDR when it can only put out 500 nits. Of course the USB-C port has since broken as well. Because why not? I literally put zero pressure on the USB-C cable or anything. I just unplugged it from the back one day, and the next day, the USB-C port was jiggling around like a belly dancer. This had the potential to be such a great monitor, but it failed on so many accounts. Ghosting/burn-in, poor OSD, cheap components, lack of proper connectivity, etc. And yet, LG decides to still advertise this monitor - despite not being sold for several years - on social media.
Date published: 2022-08-05T00:00:00-04:00
Rated

5

out of

5
by
MJinNJ
from
Great Idea/Great Product - At FIRST
I've had this monitor for a while now. However, I have been dealing with image retention (burn in) since almost the first month of ownership. I have many LG products in my home but this was truly disappointing given the high cost of ownership.
Date published: 2022-11-29T00:00:00-05:00
Rated

5

out of

5
by
Fat Owl
from
Best monitor ever
…and I've had a few. Including the ultra fine 5k from LG
Date published: 2022-11-19T00:00:00-05:00
Rated

5

out of

5
by
Lgz4life
from
Terrible product that barely worked until it didnt
Product required frequent reboots until it looked right. It finally broke with many lines of dead pixels after the 30 day return period. LG support could not figure out how to send return label. Gave up and begged retailer to return. They understood how terrible LG is too
Date published: 2021-01-04T00:00:00-05:00
Rated

5

out of

5
by
Avif
from
Great hardware but buggy inputs/software
I bought this monitor to expand my home office and the sheer size and pixel density of this monitor has been excellent. The screen is plenty bright for an indoor environment and the speakers are above average (though I still recommend using dedicated speakers). However, I've ran into numerous software issues trying to set up the monitor: mainly trying to get HDR turned on at full resolution through the thunderbolt 3 cable. It simply isn't an option when using the OSD and neither using HDMI or DisplayPort resolves this issue (strangely enough, displayport will show HDR at full resolution but only at 30hz). And when changing the settings on the OSD, the monitor will sometimes lockup and freeze, requiring a hard reset. FWIW, I'm running this on a 2018 MacBook Pro with a radeon pro 560x. Overall, I'm satisfied with the monitor but am disappointed that I am unable to use it fully as advertised. If HDR is important to you (whether as a content creator or just watching videos), I would suggest looking elsewhere.
Date published: 2020-12-11T00:00:00-05:00
Rated

5

out of

5
by
fk2020
from
Best Monitor ever!
This is the best monitor I have ever bought. 34 inches of all 5K sharp text and images. Cant go back to any other monitor..
Date published: 2020-12-12T00:00:00-05:00
Rated

5

out of

5
by
Joey1986
from
Terrible product that barely worked until it didnt
Product required frequent reboots until it looked right. It finally broke with many lines of dead pixels after the 30 day return period. LG support could not figure out how to send return label. Gave up and begged retailer to return. They understood how terrible LG is too.
Date published: 2020-12-10T00:00:00-05:00
Rated

5

out of

5
by
Janoo
from
Awesome monitor
Beautiful high resolution display that conveniently connects to my MacBook Pro 16" using a single Thunderbolt cable. However, this monitor lacks ability to easily switch between two computers. I also have a PC connected using a DisplayPort + USB-B cables. In order to switch the display between computers, you have to first select the USB uplink in one submenu of settings and then select the input in another submenu. This process takes about a minute, which is 59 seconds too much. I would suggest adding a configuration option to preselect pairs of video inputs and USB uplinks (e.g. Thunderbolt + USB+C vs DisplayPort + USB-B) and then using a single key press (such as currently unused cursor up, or cursor down) to alternate between these modes.
Date published: 2020-11-17T00:00:00-05:00
Rated

5

out of

5
by
RevsMons
from
Terrible product that barely worked until it didnt
Product required frequent reboots until it looked right. It finally broke with many lines of dead pixels after the 30 day return period. LG support could not figure out how to send return label. Gave up and begged retailer to return. They understood how terrible LG is too.
Date published: 2020-12-05T00:00:00-05:00
Rated

5

out of

5
by
Sprocket
from
Works on on Late 2013 MacBook Pro
I was able to get the full 5K/2K resolution using a mini Display Port to Display Port Adapter and the LG supplied Display Port Cable plugged into one of the Thunderbolt 2 Ports. You need to press and hold the Option Key and click Scaled to display a dropdown of resolutions. (see photo) If you want to switch more easily, get the Display Menu App from the App Store to get a task bar icon and dropdown. I have also run this at full resolution on my Linux Mint Workstation and Windows 10. I bought it with the intention of eventually upgrading to a newer Thunderbolt 3 Mac. My primary reason for the purchase was to have more screen real estate for web programming and development work. It really is a spectacular monitor. (Oh and you must use cables rated for 5K)
Date published: 2020-12-06T00:00:00-05:00
Rated

5

out of

5
by
tape
from
Beautiful monitor that needs quality control.
Very beautiful monitor. Great until the Thunderbolt port stopped working after 8 months.
Date published: 2021-03-15T00:00:00-04:00
Rated

5

out of

5
by
danielmey
from
Compatibility issues still unresolved
The monitor by itself would be great but it still doesn't work with a MacBook Pro 2018 - even after the Update to Mojave 10.14.2, as was promised by LG. THe screen stays black and nothing happens - except for a system lag every 1-2 seconds. A couple of days back even the connection via Display Port stopped working (both set to v.1.4), so right now I'm completely unable to use the device. If the issues are not resolved in the next couple of days, I'm returning the monitor.
Date published: 2018-12-09T00:00:00-05:00
Rated

5

out of

5
by
JakeBoydPhoto
from
Issue after issue. Do not recommend.
Like others, I too have all kinds of issues with this monitor. I haven't ever gotten a connection via Thunderbolt 3 (not with a 2018 iMac, 2018 mac mini, or 2018 MacBook pro). I had been using it via DisplayPort as a last option and finally figured out that my Thunderbolt 3 port did work but was loose all along. Holding the cord a certain way was the only way to get it to work. Still, I was unable to use the port for anything but charging a device. LG won't let me return it, but I'm currently getting ready to send it in for repair. I will say that the color is great when it does work, but I've had so many frustrations with it, that I couldn't enjoy it much.
Date published: 2018-12-23T00:00:00-05:00
Rated

5

out of

5
by
jwwoods
from
a question
It has some nice features. Why no mention of bit depth?
Date published: 2019-07-23T00:00:00-04:00
Rated

5

out of

5
by
Douglas 17584
from
Works great on Mac OS 10.14.2 Beta
I thought long and hard about buying this monitor based on reviews, they are all correct, and the trick to making this work great is to upgrade to the Beta version 10.14.2. The monitor works great then...
Date published: 2018-11-23T00:00:00-05:00
Rated

5

out of

5
by
DallasAK
from
Does not connect via Thunderbolt on Macbook Pro
This monitor does not connect to my MacBook Pro 15in late 2016. I can only connect it via HDMI or MiniDisplay port which is not able to push a 5k2k resolution. Absolute waste of money. Not sure if the product is defective or there is some sort of bug that LG needs to work out. I am sending it back.
Date published: 2018-11-09T00:00:00-05:00
Rated

5

out of

5
by
klsrl
from
Mojave 10.14.6 breaks the display
I've got this monitor for almost half a year and it has been working flawlessly with my Macbook Pro 2016 until about a week ago when I updated my Mac to Mojave 10.14.6. Now the Mac recognizes the monitor as one having 3440 by 1440 native resolution rather than a 5120 by 2160. The text looks terrible compared to before. I hope this can be fixed soon!
Date published: 2019-08-02T00:00:00-04:00
Rated

5

out of

5
by
Maryeah 17
from
Great tv
I wish I could really have the words to express just how I feel about buying this Tv. It's the best purchase I have ever made. The whole family is enjoying It as much as I do. Thanks LG.
Date published: 2018-12-07T00:00:00-05:00
Rated

5

out of

5
by
colbiocin
from
MacOS X volume and brightness control
The missing microphone and webcam is a minus and I knew about it, but the biggest issue is that I can't control volume or brightness from MacOS X using a Macbook Pro 2016 and usb-c cable that was in the box with the monitor. This is a big problem. O wonder how much will take abuse the monitor joystick. Hope there is a way of making this work or I am thinking of returning the monitor and buying the Ultrafine 5k.
Date published: 2019-02-06T00:00:00-05:00
Rated

5

out of

5
by
BMWSloy
from
Was great once I got it working... Until it died.
Like many people have said, it's been a hassle to get working on a 2018 i9 MacBook Pro. Fortunately, I've had it running rock solid for the past few weeks thanks to the most current MacOS betas. Looks really good, but like others have reported, it has significant image retention that I've never seen on any LCD panel. I ended up having to autohide my dock as it would typically persist for quite a long time and was distracting. Well, fast forward to today. I had to pleasure of turning it on to find a vertical green line from top to bottom and a black line from side to side. I would have thought by this point LG would have LCDs figured out, especially on such a premium display. Clearly I'm mistaken. Fingers crossed that LG will come through and come up with a painless replacement since I emailed them this afternoon.
Date published: 2019-03-24T00:00:00-04:00
Rated

5

out of

5
by
Omar Abdul Gawad
from
Amazing!
I am in shock of how powerful this monitor truly is. I tried it at a friends and had no idea how detailed, how graphical this monitor could actually be. If this goes in your price range, it must be top of the list!
Date published: 2018-10-06T00:00:00-04:00
Rated

5

out of

5
by
Cloud9
from
Problems connecting
I am having problems connecting. maybe to 20th time it will connect and when it does the screen is beautiful. I own latest Macbook pro 2018 all maxed out. Using the cable that comes with. Called tech support and they could not help. They said they would get someone to help, but no one has vet come forward.
Date published: 2018-12-03T00:00:00-05:00
Rated

5

out of

5
by
thecake
from
Goodish, but not without flaws.
Generally, a good monitor. It's my second one though. My first one came with two big clusters of dead pixels and a high-pitched hum or coil whine which curiously only kicked in after +/- 30 minutes but then was constant. On my second monitor there were no dead pixels though the hum / coil whine remained the same. Sadly, no changing of the settings (brightness or contrast) would get rid of the high-pitched sound. If there were an active cooling component (a fan) in the monitor than there would be at least a proper reason for the sound, but I guess it's just a cheap component that made the same sound in two different monitors. Not great for a silent system setup if the monitor makes the loudest noise :/
Date published: 2018-12-03T00:00:00-05:00
Rated

5

out of

5
by
AAab
from
Image retention problems make this a hard buy
I purchased this monitor because, as an engineer and programmer, I find myself short on horizontal screen real estate. The monitor meets my needs in that regard. My biggest issue, and the reason that I can't recommend this monitor, is the prominent image retention that it exhibits. This is magnified by the recently introduced dark mode in MacOS, which seems to make the retention much, much more noticeable. For the price of this monitor, I would expect significantly better image retention performance.
Date published: 2020-06-19T00:00:00-04:00
Rated

5

out of

5
by
john 38
from
This computer is good
This montitor is perfect for my needs. The price makes sense and it performs well.
Date published: 2019-03-12T00:00:00-04:00
Rated

5

out of

5
by
lg34wk95u
from
Mac Compatibility Still Lacking for 2018 Macbook
LG promised that the 34WK95U-W would be fixed with the Mac 10.14.2 update but it still does not work with Thunderbolt 3. After waiting months with delays I was excited to get the monitor, but couldn't be more disappointed I can still only use 2/3 of the screen with no help from LG. Do not recommend until this issue is resolved.
Date published: 2018-12-07T00:00:00-05:00
Rated

5

out of

5
by
tamius_han
from
Image persistence issues are ridiculous
I bought this monitor about a month ago, because it's pretty much the only option if you want that resolution at that specific pixel density. Pros: * High pixel density (about 160 PPI) makes text look great and very pleasant to look at * Aspect ratio (21:9) * With brightness set to maximum, this monitor is really bright. This makes things easier to see in daylight. Cons: * Really bad and severe image persistence issues. After-image can appear in as little as 60-90 minutes of displaying anything static (say, UI of software, photo, letterbox while watching a movie) and it's very clearly visible on uniform, dark backgrounds (in general, any website, program or theme that uses colors between #111 and #555 as the background.). To be completely fair, user manual does say that "displaying static images for prolonged amounts of time" could potentially result in after-image. But to also be completely fair, I've never had this issue before. (I've tried reproducing it on my other monitors. On all of those where after-image takes much longer to form, is much less noticeable and disappears much faster). I even got noticeable after-image just by writing this review (which, to be fair, took a while). (Yes, the three stars docked are pretty much due to this.) --- Other things worth noting: In terms of features, the monitor has what I want for the most part, although the lack of full array backlight is a bit disappointing.
Date published: 2019-01-14T00:00:00-05:00
Rated

5

out of

5
by
omvomv
from
Finally an 5K monitor that I can use at native res
Finally managed to acquire one of these, and its pretty nice. I would have preferred the same resolution at a bigger size, but its a lot better than the 5k @ 27" monitors. Only downside is my lousy work laptop can only drive 3840x2160x30hz - even with greatly reduced refresh rates I can't drive 5120x2160 out either its displayport or hdmi port - probably due to the Intel adapter. My desktop's GTX 1070 has no problem driving the display at 60hz using the included displayport cable.
Date published: 2018-10-23T00:00:00-04:00
Rated

5

out of

5
by
TheResoluteMind
from
Beautiful Ultrawide for Video & Photo Editing
I bought this 'top-of-the-line' 5k2k LG to go with a high-end, custom-built (Puget Systems - Spirit Windows video-editing workstation with Nvidia RTX 2070. It's perfect for a NLE like DaVinci Resolve 15. Couldn't be more pleased with this 5K2K. Please enhance the OnScreen Control utility. I've sent in recommendations.
Date published: 2019-03-15T00:00:00-04:00
Rated

5

out of

5
by
slowder
from
Poor picture quality for text
This monitor comes with an anti-glare coating that is stronger than the one on the 5k monitor. If you're in a bright room and you don't mind the fact your text will be blurry, this is a great monitor. The problem is I'm in a bright room and work with code 12-16 hours a day. I took the anti-glare coating off my previous 4k monitor and the clarity on it is outstanding! You'd expect for $1400 MSRP would have a better result. If you just want a pretty picture, this monitor is fine, but overpriced.
Date published: 2019-06-13T00:00:00-04:00
Rated

5

out of

5
by
MichaelJohn920
from
MacBook 2018
So close, but so far. The monitor is not recognized by my 2018 MBP without going through various combinations of changing scaling, PBP modes, connecting and disconnecting, etc. When I can get it to recognize my MBP and display by 5K its fantastic. But unless you are ready to deal with enormous frustration wait until it is supported by LG.
Date published: 2018-11-13T00:00:00-05:00
Rated

5

out of

5
by
Bars
from
Super Display! But OnScreenControl not working.
Im happy about my new display, but unfortunately the corresponding software is not working. and as far as i have it, there is no update for the software and i cant find community tips for my problem. The App crashes during the start of it.
Date published: 2018-10-25T00:00:00-04:00
Rated

5

out of

5
by
justdanyul
from
Never seen so much image retention
The image retention on these units are insane, LG took my first unit back, but my new one suffers from the exact same problem... Open a window, leave it for about 10 minutes, and its not tattooed onto the desktop. Not a great piece of kit at all, and at this price point.. well, take it im not a happy customer.
Date published: 2019-02-14T00:00:00-05:00
Rated

5

out of

5
by
campybike
from
Should be great, except for the stand
These comments are prior to release in the hopes that LG can do something to correct the stand. Based upon specifications, the LOWEST the stand can go will have the Monitor 3.5 inches above the desk. At the highest adjustment, the monitor can be 7.8 off the desk at the bottom. Who needs that? This is super-high for a large monitor. Particularly in a graphic design environment, comfort is important. The user needs eye-level at the center or preferably higher-than-center of the Screen. We can't be looking-up. A comfortable, all-day chair often get the user lower to the desk, so the monitor will need to be lower. Previously LG has been one of the best for this issue. Many LG Monitors handle adjustment to a low position, some are less than 2 inches from the desktop. Example: The LG 34UM88C-P will range between 1.9 and 6.6 inches from desktop. Plenty of range, and much better ergonomics. Please LG. Fix your new stands.
Date published: 2018-08-06T00:00:00-04:00
Rated

5

out of

5
by
MonitorNotWorking
from
Does not work with 2018 MacBook Pros with 560X GPU
I have tested this monitor on two separate 2018 MacBook Pro 15" with the 560X GPU - One of which I bought brand new just to test with this monitor. This monitor currently does not work with the 2018 15" MacBook Pros. It DOES however work fine with a 2016 MacBook Pro with AMD 460 GPU and looks great. If they can fix the Thunderbolt 3 problems with the new laptops it will be a good monitor, otherwise I say save your money until they fix these issues. It's inexcusable that they didn't test this monitor on a 2018 computer when they delayed it for NINE MONTHS.
Date published: 2018-10-27T00:00:00-04:00
Rated

5

out of

5
by
jsumners
from
Love the size& color but image burn-in is terrible
The size of this display is great for working and being able to keep research open and in-view. And it stays legible at native resolution on macOS unlike the LG 4k display I replaced (I was unable to read any text at native on that thing). I also really enjoy the DCI-P3 color mode; it is really difficult to describe how it improves everything. However, I cannot recommend this display simply because of the image retention is exhibits. In my 30 years of sitting at a keyboard for hours I have never seen a display burn-in as easily as this thing. In fact, I can't recall _ever_ owning a single display, even a dirt cheap CTX brand CRT from 1997 that I still have in storage never acquired a ghost image. But this LCD panel? I have ghost windows all over the screen. Absolutely ridiculous.
Date published: 2019-06-28T00:00:00-04:00
Rated

5

out of

5
by
SubH2O
from
Workaround for 2018 MacBook Pro with Radeon 560X
Hopefully the following info helps your engineers. PLEASE fix for this ASAP! A lot of people are really frustrated with your new monitor, myself included. The monitor is beautiful, but the level of oversight in not having it work correctly with one of the main laptops (MBP 2018) of your key target demographics (designers, photographers, and video editors), after delaying the product for MONTHS, is shameful. I believe the FRONT RIGHT TB3 port is the key. Initiate a warm restart. After the keyboard lights go dark, unplug the TB cable from the computer, then plug it right back in when the white apple comes on screen. That's it. Hopefully it works for those reading this with the same issue! Notes: The clamshell must be open. No PRAM or SMC restarts necessary. I've tested with and without energy saver off and on. It works for both. The screen stops working, requiring a reboot if the hard disks go to sleep. I'm going to play with those settings a bit more, but at least there's a consistent way to get it working without burning 45 minutes each time!
Date published: 2018-11-10T00:00:00-05:00
Rated

5

out of

5
by
marcgemma
from
The Gold Standard for Premium Creative Displays
This display has robust build quality and unsurpassed visuals. When properly calibrated, whites have that gorgeous, paper-white quality, without the glow which can strain your eyes. HDR-10 gives you the blackest of blacks. As a creative professional, I couldn't ask for more. The ultrawide aspect ration gives me the extra space I need, and the image quality makes my work more precise and effortless. The quality means my investment will last for years. The heavy, tilt- and height-adjustable stand is rock solid. The 34WK95U-W is plug-and-play with USB-C Macbook Pros, and Thunderbolt 3 gives a full 85 watts of charging power, eliminating the need to use the Apple power supply when connected. Be sure not to connect any other peripheral to the same side of the Mac; above 4K requires an entire bus. It's OK to use the ports on the other side of the computer. This display is as close to perfect as I have ever seen. The only things I would choose to add for such a high-end piece of hardware are direct control of volume and muting through Apple keyboards, and a built-in webcam, but these are minor drawbacks when balanced against the stunning, flawless visuals.
Date published: 2019-03-02T00:00:00-05:00
Rated

5

out of

5
by
jamur411
from
Why are other people complaining?
I bought this last week with a bit of hesitation because of the negative reviews, but I'm here to debunk some of them in case someone else is on the ledge as well. I'm a digital professional, software developer, and UX designer so this screen will be used for a lot of heavy app building and design. https://jamesmfriedman.com/ - I have a 2018 Macbook Pro with Thunderbolt 3 and running the most recent version of Mojave 10.14.3. I had absolutely ZERO issues connecting this monitor to my setup, both directly to my laptop, and also through a CalDigit hub. - Thunderbolt 3 will give you the highest resolution possible. Through my CalDigit I found that attempting to use the 5K displayport connection, I wasn't able to actually access 5K resolutions in MacOS. This is likely a driver issue, or a problem with the CalDigit interface. Either way, that was just more of a test to see the differences. It works fine through Thunderbolt both direct and through the Caldigit - I initially thought there was some problem with my computer or the monitor since I'm trying to pair this up with two existing 27inch Apple Thunderbolt 2 monitors. After a lot of reading (and finding the FAQ for this monitor) it turns out that the macbook pro can only power 1 5k display per side of the device due to the Thunderbolt chipset. Other than it being a minor inconvenience to plug a cable into two sides of my device, doing so has enabled both of my 27inch monitors, my laptop monitor, and my new LG ultrawide. While I'm writing this, I feel like I'm in an iMax movie. - I don't have a ton of other screens to compare this one to, but I can tell that you that the different from the old Thunderbolt 2 monitors is night and day. The whites and blacks are crystal clear, the color is vibrant and appears comparable to the retina screen built into my laptop. - I assumed the "on screen control" software would allow me to tweak my monitors settings via my computer. This is not the case and it seems like a mostly useless addition to MacOS. It gives you the ability to compartmentalize areas of your monitor and have windows snap into place. There are other 3rd party apps that do this better. With that said, the built in pop up menu is easy enough to navigate. - The quickstart guide and website seem to indicate that the monitor can move up and down vertically on its stand. My stand might be stuck, or it may not slide up and down. Either way, it turned out to be at the perfect height for me. - My couple of complaints. First, overall price, but you can get it for a discount on amazon. I don't think it is overpriced per say, just an expensive purchase. Next, no built in camera. With that said, I'm surrounded by cameras, just would've been nice to have one on this since it is my primary monitor and directly in front of me. Although, if you compare it to the other LG screens, it has a nice slim bezel since no camera was required. I chose this one over the apple sanctioned 4K and 5k monitors because of the widescreen format and additional connection options (I wanted to be able to plug in HDMI content). Also, I find myself wanting a larger screen than 27inch. Overall, great experience so far, and not experiencing any of the horror stories these other people say they have.
Date published: 2019-02-25T00:00:00-05:00
Rated

5

out of

5
by
abdulla
from
Great Quality Monitor
Those downvotes do not reflect the quality of the display, it is the best ultrawide out there. This thing is amazing as a PC gamer with 2080ti PC
Date published: 2018-11-30T00:00:00-05:00
Rated

5

out of

5
by
Steve312
from
3440 x 1440 is max on late 2016 MacBook Pro
Placed order in February '18; received Nov -18 (plenty of time to work-out bugs). Monitor fails to produce the stated 5K resolution on late 2016 13" MacBook Pro. Tried multiple Thunderbolt 3 cables, ports, restarts, re-sets - nada. Aside from this, the monitor also does not play well with Mac: can't control sound or picture settings from computer - you have to use LG's on screen controls. Monitor is being returned for credit. Disappointing for LG.
Date published: 2018-11-29T00:00:00-05:00
Rated

5

out of

5
by
Scottyfrombi
from
You will love it for awhile then hate, hate it
When I first received this monitor, it was great. After the updated software was issued that is because it didn't work for the first month. Now that I have had it for about 5 months, it goes black because it loses the connection to my MacBook Pro for no reason while typing or reading a document or the internet browser. I called LG and they determined that the cause may be a faulty cord. However they would not replace the cord even though I was still in warranty and had an additional warranty. All I got was runaround and service reps on the phone who had no knowledge of the product. This computer monitor has caused me so much frustration and wasted time trying to get it to work that I sincerely regret the purchase
Date published: 2019-04-08T00:00:00-04:00
Rated

5

out of

5
by
ssilver
from
STILL does not work with new MacBook Pros
Months on and this monitor still does not work properly with the new MacBooks Pro's. Every time the MacBook goes to sleep the screen will not longer reconnect. Half the time it causes the MacBook to crash, the other half the time you have to disconnect the monitor, restart the MacBook, login and reconnect the monitor - this works 50% of the time and the other 50% you get a blank screen and a power-saving OSD message. Every day I check for MacOS updates to see if it's fixed, seriously frustrating and a MASSIVE productivity drain between the crashes and losing work to having to constantly restart the MacBook just to get the monitor to function!
Date published: 2019-01-16T00:00:00-05:00
Rated

5

out of

5
by
Artbox
from
Not fully compatible with MacBook Pro 2016 R460
No signal in single input mode on MacBook Pro 2016 15in, 2.7Ghz. Can only get it to work when activating Picture in Picture mode at maximum of 3840x2160 using Thunderbolt connection.
Date published: 2018-11-08T00:00:00-05:00
Rated

5

out of

5
by
Martindcdk
from
No 5K resolution with MacBook Pro 2018 Vega 20 GPU
Please fix this and offer a token for loyal LG clients - back on my 38UC99 until you fix it - this makes me look elsewhere next time.
Date published: 2018-12-09T00:00:00-05:00
Rated

5

out of

5
by
zackt2018
from
The worst electronic I've ever purchased
I bought this monitor the day it was released and had high hopes. Unfortunately, I have a 2018 Macbook Pro that cannot connect via thunderbolt to get full resolution. LG originally said this would be fixed in the Mac Mojave update 10.14.2, but that turned out not to be true. I've called in twice now asking for a box to ship my monitor back in, and it has not shown up after several weeks. Now Mojave 10.14.3 is out and I though, hey maybe now it will work! Nope, I still get a blinking screen when I plug the monitor in and it eventually disconnects. I can connect with a high-speed display port, but only get half the resolution. This is also the third time I've tried submitting a review. I always get the email saying that my review has been approved and will be added to the website, but that hasn't happened yet. I'm very frustrated that the monitor doesn't work and with LG's customer service.
Date published: 2019-02-12T00:00:00-05:00
Rated

5

out of

5
by
SimonK
from
Pure laziness
Plenty of basic features missing on this monitor that you wouldn't only expect to get for even a fraction of the price, but are also incomprehensibly absent, as if this monitor wasn't tested on even 5 real users. I'll go ahead and list the issues for macOS users: 1. You can't adjust or mute the display's speaker volume from the OS, you have to physically lean over and do it via a hardware toggle under the screen. 2. You can't adjust the brightness from the OS, you have to physically lean over and do it via a toggle under the screen (it'll take around 2 minutes each time for this, you can set auto brightness on in the same way, but it's unreliable). 3. No microphone in the monitor. Meaning you can't take an audio call if you laptop screen is closed, as relying on the laptop mic in clamshell mode makes you impossible to here, especially if you have a 2016-2018 Macbook Pro. 3 is a ridiculous hardware mistake that's now unrectifiable, I'd like to see a bit of effort put in from LG with this monitor with 1-2 fixed with a software update. I've had the monitor for about 30 minutes, will post some more information later. Happy to answer questions also.
Date published: 2018-11-22T00:00:00-05:00
Rated

5

out of

5
by
Tnpsegim
from
Best monitor I ahve ever used.
Bought this a week ago. This screen is close to perfect for mye use. Office work with lots of documents open. Can easily have 3 full A4 pages visible. Perfect for photo editing, large photo libraries, Premier Pro. Handles everything I throw at it with ease. Not tried gaming with it. Drawbacks: Demands a lot from your GPU and wallet. But no direct problems this far with my MacBook Pro 2017 (13.3 inches ntel Iris Plus Graphics 655 1536 MB graphics, 2,7 GHz Intel Core i7 16 GB DDR3 2133 MHz RAM)
Date published: 2018-11-08T00:00:00-05:00
Rated

5

out of

5
by
Artbox27
from
Does not work properly on 16' MacBook Pro 2019
This monitor did not work properly on my MacBook Pro 2016 with Catalina /TB3. Just purchased a new 2019 16 inch MacBook Pro with 8Gb Radeon Pro 5500m hoping it will fix the issues. Unfortunately the max resolution is 3840x2160 when using TB3 cable. The only way to achieve full 5120x2160 is to use a usb-C to Displayport cable. I tried changing DP version to 1.2 as someone else suggested, but to no avail. A very disappointing purchase.
Date published: 2019-12-19T00:00:00-05:00
Rated

5

out of

5
by
omesq
from
works with a 16" 2019 MacBook Pro
I was thinking about purchasing a 2 monitor set up but this monitor really came thru and saved lots of space on my desk. Be sure to use the thunderbolt cable that came with the monitor because Apple's thunderbolt won't supply power to the laptop for some reason. Also set the monitor to DisplayPort Version 1.2 not 1.4 and you will get 5120x2160 resolution. Otherwise 1.4 will stretch the signal.
Date published: 2019-12-05T00:00:00-05:00
Rated

5

out of

5
by
apexking
from
Macbook incompatibility
As others have said getting this to work with the MBP 15" 2018 version is a nightmare! I've had the screen for 10 months and have used a bunch of hacks to try and get it to work. I'll get it to work for a little while, and then before you know it it goes back to the poor quality. Incredibly frustrating!
Date published: 2019-12-03T00:00:00-05:00
Rated

5

out of

5
by
arnolds
from
Works perfectly with MacbookPro 15 2017
Works perfectly with MacbookPro 15 2017. (Radeon Pro 560) !!! NO X !!! 34WK95U-W scaled resolutions: 5120x2160, usable one 3840x1620, 3360x1417, 3200x1350, ... No controls directly from mac :(
Date published: 2020-01-31T00:00:00-05:00
Rated

5

out of

5
by
JohnnyQX
from
I have a 2015 Nvidia Quadro M4000 Graphics card
Refresh is limited to 60hz at 4K. What G-Sync is needed to maximize this fine monitor?
Date published: 2020-02-08T00:00:00-05:00
Rated

5

out of

5
by
dcnl1980
from
Not working great on Macbook Pro 2018 (15")
I have this monitor for a while now. I'm quite happy that I can use sometimes the full-resolution with USB-C. But many times I get a lower resolution at 3440px, instead of 5K. So every morning I need to switch the monitor multiple times on and off, till the 5K resolution is accepted. Another thing which is very annoying, is that in standby mode, the screen is going to say that he is in standby modes. The monitor is in my bedroom and if he blink every night up with this message, well.. you get the point. Last one, the auto brightness, well, it's just turning the whole time the contrast or it's full contrast of very dimmed, while the lights in the room are the same. I hope LG can fix this issue to update the driver or firmware.
Date published: 2020-03-06T00:00:00-05:00
Rated

5

out of

5
by
mikie 38
from
great picture
I am running an nvidia gtx 1080 and wonder if I should step it up to a geforce 2060?
Date published: 2020-01-06T00:00:00-05:00
Rated

5

out of

5
by
Olivergr
from
Nice monitor. MacBook integration very poor.
Bought to use with new 16in Macbook pro (Catalina) - with lid shut. Macbook regularly fades irretrievably to black and has to be restarted. Today it shut down completely and on restart I had to unplug and reconnect the LG to get it to work. This sloppy work on LG's part is in excusable I filed a request for help online but all I got back was a boilerplate email. They asked me for a contact number and I replied with same but email sent was rteiurned udeliverable I had registered the product with them and has owned it just few weeks! Even signed up for premuim care plan! They should have known my number! Mac users should not buy this.
Date published: 2020-02-14T00:00:00-05:00
Rated

5

out of

5
by
states
from
So So
Constant connectivity issues when staring up with Mac Pro 2020. The screen stays black and have to shut down the Mac Pro and restart the computer for it to connect.
Date published: 2020-06-27T00:00:00-04:00
Rated

5

out of

5
by
TomQTOm
from
Great Monitor, but...
Actually a great screen. Perfect for image editing and it also works perfectly with MacBook Pro 2020. The finish is good. However, the Auto Brightness function does not work reliably. No matter what kind of device I connect to it. If the brightness is set to "Auto", the screen changes its brightness from light to dark to light to dark within seconds. I sent the screen in with the result that it came back after one week with the diagnosis: "Works fine". Not at all. You pay so much money for a top screen and then not all functions work. A pity. If there was a comparable alternative I would change.
Date published: 2020-10-13T00:00:00-04:00
Rated

5

out of

5
by
Igor A
from
Love it, had to be curved though
In one line: love it, returned it for being flat. If you don't want a curved monitor, this is an incredible purchase. I had zero issues with the setup or resolution problems. One key part here is to make sure you're using DP, NOT HDMI and that your GPU can drive it. DP specifications are also tied to the card. Colors are vibrant, the brightness is amazing and the picture quality is fantastic. By default on a Mac it goes to 2560 x 1080 which I find terrible as I got used to the iMac 27" 5k which does 2560 x 1440. As a result, I bumped the resolution up to 3360 x 1417 which is what the Mac offers and that was almost as good as the 5k Retina. Obviously not the same as there is about 25% more pixels on the 5k, but gosh, things looked great. There are several profiles to choose from and I ended up going custom mainly for the brightness. HDR was absolutely useless for me and actually quite disturbing. If you decide to buy this monitor make sure to play with that on and off until you can decide what to do. With HDR ON everything felt a bit "washed away", then I turn it off and it makes everything shine. The monitor also comes with an automatic brightness adjustment based on the environment which I wish they would do gradually based on your preference. Say I set it 50% brightness then it goes 20% up or down from there. But that is not what it does. It just decides everything for you and it was just too bright for me. Perhaps it works great for someone with a very bright room abut at that point why bother? It will probably be at 100% anyway. Lastly, the "coup de grâce" for me was the monitor being flat. After using a curved monitor for a few years I simply can't go back to a flat monitor if it is bigger than 27". I've tried to adjust to this monitor for about 10 days without success. The constant movement left and right to be able to read text completely defeats the purpose of having a wide monitor like that. I would probably be better served with a 3 x 27" 4k monitor setup (which would cost about the same) but that would allow me to angle every monitor to meet my eyes at about 28-30" distance from the panels. Overall, extremely pleased with the image quality. When they make a curved version I'll buy it. For now, this flat version was returned.
Date published: 2020-05-26T00:00:00-04:00
Rated

5

out of

5
by
Hemsvid
from
HDR doesn't work on MacBook Pro
Not usable for an HDR monitor. HDR colors are washed out and the clarity and resolution is reduced. Disappointing. Would not buy again.
Date published: 2020-05-21T00:00:00-04:00
Rated

5

out of

5
by
NayaBKL
from
Ignore all the bad review. Fantastic Monitor!!
As WFH is extended, I needed an to get a monitor that can fit multiple screens into one. Thought about getting two 4K monitors but there was something that drew me to this monitor despite many negative reviews. Received it after waiting for almost 6 weeks. Hooked it up to my 2020 MacBook Pro 13 inch, and instantly the 5k resolution is picked up. Hooked it up through Kensington SD5200T dock, and it's showing 5k just fine. I was little concerned that it will be too demanding for my MacBook that doesn't have a dedicated graphic card, but unless I am playing 4k videos for more than 30 minutes, the fan doesn't kick in. Been running After Effects & Premier Pro and it's working perfectly fine. So those of you that need that extra space to squeeze in another 30% space from the traditional 4K monitor, this is the monitor to get. Of course the price is ridiculous, but it's worth every penny.
Date published: 2020-05-20T00:00:00-04:00
Rated

5

out of

5
by
FredK
from
Very disappointing don't buy it if you have a Mac!
I bought this display 1,5 year ago. I have never see any firmware update since. My MacBook 16" crashes multiple times a day after recovering from sleep mode. The software is slow and useless. Life's Good but not this time.
Date published: 2020-05-20T00:00:00-04:00
Rated

5

out of

5
by
Dekkor
from
Buyer beware: image retention / burn in
After careful consideration, I settled on the 34WK95U-W as the best balance of features and price for my needs. I primarily use the monitor for productivity and image editing applications so the 60Hz refresh rate is not a concern for me. Being able to use a single thunderbolt 3 cable for power and data transfer really helps me achieve the minimal desk setup that I was after. I really value the 21:9 layout and high image quality. Where it all falls apart is that the panel has a tendency to quickly develop image retention. I've never experienced such extreme burn in with an LCD monitor. The good news is that while the image retention is very persistent, it does seems to dissipate after days or weeks of keeping a consistent light color across the full panel. The problem with this is that it is not practical to use it this way. Using MacOS darkmode will very quickly result in this problem showing up. I bought the widescreen so that I could arrange windows adjacent to each other to improve productivity. If any of the windows have a different color, the image retention reappears very quickly. I'm very disappointed to say that I cannot recommend this product and that I regret this purchase
Date published: 2020-04-25T00:00:00-04:00
Rated

5

out of

5
by
alexm2341
from
Make it in Black
Please make this in black, and I would consider purchasing it.
Date published: 2020-03-12T00:00:00-04:00
Rated

5

out of

5
by
je329
from
DOES NOT WORK ON MACBOOK PRO - DONT BUY
DOES NOT WORK ON MACBOOK PRO - DONT BUY!!!!!!!!!!!!!!!!!!!!
Date published: 2020-05-19T00:00:00-04:00
Rated

5

out of

5
by
stanmarsh
from
Overall good
The only panel at this 5k2k resolution, so there is no many other options in the market. Overall performance is excellent. High resolution keeps everything smooth. You can notice no pixel dot when viewing from 50+ cm (aka Retina. The DCI-P3 color gamut is also astonishing, color is accurate and vibrant. Connectivity is also diverse, with Thunderbolt 3, DisplayPort, and HDMI. The only drawback is the image persistence problem. It incurs very easily when displaying unchanged image patterns (such as windows task bar) for even just a few hours. Although it is not permanent and not noticeable in most scenarios.
Date published: 2020-05-19T00:00:00-04:00
Rated

5

out of

5
by
Pim pim
from
Lg problems
It just suck and i hate it and the reason why im mad i spend so much money
Date published: 2020-05-18T00:00:00-04:00
Rated

5

out of

5
by
videoeditor
from
Burn in images, beware!
I bought this monitor and was so excited...after using for several months I started noticing burn in issues. I am a video editor and have windows up for long periods and noticed ghosting and burn ins in the image. I reached out to tech support and they literally ignored my evidence and proof. The person on the phone even told me he didn't believe what I was saying.
Date published: 2020-09-16T00:00:00-04:00
Rated

5

out of

5
by
v3rlon
from
Great as a monitor, BUT it doesn't always wake up
I use with a 2019 MacBook Pro with Radeon Graphics 5500M 8GB. I normally do this with the lid closed on the laptop. It is connected via included USB-C cable to said laptop. It does charge said laptop. It usually comes up in 5K mode (>95%). Sometimes, it falls back to 3440*1440, but I think that is when my wife uses it with her work laptop. The picture and colors are wonderful, and I do not have image retention issues after about 4-5 months of use. My issue is waking up. I lock my Mac and walk away (shift+control+eject). Mac goes to sleep. Monitor goes to sleep. I come back the next morning and there is a window on the top right saying it is connected via thunderbolt, the resolution and so on. I try to wake up my computer with the lid still closed. nothing. I open the lid and I am able to sign in, but the monitor never comes back. I try pushing and holding the button to power off. Nothing. The aforementioned window is still on the top right of the screen. The only way to do anything is to unplug the monitor and plug it back in. So, I lock my mack for the night AND power off the monitor by pressing the button and selecting the power off option. That will teach it. Not so fast. I come back to the same thing. This monitor really needs a firmware update or something. Its a FANTASTIC screen and works great - except for the sleep issue.
Date published: 2020-09-02T00:00:00-04:00
Rated

5

out of

5
by
LuMarCa
from
Unique monitor!
There are little options when dealing with a monitor with the following specs: 1. Thunderbolt-3 with power output enough to charge a MacBook Pro 16 inch full power. 2. Speakers. 3. Light ambiance sensor. 4. 5K2K display (even the other options out there from other manufactures use LG's panel) 5. Compatible with macOS. 6. Business looking stand. 7. Not curved (image does not seem distorted) 8. Modern-looking edges and frame. Overall, even though it sometimes freezes when macOS goes into sleep, there isn't really much out there to compare it to. Best in its own class.
Date published: 2020-10-05T00:00:00-04:00
Rated

5

out of

5
by
AndyPHX51
from
Really beautiful display!
Everything this monitor does...it does very well. I can't imagine going back to the office after Covid with out it. It made a huge impact on my productivity.
Date published: 2020-09-21T00:00:00-04:00
Rated

5

out of

5
by
Yeison12
from
Good when it works, LG should send us replacements
Often it does not wake up either through Thunderbolt or Display Port connection. When this happens, it does not even respond to its own menu bottom. I have to disconnect power and reconnect power.
Date published: 2020-09-21T00:00:00-04:00
Rated

5

out of

5
by
artemm
from
Image persists on screen
After one day of usage, I noticed a vertical line on the monitor. Looked like "burn-in" but I did not believe it (I purchased it 2 DAYS before and never left the monitor turned on). Tried to turn it off for the night, tried to use different input sources, and then used the solid gray background to check and apart of other artifacts (including the mentioned vertical line), I could see YESTERDAY DATE BURNED ON THE PLACE OF STATUS BAR. Like literally the 7th of September. Just in plain freaking numbers. Really? Support useless (I asked general questions related to the product as a whole, not something specific which only the service center could know). Global support: "I can't give you any information about the product, contact local support" Local support: "Don't know a thing, contact service center, if something wrong they'll fix". Again, questions were general, nothing to do with the service center.
Date published: 2020-09-08T00:00:00-04:00
Rated

5

out of

5
by
Macguruguy
from
Big screen, but many issues
After several months of use, i find few annoying problems. First of all, often it does not wake up either through Thunderbolt or Display Port connection. When this happens, it does not even respond to its own menu bottom. I have to disconnect power and reconnect power. this happens on both MacBook Pro 15" 2016 and MacBook Pro 16" 2019. Second, often the peripherals on a connected self-powered USB 3 hub do not work. I need to remove power and disconnect the USB hub to get it to work again. Third, when the MacBook wakes up from sleep, and the monitor actually connects and displays a screen, sometimes the resolution is not shown as full resolution, just a scaled down version that is fuzzy. To get back to full resolution, I normally have to reboot the a MacBook since disconnecting power of changing ports does not show the full resolution with better scaled down options. Fourth, the LED blinks when the MacBook sleeps. It is very distracting. Fifth, none of the MacBook keyboard controls work. Great resolution and nice big screen, but only when it works right after sleep or restart.
Date published: 2020-09-07T00:00:00-04:00
Rated

5

out of

5
by
OptionsMan
from
Sorry to see a lot of bad reviews
Bought one of these for use with TD's Think or Swim trading platform. I used it with my 2017 MacBook Pro 15". The display worked so well for this application, that I had to get another one and a MacBook Pro 16" to drive the two. Previously I used various 4k displays, but my eyes always tired after viewing the screens for a few hours. These displays work so well and are so crystal clear that I have no eye fatigue anymore and can focus on what I bought them for. There are quite a few bad reviews, but I believe they are based on specific incompatibilities. If you have a 2017 or 2019 MacBook Pro, you won't be disappointed.
Date published: 2020-07-08T00:00:00-04:00