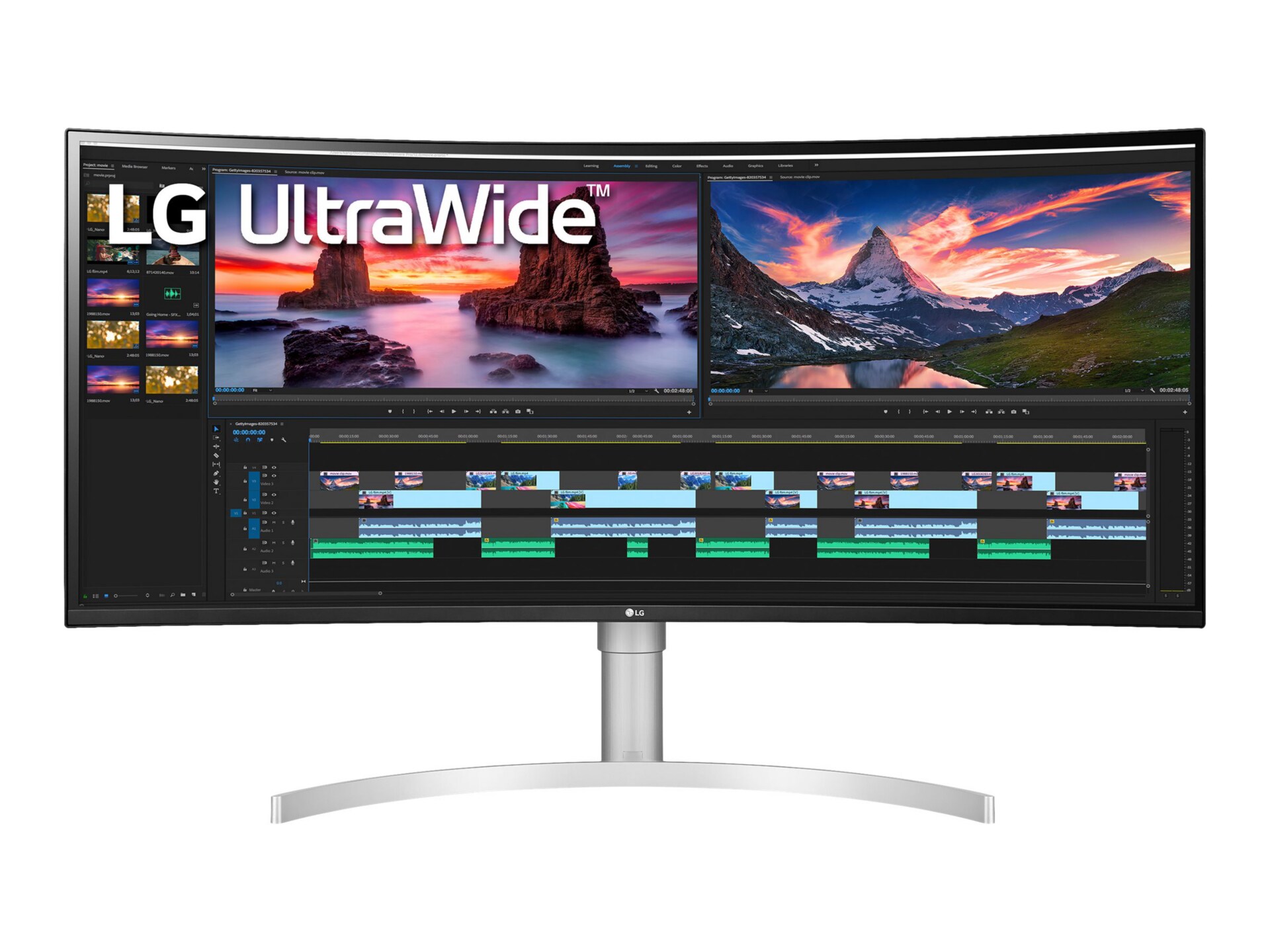 Caractéristiques techniques en un clin d'œil
W
Courbe
3840 x 1600 UWQHD+ @ 144 Hz
450 cd/m²
DisplayHDR 600
Thunderbolt
DisplayPort
Écran à DEL
38 po
Nano IPS
1000:1
1 ms
2xHDMI
Haut-parleurs
Voir tout
Connaître son équipement
Aucune description marketing n'est disponible.
LG 38IN IPS CURVED 3480X1600 MONITO
is rated
4.30
out of
5
by
50
.
Rated

5

out of

5
by
BladeRunnerX
from
Best Overall Monitor On the Market!
I was recently on the hunt for a monitor large enough to scale all the charts I needed for day-trading. I also needed it to be a capable workhorse for some light editing, gaming, and workflow productivity. It needed it to be fast, have deep color, high resolution, and the final kicker, TB3 compatible as I have a MacBook. I was referred to many high-end gaming monitors, but I was not too fond of the tackiness of the RGB lighting and over-the-top graphics. Fortunately for me, after looking at the ULtragear monitors, I found this puppy on the ultrawide section, and it checked off all my requirements (and then some). For those who need everything-in-one, this is your monitor, IMO it's the best on the market. I love this LG monitor, and I love the fact that I can do so much on it. If you're looking for a monitor that can do it all, this is it. Welcome to the ultrawide master race anon, leave the 16:9 peasants in the dust and join the movement.
Date published: 2021-09-20T00:00:00-04:00
Rated

5

out of

5
by
Dmitri b
from
Great monitor, dead after three weeks
I bought this for work and occasional video editing. Love the monitor. Unfortunately free sync started failing, had to constantly plug and unplug monitor. Then the entire board failed. Beautiful paper weight. LG tech support is non existent - talking to someone who tells me to plug and unplug it. Very poor QC am returning to vendor
Date published: 2021-10-09T00:00:00-04:00
Rated

5

out of

5
by
Tomi_01
from
Failed me after a month.
I bought the monitor, waited for it over a month, and just after a month I started experiencing stutter, monitor stops responding to power button... Basically unusable. It was great in many areas like refresh rate, color reproduction, perfect resolution. The exception is Contrast ratio, it has terrible backligh and the worst blacks I've ever seen on IPS panel. Since I've seen too many similar comments about the panels breaking so often I am gonna say that price to the quality is way to high.
Date published: 2021-10-09T00:00:00-04:00
Rated

5

out of

5
by
VeeCee15
from
Excellent Monitor - USB ports do not supply power
Beautiful monitor and the ability to split the screen into multiple windows is a huge plus for productivity. The USB ports do not supply power though
Date published: 2021-10-26T00:00:00-04:00
Rated

5

out of

5
by
Rikk From Calgary
from
Screen too bright, not great resolution, framerate
Honestly this monitor is a huge letdown. Firstly, it's not very well-built. The stand is plastic so it wobbles with any minor movement on your desk. Super distracting and doesn't give me a ton of confidence it won't fall. Secondly, it is way wayy too bright. If you use this in a dark room, or basement, or even at night, you will be blinded. Even at its lowest setting, it is unreasonably bright. The automatic brightness also setting does NOT work, it sets it super high every time. The resolution is not great for a monitor this size, you can definitely notice individual pixels, especially text. Combine this poor resolution with excessive brightness and it makes eye strain and headaches occur not too long after usage. Also the framerate is no where near advertised, it is noticeably laggy and choppy. The software Onscreen controls is also a grievance, as it is written in poor English and does not contain all of the settings of the monitor hardware settings, so you need to adjust some settings with the knob at the bottom, which is cumbersome. It also does this annoying thing where it searches for input in the middle of the night, when I haven't connected or disconnected anything, and the screen is so bright it lights up my dark bedroom all the way from my office! This monitor was frankly a major disappointment for me, and a terrible investment. Support has not been helpful in resolving any of my issues. The only thing I like is the screen size, but again, it's too big for the poor resolution, and I will say that the built-in speakers are decent. But I am being serious, the 38WN95C-W is NOT worth it.
Date published: 2020-12-20T00:00:00-05:00
Rated

5

out of

5
by
RD Mac user
from
Pleased but not yet thrilled
I love the screen size, video quality, inputs available. This is a very very nice monitor. However, there are some glitches thus far with my configuration, which is MacMini (Late 2020, with Apple M1 chip, MacOS 11.1): 1. OnScreen Control current v.4.40 installs but does not "see" a monitor to control. Have tried various reboots, different cables, connect/disconnect. plug/unplug, try different input ports, without success. Tech Support said I had tried all that they would recommend and basically gave up. Without OnScreen Control, I'm concerned that continued joystick use will create an eventual mechanical point of failure in the joystick (who would EVER want to have to ship this large monitor in to repair that!!??). 2. When using Thunderbolt 3 input, I often experience kernel panics and reboots when the display sleeps. No such problem if I use the HDMI inputs; with HDMI it is stable as a rock. I'm hoping these are growing pains that will go away as MacOS 11 matures, LG updates software/firmware, but you never know. For now, there are some issues that I wish were not there. Lots of potential here, but needs some polish to be 5 star.
Date published: 2021-01-24T00:00:00-05:00
Rated

5

out of

5
by
mikedodo
from
Perfect monitor for all uses!
Since moving to WFH full-time, I use this monitor on a daily basis and I love it! Its features are great for productivity as well as gaming! The Thunderbolt 3 connectivity is great since I work on a Macbook and I switch over to displayport when I want to game on my PC and take advantage of the 144hz refresh rate. Image quality and color accuracy are also fantastic!
Date published: 2020-12-14T00:00:00-05:00
Rated

5

out of

5
by
Michaim3
from
Would love to review!
This would be a fantastic monitor. It ticks every box for a work at home - casual gamer by night kind of person. As a person who would use this for work (multi-tasking and enthusiast play, I can say it would be fantastic a fantastic replacement for my old Samsung 4k 60hz. It's a little less intensive on the GPU due to the slightly fewer pixels than having to render out a full 4k.
Date published: 2020-09-17T00:00:00-04:00
Rated

5

out of

5
by
Jwedel
from
WOW, I just can't get the grin off my face
Nor can I believe I finally have this visual masterpiece. I've been fantasizing over large multi-purpose monitors for a long while now, resisting prior generations hampered by 60/75 hz refresh rates, with color accuracy compromises. No sir, not any more. LG clearly listened to their loyal fans, reading fan forums, while perfecting the technology. This brand new 38-inch UltraWide is a beast. Massive size, crystal clear images, vibrant wide-color gamut, precise text, and rich lush textures and immersion that bring games to life. The curvature on this monitor is perfect, not exaggerated nor gimmicky. It's an immersive experience-imagine looking through a cockpit or car windshield. Absorb yourself into the world before you. I justified this as a split-purpose display. My wife's work from home job requires dual monitors to support multiple spreadsheets, and virtual workspaces, Zoom, etc. Her computer usage is 100% productivity Windows; mine 65% Mac AV production, 35% PC gaming (racing/flight sims Nvidia GeForce 2080->Ampere) I labored over my decision, torn between this and the 38GN950-B "Sphere Lighting" model, but practicality cannot be overstated. Not one iota of buyers remorse. My 2015 MacBook Pro only has DisplayPort, future Apple Silicon Macs will continue to support TB3, insuring this new model is future-proofed for multiple Mac and PC generations, plus PS5 and Xbox Series X gaming consoles. Nothing can be 100% perfect can it? For hybrid Mac and PC users, you must use Thunderbolt 3 "OR" DisplayPort for side-by-side, so one machine has to be crippled with 60 hz refresh over HDMI. PROS ——— + Thunderbolt 3 (™) connectivity + Supports G-Sync / Free-Sync VRR + fully immersive (windshield experience) + excellent dual-purpose business or gaming + Apple Mac, MacBook Pro / Windows compatible + better monitor for less money than last years model + awesome for productivity, gaming, viewing 2.35:1 films CONS ——— -shared circuitry routing, Thunderbolt 3 OR DisplayPort/HDMI split-screen -internal KVM inadequate for multi-computer switching -no option to add Sphere Lighting found on LG-38GN950-B CONCLUSION ------------------ If you've reading this, stop now, and buy it. You won't be disappointed. STRONG BUY RECOMMENDATION
Date published: 2020-09-11T00:00:00-04:00
Rated

5

out of

5
by
Ranciid
from
Best Monitor I've ever used
I had a very picky set of specifications that I wanted out of a monitor that simply didn't exist before this one was finally released. I was following this one way back when it was announced last year I believe. High Refresh rate, I just cannot go back to 60hz after having 120+ hz in a monitor. The 16:10 Ratio on this makes it much nicer when compared to other 16:9 Ultrawides. The TB3 was mandatory for me because my main rig is a MBP and not needing to have several things plugged into it anymore is so nice. The GSYNC and 1ms are just nice to haves when I'm using my gaming rig.
Date published: 2020-11-04T00:00:00-05:00
Rated

5

out of

5
by
rsawyer757
from
Amazing Monitor!
For some context here, I'm coming from a 34" Ultrawide 3440x1440 100hz monitor, so I have a reasonable baseline for comparison. That being said, this bad boy blows it out of the water! Let's go down the list of amazing features shall we? * Design - First of all it looks fantastic! It does have a bezel but it is pretty symmetrical and a clean black. This combined with a sleek round silver stand and slim curved base give it a sleek look that I love! * 38" 3840x1600 Ultrawide w/ HDR - Gotta say, first thing that came to mind is "Wow this thing is huge!" And that's a good thing. I love ultrawides because I can comfortably have two apps side-by-side and not feel like they are squished. The high resolution of this monitor allows not just that but pretty large videos alongside an web browser for example. And games? They look amazing! I also have a few 4k HDR demo vids that I pulled up to see how the HDR looks and it did not disappoint! Whites are super bright and colors really pop. * 144 hz refresh - This was super obvious the moment I turned the monitor on. Just moving the cursor around I could feel the extra frame rate. This makes performing everyday tasks feel extremely smooth. Of course the most obvious benefit is gaming. Faster refresh means you see what's happening faster and allows for faster reaction time. Of course it also helps get rid of the jerky, un-smooth motion you can notice in lower frame rates. Combine that with G-Sync and Freesync support and it's a gamer's dream! * Inputs - This monitor has 2 HDMI, a Displayport, and even a Thunderbolt 3 port so you're not going to be lacking for options. It will be able to connect to pretty much any of your newer devices. * Speakers - Yes, it has speakers built in! Sure they won't be setting the world on fire but if you're low on outlets, desk space, or just don't need anything fancy they work perfectly well. This is what I'm using and they definitely do the job. * Interface - Perfectly serviceable. There is a joystick on the bottom center of the screen. Left and right change the volume, pull towards you to see display info, and push away to access the menu. It's pretty intuitive and gets the job done. Gotta say I'm super happy with this monitor. It's pretty pricey but in my humble opinion it is well worth the money!
Date published: 2020-09-24T00:00:00-04:00
Rated

5

out of

5
by
TempleBrandon
from
Great motion clarity
Coming from a ROG Swift PG35VQ and this monitor is better in every way, other than HDR. The ROG had an unacceptable amount of black level smearing, being a VA panel. 85fps on the LG feels like 120fps on the ROG. There is zero ghosting or smearing anywhere between 60 and 144hz. I'm sure lower frame rates would be fine too, I just haven't tested. The VRR works flawlessly with Nvidia RTX 2080ti. I was worried about the lack of G Sync module therefore not having variable overdrive, but this thing is so fast it's unnecessary. Oh, and it's completely silent since there's no cooling fan!
Date published: 2020-06-27T00:00:00-04:00
Rated

5

out of

5
by
jll544
from
One monitor to rule them all
For the first time in years, I have only a single monitor on my desk, and I couldn't be happier. LG's 38WN95C-W offers a stunning ultra-widescreen experience that goes far beyond replacing the triple-monitor setup that I previously had been using. I received this monitor at a discounted price in exchange for my honest review, and I recommend it without reservation. The 38WN95C offers a spacious 3840x1600 resolution that benefits any kind of work yet requires no UI-scaling for readability. Photo editing is a joy with highly-accurate colors, and video editing is a breeze with two full-1080p streams side-by-side while still having room underneath for the timeline and other controls. The monitor's borderless width allows the freedom to position windows in ways not possible on my old multi-monitor setup. Amazing as it is for work, the 38WN95C also is superb for gaming. The ultra-wide format is incredibly immersive, and the monitor offers both FreeSync and G-Sync compatibility for a glitch-free experience. Game consoles also look fantastic on this monitor with support for 144Hz, HDR, 1440p, and even down-scaling 4K signals to fit the screen. With the monitor's four inputs, my PC, consoles, and laptop all can stay plugged-in simultaneously. LG conveniently includes 5-foot long HDMI, DisplayPort, and Thunderbolt cables, but my PC sits on the floor next to a wide desk, so I've been using my own 6.6-foot cables without issue. The 38WN95C suits even the quietest of rooms with its fan-less design, although I occasionally hear thermal expansion sounds from the monitor's plastic casing. Overall, LG has hit a home run with this monitor. Offering an expansive and seamless, ultra-widescreen experience with best-in-class features for both work and play, the 38WN95C-W is the only monitor I want on my desk.
Date published: 2020-09-03T00:00:00-04:00
Rated

5

out of

5
by
BryanHenry
from
Works great
The monitor works great. Very easy to use for multi tasking with the ultra wide screen. I dont play video games so I cant speak to that but I enjoy working on it and watching movies. One problem I have been having is a compatability issue with the new macbook with m1 chip. This seems to be a mac issue and not lg, so I wont knock a star off. But when I use thunderbolt to connect the 2, my macbook force restarts everytime I plug it in. So i have to use hdmi instead. Again, I think this is a mac issue with the new big sure 11.1 update. Overall very happy with purchase.
Date published: 2021-01-08T00:00:00-05:00
Rated

5

out of

5
by
Marcao
from
One of the best monitors that I have
This monitor is the perfect combination of Home Office and Gaming, for me the deal was one cable management! delivering 94w directly to my Macbook and all connected using just one cable! also the refresh ratio make the user experience so great! the contrast could be better and brightness.
Date published: 2021-01-02T00:00:00-05:00
Rated

5

out of

5
by
JDK in the Silicon Valley
from
34 too small, 50 too big, now it's just right.
Current occupation and usage: UX designer for enterprise products. Wanted maximum screen real estate for productivity and being able to open multiple design, text, browser files to reference and create deliverables at the same time. Connects fine with a MacBook. PROS: Obviously, the specs are top of the line. For productivity and ease of use with the latest features, cost is secondary. Yes, it's expensive compared to other monitors, but for customers who wait a few years for the exact high-level features (many MacBook users), it's worth it. Also, there aren't a lot of monitors with the 38" inch option. I was debating whether to go the extreme 50 inch option, but finally decided that too big would be less comfortable — this would be the perfect size. CONS: Honestly, it seems like something too tiny to mention, but I find it to be a struggle in a practical sense. I need to adjust my volume quite often on conference calls (now that we meet more online than in person with the pandemic). However, the monitor speaker (which is fine for the purpose) does not have a remote, nor can I adjust the volume with my wireless keyboard. Again, for someone who like maximum productivity and speed, this is a quality of life improvement that I hope LG will address. I imagine a remote is not a huge deal for them to add later. I would pay extra for this convenience, even if it comes a year from now. Or if there's a way to push out an enhancement for keyboard control of volume, that would be awesome too.
Date published: 2021-01-20T00:00:00-05:00
Rated

5

out of

5
by
Greg from Oregon
from
Everything I expected and maybe a little bit more
It started with out-of-stock notices from every retailer I could find. I put myself on notification lists and direct form LG responded within a week (I said yes!) and within days it had arrived while every other retailer is still sending me updates the monitor is out of stock. Great service! Setting it up was easy and while I had issues setting up with my new Mac Mini and the T3 port (the whole point of buying a T3 monitor, it works fine with my Intel-based MB Pro 16" with the Mini connected via HDMI (I read that this is an issue with Apple and the M1 chip). The picture is outstanding! Lots of room and options to configure that screen real estate. I have two devices and one is using Parallels for both MacOS and Windows and the other just MacOS. Being able to effectively have three screens and to simply toggle between them, meaning I can devote the entire screen real estate to a single machine or split it side-by-side and use half the screen for Windows, half for the other machine's MacOS and the laptop screen for another MacOS desktop offers me many options that I didn't think I would have without a KVM. If there was one niggle, it's that I do have two keyboards and mice to switch between but turns out to be a nit that I don't even notice. Las thing I am tweaking is how to get the color temperature of the screen to be consistent between the machines. A great experience (just beginning) I couldn't be more pleased with.
Date published: 2021-02-10T00:00:00-05:00
Rated

5

out of

5
by
Ariasmp21
from
Best 4k monitor of 2020
This LG monitor is the best of all for 2020. It is future proof with a Thunderbolt 3 connection and the screen is flawless. Absolutely the most beautiful monitor I have ever owned. I really enjoy the features, especially the auto adjustable display based on what you are using it for. For gaming, this is also top of the line. The variable refresh rate with AMD Freesync keeps me in the game real time without any lag or screen tears. Hands down, the best monitor for 2020!
Date published: 2020-10-02T00:00:00-04:00
Rated

5

out of

5
by
Jakeboydphoto
from
Best LG Monitor I've ever purchased.
I've had this monitor for a couple years and it's the best LG monitor I've had, to date. I've purchased several LG monitors over the years, and this is definitely my favorite. The 38" of space to work is obviously appreciated if you have a lot going on at once. This allows you to have multiple windows going all the time. Having a photography company, the color accuracy and brightness this monitor boasts, was VERY important; other monitors were deal breakers since they didn't offer the same. I never had any issues with the USB-C connection to my MBP either, which was an issue in the past. I think 38" is a great size, It's not taking up your whole desk, but also not small enough that you feel you need a 2nd monitor.
Date published: 2022-10-06T00:00:00-04:00
Rated

5

out of

5
by
LG 38 inch ultrawide
from
Great Productivity and Gaming monitor
I have had this monitor for about a month. I use it for work during the day and gaming/video editing at night. Upgrading from three 27" monitors to an ultra-wide has changed my life for good. The monitor is great at what it does. Gaming performance has been good, though I am yet to test it at full potential. I did have trouble with the LG control app slowing down my laptop. I reverted to using the Windows 11 grid instead. Not a deal breaker, just an annoyance. A second USB-C thunderbolt input would make this monitor perfect in my opinion. Overall for the features and performance, no monitor comes close in my opinion. If this same monitor was available in 48" with 2 usb-c ports, I would upgrade in a heartbeat.
Date published: 2022-09-22T00:00:00-04:00
Rated

5

out of

5
by
Jalin
from
Perfect for what I need
I work in public accounting and need lots of screen space to be able to see multiple Excel worksheets at once. This large monitor combined with LG's OnScreen Control lets me easily snap multiple windows in whatever arrangement I need. The 3840x1600 resolution is perfect. I was initially worried about this monitor not being 4K, but honestly I have to scale up my other 4K monitor because text is too small to read in its native 4K resolution. I also like that this monitor connects via Thunderbolt (as opposed to only USB-C), as it works as a super fast hub for any external devices I need to connect. This monitor is quite expensive, but it did everything I wanted so it was worth it to me.
Date published: 2021-04-17T00:00:00-04:00
Rated

5

out of

5
by
BeauF
from
Stunning picture
This monitor is gorgeous. The picture is perfect. You can look from any angle and it is still a very crisp and clear image. It's great for gaming it's great for art projects. Love it worth every penny..
Date published: 2021-04-19T00:00:00-04:00
Rated

5

out of

5
by
Ben888
from
Poor quality
Brand new monitor used for just 5 weeks(02/5/21-03/12/21) and started having display issue. It's out of Amazon's 4wks return window. Sent for warranty repair on 4/5/21(RNN 210329030282) and was told replaced the screen and received it back after a month on 5/6/21. Powered up and the display issue was still exist as shown after warm up(~5min). The issue was worst when the monitor got warmer. The monitor cannot be used at all. Sent out again on 5/10/21 for second repair. Wasted my time and very disappointed for this purchase. This is a defective monitor and definitely needs replacement.
Date published: 2021-05-17T00:00:00-04:00
Rated

5

out of

5
by
Akajeff
from
Liberating
Had the monitor for over two months now and all I can say is that it's very liberating not having to go back and forth between two monitors. I use all day for work with MS Office apps and then Photoshop and Lightroom for personal stuff. Very impressed with the color quality and consistency. Just outstanding picture and sharpness. I do wish I could get audio from the Thunderbolt and/or DisplayPort, but maybe it just isn't an option. As a few others have mentioned, it does take an unusual amount of time to come on and there are occasional popping/cracking noises from the back of the case that can be disconcerting, but overall I am very happy with the purchase. Wish it was a little less expensive.
Date published: 2021-05-17T00:00:00-04:00
Rated

5

out of

5
by
Sheeeeshh
from
Great Monitor with Design flaw
The Specs on this monitor are great and the size as well, but the connecters in the back are very sensitive and will not work because they will become loose and will lose connection to the circuit board. All LG monitors have the exact same design which means they will all fail because cables will always experience some type of pull.
Date published: 2021-04-30T00:00:00-04:00
Rated

5

out of

5
by
Wolfgang777
from
Great Display
Overall I enjoy this monitor and has helped with eye strain and be able to handle multiple windows at one time clearly, increasing productivity. On the Mac if you have an intel display chip with small memory, I had problems not mirroring. I used an app called easyres to change to the higher resolutions. It is really great for development tools. You can have multiple source code windows up and still have a lot of real estate.
Date published: 2021-05-23T00:00:00-04:00
Rated

5

out of

5
by
Jack the Mac
from
I waited two month and scored!
The first surprise when I received my monitor was how light the box was. Coming from a 34' with a competitor (D*) this think was like a paper. I unboxed set up and made the first mistake. I took the Thunderbolt cable from my Mac and connected the monitor. Nothing. Black screen. Took the cable cable that came with the monitor... and voila ! Awesome picture quality, no problem with full resolution with my MacAir 2020. Sound is good, menu is a bit to fiddle with but not bad.
Date published: 2021-03-04T00:00:00-05:00
Rated

5

out of

5
by
Satisfied in MI
from
Awesome monitor!
This monitor is exactly what I had hoped to find for research use with my Macbook Pro! The screen is large enough to have multiple tabs open or to have multiple documents up at one time with the LG onscreen control panel yet not too large to overpower my desk. The color is great when viewing videos and movies and the speakers are totally adequate (I actually have to turn them down as they are quite loud) for listening to movies or music while working. I researched monitors for 4 months before purchasing this monitor. Considered some of the 27" models that work well with MBP, but kept coming back to 38WN95C-W as my top pick. The only glitch I ran into with the monitor was the pixelated screen after disconnecting the laptop to use in another room. Easy fix by unplugging and replugging in the USB-C cord in the MBP. Have also connected a Logitech MX Anywhere 3 for Mac mouse along with an MX Keys for MAC keyboard - easy to sync and work well between the MBP and iPad. After one month of use, very happy with this monitor!
Date published: 2021-03-04T00:00:00-05:00
Rated

5

out of

5
by
BradNW64
from
Love this monitor!
So glad I got this monitor for my home office while we work from home during the pandemic. I had thought about getting 2 smaller monitors and living with the gap in the middle and always having to divide between left/right screens but the single ultra-wide is so much more flexible with possibilities for arranging multiple apps open at the same time. When I really want to see a lot of detail can use the whole screen. During some video conferencing calls can use the utility to get PIP and keep the call always in front in upper right/left or lower right/left.
Date published: 2021-03-31T00:00:00-04:00
Rated

5

out of

5
by
Brandon21
from
It has it all!
Monitor is HUGE. It also has great graphics and text is clear! The only complaint is it doesn't play well with Mac's M1 chip. I recommend if you have the kernel errors you turn the sleep function off on Mac and just power off the monitor when not using. It is out of stock as people have mentioned but I signed up for the alerts and got one within a couple of days on this site. (I missed the first email but caught it on the 2nd notification.)
Date published: 2021-03-09T00:00:00-05:00
Rated

5

out of

5
by
JOHNELLIJAY
from
Amazing in Every Way
I can now open 3 files at the same time for comparison / information gathering / etc. Amazing work tool for efficiency AND fun. I love this monitor. Worth every penny. Also, take a look at the 65" OLED TV = WOW!!
Date published: 2021-07-08T00:00:00-04:00
Rated

5

out of

5
by
DryDoc
from
Phenomenal for Dual Computer Setup
Having to work with both a Windows and MacOS computers has been never been easier since I began using this monitor. Not only will it support dual computer input but can use the same wireless keyboard and track of with both computers.
Date published: 2021-07-29T00:00:00-04:00
Rated

5

out of

5
by
bobbysquirrel
from
Second Chance and A New Start!
Bought the monitor from Adorama and it came in quickly. The image quality was superb. Brightness and contrast was really up even when compared with my 4k BenQ! They did not JOKE when they said this monitor could do HDR10 or whatever. It blew my socks off! This was like… A box of vivid live actions when you stare at it. Watching YouTube is synonymous to going to the cinema. Like, I was so impressed by this huge screen! Unfortunately, though, after a few weeks the monitor started having some issues with OSD (didn't register when joystick button is pressed). It was so bad to the point where if I needed to make any adjustment, which was a lot, I had to unplug the monitor completely and plug it back in because there was no way to turn it off (OSD didn't work). So I emailed LG and was really not knowing what was going to happen because there was that 1-star review on here saying although he mailed the monitor in like twice, it still didn't get fixed or something. But I took the punch anyway and sent it in. I was so ready to switch to another brand and stuff. I had to WFH and also going to grad school and I'm down 1 monitor. When I tell you I was desperate, I was DESPERATE! Almost bought the 38 incher from Alienware or the big one from Samsung, but I'M SO GLAD I WAITED! Y'all, like… They came through and fixed this thing up real good and OMG. I could not BELIEVE that I was going to receive a functional monitor after this came back in. My homework, my work, my entertainment, ALL DISPLAYED NEATLY ON HERE! ;__; Thank you to the LG staff and engineers who looked after my monitor, I just really wanted to have functional and reliable equipments to do work and school on and y'all really came through with it! Again, thank you so much for fixing this real good and nice. I hope to keep and continue using this monitor for a long time. And when, hopefully in the next 10 to 20 years or so when I need to update, I will still receive the same tech care with my electronics and same reliable support like y'all did for my screen piece here. I really want to believe this is a freak accident with my monitor since LG has been in the game for such a long time now. Growing up with LG TVs and LG products really helped make the confident choice of choosing LG. I will be choosing LGs over competitors if I continue to get such amazing care with my products. Please take notes from consumers because we really want to support cool innovations from you guys and the only way we can do that is knowing that you do listen to us! Thanks again for the amazing service done to my monitor. Hopefully this one doesn't require another repair for a long time and will service me 'till the day that LG has to update logo. ;) Thank you LG staffs and engineers, thanks so much!
Date published: 2021-08-01T00:00:00-04:00
Rated

5

out of

5
by
fmh89
from
Great Monitor while it lasts
I bought this monitor in March and was loving it until it broke a couple of weeks ago. The monitor was everything I wished for. Vibrant colors, fast refresh rate, decent built-in speakers, perfect size and was the best monitor I ever owned. Unfortunately a couple of weeks ago I started having power problems with it. I've shipped it back for repair last week and still waiting for a response. Will update the review once my situation is settled. Hardware issues can be expected so hopefully the customer service will make up for it. Considering the cost it was quite a disappointment.
Date published: 2021-07-05T00:00:00-04:00
Rated

5

out of

5
by
24Video
from
Does not work with Microsoft Dock 2
First I must say that it incomprehensible that LG does not bother to mention any specs on DP and HDMI ports on the specs site here.... Secondly the supplied thunderbolt cable does not work on the Microsoft Dock 2, it works fine when connected direct to Surface 8 pro though. BUT when I use a USB-C cable supplied with the VP3881 - supplied with this Viewsonic competitor, it works perfect via the Dock (yes, it won't do full 10 bit, but it does 120Hz). I also tried it with another TB3 cable supplied with the Caldigit TS3 plus, and also works fine from the Dock 2. So really strange.... HDR is nice, but really when would something need for pro-HDR work, you would really buy something else. the HDR on this monitor is a nice gimmick, but really nothing to use as an argument. Yes the 120Hz capability is nice, but does nothing for the eye strain (yes I do know what I am talking about). In all, nice but not wow and does not work with Microsoft Dock 2 via USB-C with supplied TB3 cable. I will return this monitor and keep my VP3881, was a tad cheaper and colourwise for sRGB webwork and photo work really on par with this slightly newer panel.
Date published: 2022-01-23T00:00:00-05:00
Rated

5

out of

5
by
Bilbo432
from
Great Monitor
I bought this monitor about a month ago and couldn't be happier. It is everything I had hoped it would be. First, why LG? I have had other LG products and they have all worked out great. I also like the compatibility with Apple including the Thunderbolt port. As for my type of use, I'm not a video editor. Seems so many posts about Ultrawide screens are from those folks. Surely the screen is great for them, but it is also great for business professionals (I'm a lawyer and getting an MBA). So all day I run Word, Outlook, Excel, Chrome, Safari, a Contract Lifecycle Management System, Messages, Teams, Zoom, etc. I usually keep an app or two running on my 15 inch MacBook next to the screen so I've got 53 inches of real estate - its awesome. The angles / curvature seem perfect to me, although I'd be interested in seeing what a slightly more curved screen is like. There is a lot of adjustability in terms of screen height, tilt, brightness, font sizes etc. The screen runs better on the newer Apple OS. It will work on Catalina, but you need to manually adjust things while running Catalina that are automatically handled in Big Sur. Take note that there are preset brightnesses for reading, watching movies etc. I didn't realize this at first and the screen seemed just too bright, but then I found the presets for reading and that was a game changer for me. Colors are great. I haven't noticed anything re black colors that I've read about in other reviews. I also really like the sleek and modern fit and finish. The curved base is attractive and functional - keyboard fits right in there well. Strong suggestion: give thought to your desk. Prior to purchase, I measured the width of my old desk, but not the depth. I had been working on an antique desk that was only 21 inches deep. That wasn't enough. Due to the curved base, this monitor is deeper than I had expected and on my 21-inch deep desk the monitor was right in my face. Luckily, we also had in the house a 25-inch wide desk (50 inches wide) which I moved into my home office - worked out very well. This monitor is pricey for sure and honestly I suspect I would have been equally happy with a $1,000 monitor with lower, non-gaming speed. But maybe not, as I've heard about flicker issues with some of those. Bottom line, I don't regret one bit paying the extra money for this monitor. It's kicking butt and taking names. Transformed my work space. Like everyone else during Covid, I've been working very long days from my home office and desperately needed a real set-up. This is precisely that. Really happy with the purchase. Strongly recommend.
Date published: 2021-11-12T00:00:00-05:00
Rated

5

out of

5
by
richmonder804
from
Great Display + Customer Service
I bought this monitor back in November and I'm really happy I did. This ultrawide is perfect for my at home workstation setup. I had done a lot of research as to what was available in the market and this came highly recommended. I don't usually write reviews but I needed to for this product. This works perfectly and displays a beautiful picture when paired with my 2019 MacBook Pro. There were some dead pixels that appeared after a few weeks of use but LG made good and fixed it for me free of charge. Great company, great product.
Date published: 2021-12-29T00:00:00-05:00
Rated

5

out of

5
by
Quib
from
The ultimate monitor for Work and Play!
I've tried many types of monitors and this is hands down the best one that covers all my needs. The USB-C is perfect for my macbook pro that I use for work, and the 144hz UW is fantastic when hooked up to my gaming PC. I couldn't ask for more (Well maybe a 40" version with same specs) but that doesn't exist yet. Thank you LG for designing such an excellent product!
Date published: 2022-01-01T00:00:00-05:00
Rated

5

out of

5
by
KennyU
from
View of my iMac
I have only had this monitor for 3 weeks and I love the roomy work spaces for two spreadsheets at once.
Date published: 2022-09-15T00:00:00-04:00
Rated

5

out of

5
by
pyschicmonkey
from
Amazing
The display is so beautiful that I've now sworn off buying rebranded monitors (MSI, Dell/Alienware etc) no matter how good the deal is. Worth every single penny I spent.
Date published: 2022-09-17T00:00:00-04:00
Rated

5

out of

5
by
Cfdude
from
Best high quality monitor I've ever owned
This was a serious investment but so worth it. If you're considering a wide screen monitor you will definitely want a 38" one. Go visit a store to see a comparison to a 34". If you feel reluctant about a curved monitor I can tell you it's weird for about 2 days and then it seems natural and you don't notice anymore. I use this for work and play. For work, it's awesome to have all the extra room of two side by side monitors in a single one. I'm able, on my MacBook Pro, to change the resolution to 4K and suddenly get more space. I can do zoom meetings and take notes simultaneously. I can more easily work with multiple apps at once. For play, I haven't played too many games yet but now that I have this monitor I've been thinking about getting a gaming pc to take advantage of the awesome refresh rate. I also bought an Egotron desk mounted arm to mount this monitor to. It's awesome to move the monitor where I want it. Streaming content feels very immersive and beautiful. The bright and sharp colors are amazing. You will not be disappointed. I like the monitor software that lets me control the monitor from the computer.
Date published: 2022-05-29T00:00:00-04:00
Rated

5

out of

5
by
M Jones
from
Absolutely Flawless perfection
This monitor looks exquisite the colors are popping off the screen I use mine for Ps & Lr picture editing aswell as Vegas post video editing, the 144hz refresh is the icing on top for a little gaming on the side paired with a Nvidia 3090ti this screen is the poster child for perfection
Date published: 2022-07-12T00:00:00-04:00
Rated

5

out of

5
by
Ck2022
from
Great Monitor Bad power supply and Just. Support
Does everything I need. Only complaints would be having to manual control certain settings with the joystick located on the bottom. I would also prefer more ports spread out in other areas. The application isn't the greatest for managing so that could just some work or just include a remote. But in all honesty I the monitor is great. But when it comes to customer service and getting a replacement. Is totally ridiculous. I had the monitor for 5-6 months. My monitor along with my electronics is connected to a UPS and protected. I ended up having to order another monitor and just the old one back to Amazon to deal with. It was the power supply that was corrupt;ed and showed no sign of damage. I use the monitor on a daily basis and having it be at least a month to receive it back is totally unacceptable. Since I didn't save the box since I am not a hoarder. The monitor is excellent besides the power supply brick and customer service needs a lot of work.
Date published: 2022-08-10T00:00:00-04:00
Rated

5

out of

5
by
imdrecordings
from
Great monitor with weak connectivity
Been using this now for a bit. However, the TB3 was glitchy with my Mac Studio and soon stopped working or recognizing anything in a mater of weeks of owning it. LG's customer service is strange and disconnected. Been trying to see how I can get it fixed for weeks and I simply get odd texts from a bot that goes nowhere. It would be an awesome monitor if it wasn't so fragile
Date published: 2022-11-07T00:00:00-05:00
Rated

5

out of

5
by
38WN95C
from
What an amazinggggg monitor!!
This is hands down the best monitor you can buy in this price range. It was worth every penny. The size is perfect. Allows me to multitask and be a lot more efficient with my daily work duties. It's also gorgeous to just sit and look at. You can tell the difference between 144hz and 60hz monitor. Initially I was going to go for the cheaper option but I am glad I didn't and went with this one. So so smooth!! Don't look anywhere else get this monitor!
Date published: 2022-12-04T00:00:00-05:00
Rated

5

out of

5
by
Christian Vila
from
Amazing display
I thought this screen would be too big. And has questions about screen/screen features but I can say that this has blown my mind.
Date published: 2022-11-15T00:00:00-05:00
Rated

5

out of

5
by
mbarajaa
from
Great picture quality
I bought this a month ago and the picture quality is very good not to mention the refresh rate
Date published: 2022-10-02T00:00:00-04:00
Rated

5

out of

5
by
Mano555
from
Good features but issues with build quality
I liked the monitor bought last month from LG directly on Black Friday .. liked the design , picture quality but had to struggle so USB C port didnt work despite using different cord , C adapter . Also dual control monitor downloaded on all the PC's but it didn't not work .
Date published: 2022-12-29T00:00:00-05:00
Rated

5

out of

5
by
zorko
from
Gets the job done
I've wanted a curved monitor for quite a while. This one fills the space on my desk perfectly and has just the right curvature. It also hooks up just fine to my iMac as well as my work windoze laptop. My only complaint is that the automatic brightness adjustment setting always makes the display brighter than I'd like it. This makes it so I have to adjust brightness manually anyway.
Date published: 2023-01-01T00:00:00-05:00
Rated

5

out of

5
by
IsaacStaar
from
Nice curve and size
This monitor meets my needs pretty well, with its curvature and large size. I can even hook up two computers to it and easily switch between displaying each of them. The only complaint that I have is that the automatic brightness adjustment is always too bright, especially when sitting right next to my iMac which does brightness adjustment really well. So, I have to manually adjust the brightness of the LG monitor twice every day. That could be done better, LG.
Date published: 2023-01-23T00:00:00-05:00