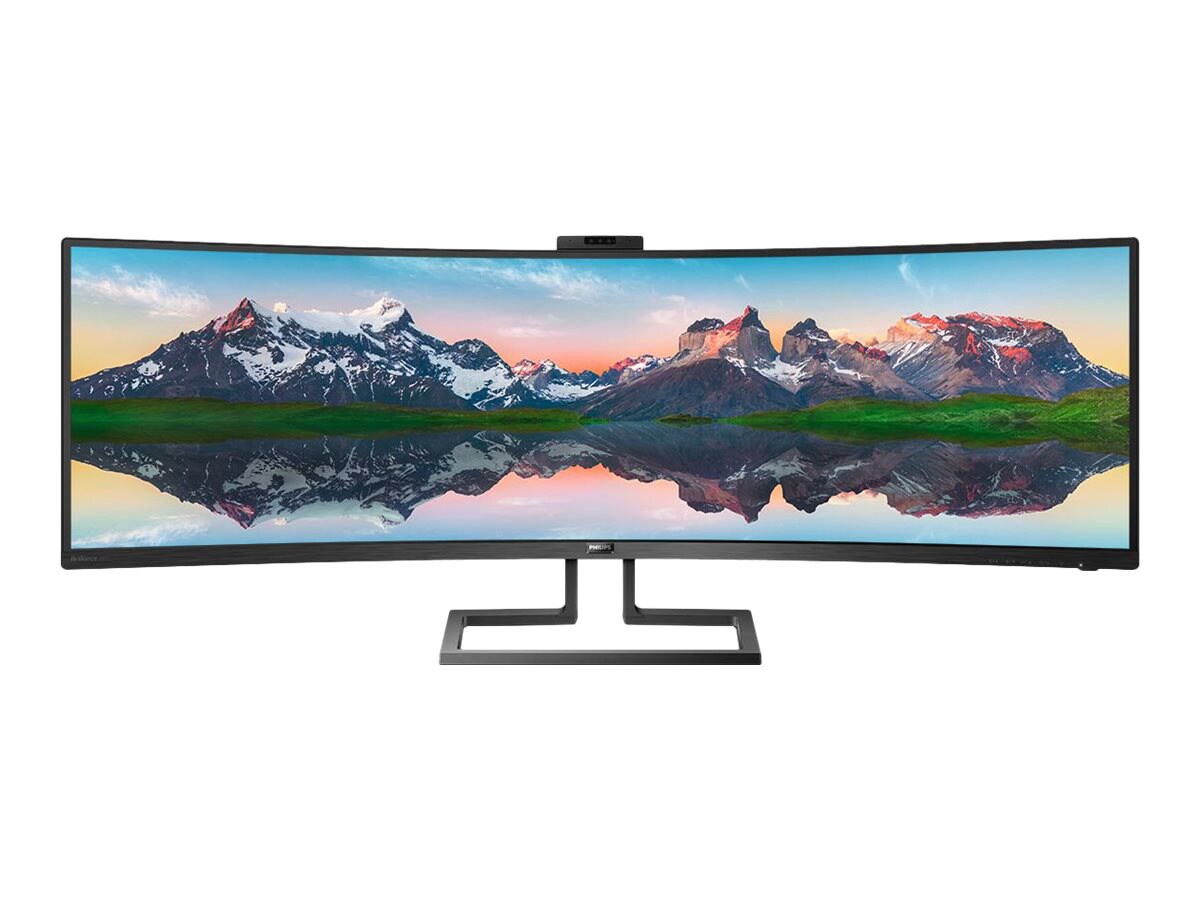 Caractéristiques techniques en un clin d'œil
line 499P9H
Courbe
5120 x 1440 Dual Quad HD @ 60 Hz
450 cd/m²
DisplayHDR 400
2xHDMI
USB-C
textured black
Écran à DEL
49 po (48,8 po visibles)
VA
3000:1
5 ms
DisplayPort
Haut-parleurs
Voir tout
Connaître son équipement
Aucune description marketing n'est disponible.
PHILIPS 49IN 5120X1440 CURVE LED
is rated
3.20
out of
5
by
20
.
Rated

5

out of

5
by
quartz90
from
Great monitor overall for work and play
great monitor, purchased it in 2019, still running strong. no problems with any of the MMO games that I play. Does charge thru the USB-c KVM port, just some notebooks are particular about charging and the charger used. No RFI problems at all, monitor is about 40 yards from my shortwave transceiver antenna. Only problem has been switching between PCs using the built-in KVM sometime will cause the built in USB hub to flake out which requires turning the monitor on and off. great monitor for work also working on many columned spreadsheet or have two web browsers going and one and switching between them.
Date published: 2021-10-16T00:00:00-04:00
Rated

5

out of

5
by
Gps2
from
Right idea, poor execution
Would have paid twice as much for it to work better. Menu difficult and you can only adjust volume through the menu, not on the computer. Speakers don't always connect and requires a restart. All USB ports should have been usb c out ports instead fo the old ones. Doesn't always turn on when you hit keyboard button. You have to restart. Tried to contact support but got no help.
Date published: 2021-01-31T00:00:00-05:00
Rated

5

out of

5
by
Broseph Stalin
from
Amazing display
This is an absolutely wonderful monitor. Colors are gorgeous and in sRGB mode it's just the perfect brightness for long hours of work. Install Microsoft PowerToys and set up some snap zones... it's all the productivity of having three monitors but without the clutter and distraction. But please, don't expect to run this on a decades old budget laptop. You need a dedicated graphics card/chipset capable of running at least 4K.
Date published: 2021-01-21T00:00:00-05:00
Rated

5

out of

5
by
SAR0065
from
My favorite
I love this monitor. The size of the screen and the ease of the connections on the monitor. Having all connections and the camera in one place makes the work day easy and seamless.
Date published: 2020-11-05T00:00:00-05:00
Rated

5

out of

5
by
JacekPL
from
LCD - ok but accesories - VERY POOR
I bought this LCD because it has an advance it means a lot of accessories included i.e. webcam, and usb hub - most significant for me. Unfortunately - booth works poor, and finally i can't connect lcd with one usb cable to my mobile laptop at home. 1 - camera dont working properly because on 720p are the horizontal stripes and flicker. 360p works ok on messenger, skype, teams etc... 2 - even if the camera has 360p, after running video transition on communicator, the usb turning of signal from hub on some milliseconds (sometimes 1s) for each 3-10 second time step. Finally mouse is still in some lag because of interrupts the connection 3 - I bought new one camera (now are expensive about 100Euro) and connected to TV HUB and ok - signal was fluent, without noise on 720 even 1080p, but still the usb connection interrupting and losing signal on milliseconds. And I understand that it can be USB bandwidth, but from my side as a client it should works. For me it is same significant as display quality, because i using laptop and 1 cable connection possibility was a one of the criteria to buy. Windows updated, drivers for LCD newest one - installed.
Date published: 2020-09-18T00:00:00-04:00
Rated

5

out of

5
by
maldora
from
The monitor died within a month!
I bought the monitor to work remote due to COVID-19. I got it, set it up and it was great. Then today I came down to my home office and the monitor is dead. It will not power up. I tried unplugging and plugging the power back in, the power button in the back, the power button in the front, nothing work. It is dead. The worse part, it has not been a month since I got it! I called support and could not get a hold of any one for at least half an hour. I left a voice and they said they would call me back within 2 hours and I am still waiting. I sent an email and they send me a email back saying I had to talk to the company that sold it to me because it was within 30 days. They said this would be faster. We will see!
Date published: 2020-04-17T00:00:00-04:00
Rated

5

out of

5
by
Home Office
from
Great features!
Extremely good product--tons of features based on comparable models. Extremely useful in a "work at home" environment. Great warranty
Date published: 2020-03-26T00:00:00-04:00
Rated

5

out of

5
by
errodrigues
from
Excellent bang for the buck
I was looking for a while to find an ultrawide monitor with an actually usable resolution. I compared this to other equivalents at the time and found this one to be the best choice for my use case, which is non-UI-related software development. To me, real estate is most important. One detail that to me was relevant is the curvature of this monitor, which is more accentuated than equivalent models from other branda. This means that, based on my usual seating position, I don't need to turn my head as much, which I do like very much. On top of that, the KVM feature that is supported both via USB-3 or USB-C and included Gigabit ethernet, as well as the built-in webcam are really nice extras that allow me to connect a MacBook Pro using just 1 cable. The only thing I wish was better is the USB-C power being limited to 60KW, which is not ideal for charging up the MacBook. Other than that, I don't really use the built-in speakers since I don't like the fact that I cannot control the volume from MacOS. Overall, for my needs, I simply love this monitor!
Date published: 2020-02-14T00:00:00-05:00
Rated

5

out of

5
by
RinzaiWolf
from
Awesome Screen, solvable Macbook issues, sucky menu system
This thing is amazing. Best screen i've ever owned by far. I'm blown away at the size, resolution and hub features. I have a 2018 MacBook Pro 2.6ghz, radeon 560, etc.. I used the "ScreenResX" app to adjust the MacOS deficiency in supporting this screen. Works perfectly. This is a MacOS issue, not a Philips issue. I also gained keyboard control of brightness using "brightness slider" app and also sound via "soundflower" and "soundflower bed" found in GitHub.. you can google and get a walk through from macrumors. While you're at it download "Magnet" and thank me later. The onboard menu system is antiquated though. Next time y'all should do a joystick. It's unnecessary difficult to fumble through the menus. Dedicated or quick sound and brightness buttons would be a major plus as this is what most people go for most often. The "ease of use" 2 stars are only bc of the hub feature. It would be zero on the menu system, feels 20 years old. But, I barely use it and hacked a work around using MacOS apps. Pop up webcam and Speakers are substandard quality. They work and are super nice to have. Speakers I can live with but the webcam I cannot, it's been replaced already. Also, add some more USB 3.0 ports and up the USB C charge to 87W! Net: I love this screen. It took a couple days to get used to and now I'll never be able to go back to a normal size. Might even stack a second one! You won't regret it.
Date published: 2019-04-19T00:00:00-04:00
Rated

5

out of

5
by
Nan0c
from
Great display but lacks functionality with OSX
I bought this based on a colleagues feedback and over all I'm really happy with the screen and its performance. Largest failings are the lack of OSX drivers and the inability to use the webcam and needing 3rd party driver for getting the full resolution
Date published: 2020-01-01T00:00:00-05:00
Rated

5

out of

5
by
gumbyplayer
from
Does not work properly with 2018 15" Macbook Pro
The maximum resolution it supports with Mac OS 10.14.4 is 3840x1080. My computer is a MBP 15" 2018 with 2.6Ghz i7 32GB ram and Radeon Pro 560x 4GB graphics card. The maximum resolution the monitor works at with my MBP is 3840x1080. The webcam doesn't provide any video feed at all with Facetime, Skype or Zoom.
Date published: 2019-03-28T00:00:00-04:00
Rated

5

out of

5
by
mokus0
from
Nice display, mediocre extras
USB-C won't charge my laptop at all (not a high-power laptop, it runs just fine from other 60w supplies - the display USB-C won't even switch from 5V with that computer, which is frustrating because the display works fine at 20V with other computers and that computer works fine with other USB-C power supplies). KVM was one of the main features that made me select this model over other competitors in the same size, but the UI is almost unusable because of the menu system requiring too many button presses. Even worse, it actually *is* unusable in many cases because it won't transfer USB to a computer that has gone to sleep because it doesn't detect a video signal. How am I supposed to wake the computer if my KVM won't even connect the keyboard and mouse to the computer because it's asleep? Webcam quality is mediocre, but at least it does work with Mac and Linux. Speakers sound fine but volume controls are a pain because for some insane reason macOS won't let me control them from the OS - and the on-screen menu system is a pain. A physical volume knob would be nice.
Date published: 2020-04-27T00:00:00-04:00
Rated

5

out of

5
by
MyMobileDoc
from
Bang for Buck... No such luck
Good thing I have a PC I can use web apps on for ~80% of my work. Too bad I cant use it with my MacBook Pro 2018 that I work on 80% of the time. I work a ton w UX Professionals designing medical software and the screen real estate is huge for productivity. I was planning to leverage the KVM to go back & forth between my Mac & PC. Really need this capabilty most. And there are use cases where 1 monitor is far superior to 2 side-by-side. BUT, I get a faded magenta screen when using my Mac and havent gotten it to correct w OSD or Settings. And no luck finding someone knowledgeable at Philips Support! I may have to return for the similar 43 in curved at lower rez that worked w PC & Mac nicely. Maybe someone knowledgeable at Philips will read and contact me. Ill let you know dither way. Great w PC fwiw.
Date published: 2019-04-08T00:00:00-04:00
Rated

5

out of

5
by
breissim
from
Philips has some work to
Unlike other reviewers I do get full resolution from my 2018 15" MacBook Pro, so no complaints there. Also, there is no glare on this monitor. It's phenomenal in that respect - though I replaced a glossy monitor with this one, so it couldn't really get any worse. However, the KVM functionality is, simply put, awful. In order to switch between two computers, once must first navigate the on screen menus to change the KVM setting from one USB port to another. Then one must change the video input to the matching input. There is no connection between the USB uplink and the video in. That's just silly. It takes multiple presses (5-10) of the hardware buttons on the bottom right of the monitor to fully switch between attached computers. Every other KVM I have owned can do it with a single button press. Next, the web cam. While the camera is recognized by my Mac (usually - it is not consistent), any attempt to use it by an application results in a single frozen frame being transferred, then nothing but black. The microphone does work, but without the video, it's not useful. When I connect my Windows 10 desktop, it does not recognize the web cam as a Windows Hello capable device, although it supposedly is. So another strike there. Finally, my monitor was delivered with a defect in the screen. It was not dead pixels as one would expect. Instead, it is a grey smudge that appears to be on the underside of the glass in the shape of a large reverse comma. That should easily have been caught by quality control at the time of manufacture. I cannot recommend this monitor to anyone given the poor quality of the build and the premium price.
Date published: 2019-04-18T00:00:00-04:00
Rated

5

out of

5
by
HLCofey
from
Awful repeat set ups, not adapting resolution
Consider anything but this monitor: Windows Hello does not work as is documented in many threads with Windows 10, etc. The monitor has to be set up every time it is unplugged, it does not charge via USB C, the menu system takes tons of time to scroll through, and I still do not have it scaled to size.
Date published: 2020-07-21T00:00:00-04:00
Rated

5

out of

5
by
DDO89
from
Excellent monitor, great resolution, built-in cam
I have been using the monitor for several weeks connected via a USB-C to a Microsoft Surface Studio notebook. The USB-C powers and charges the notebook! Resolution is set 5120x1440 on the 49" screen and 2400x1600 on the notebook. I installed Microsoft's PowerToys app and am using Fancy Zones to divide the 49" screen into three logical partitions and the notebook into two. Color and resolution on the Philips is very good. I also am using the Philips' built-in camera for Zoom and Team meetings. It works very well. I have connected a Jabra speaker/mike via one of the screen's 3 USB-B ports (as the built-in mike could be better. The built-in speakers are fine. I highly recommend this monitor.
Date published: 2022-03-08T00:00:00-05:00
Rated

5

out of

5
by
Standard01
from
Worked Okay for 6 months.
Bought in Jan of 2021. Worked good until July 2021. Trying to get warranty support. No phone. Just email so far. Came with 4 year warranty.
Date published: 2021-07-01T00:00:00-04:00
Rated

5

out of

5
by
Mark_123456
from
extremely disapponted
The "MultiClient Integrated KVM switch" of the monitor is "so integrated" that it provides "a convenient button" to quickly switch between two sources on the remotes with three confused steps. Totally rubbish KVM function for a US$1,200 monitor. Unacceptable function!!! The customer service of Hong Kong is terrible and technicians cannot help.
Date published: 2022-08-02T00:00:00-04:00
Rated

5

out of

5
by
Blockbuster 007
from
Monitor itself is awesome. Customer service not so
Monitor itself is awesome. Great graphics. Built in speakers and built in docking station is exactly what I needed. I love how you can snap windows anywhere on the screen. I use it for work and gaming, as well as, video editing and it's a homerun ! Customer service...Monitor did not come with remote and I've called and emailed in excess of 10 times and cant get a response to purchase the remote.
Date published: 2022-11-08T00:00:00-05:00
Rated

5

out of

5
by
compgeek34
from
It a good monitor for the price
I love the features of the built-in camera and speakers. When watching videos at the loading, I find that the footage is pixilated, but the monitor corrects itself in 5 seconds. I can live with that.
Date published: 2022-10-01T00:00:00-04:00