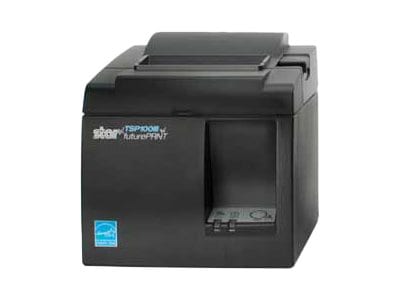 Caractéristiques techniques en un clin d'œil
Imprimante de reçus
direct thermal
203 dpi
Bluetooth
two-color (monochrome)
Rouleau (8 cm)
Jusqu'à 250 mm/s
Voir tout
Connaître son équipement
Ce modèle de la série TSP100 de Star a été plébiscité par les commerçants et les restaurateurs partout dans le monde, qu'il s'agisse de grandes chaînes de magasins, de boutiques ou de cafés locaux.

Cet ajout de la série TSP100 apporte toute une gamme de fonctionnalités, telles que l'impression ultra-rapide à 250 mm/s, un massicot automatique (cycle de 2 millions de coupes) et permet d'utiliser des papiers fins pour limiter l'impact sur l'environnement et réduire les coûts d'exploitation.
Star TSP143IIIBI - receipt printer - two-color (monochrome) - direct therma
is rated
3.67
out of
5
by
9
.
Rated

5

out of

5
by
Jlatif09
from
Works great when it can keep a connection...
This is a wonderful little printer. It is really easy to connect and use with your iPad. The issue is the bluetooth connection seems to time out a few times a day, which is an issue when it gets really busy at the restaurant.
Date published: 2017-02-21T00:00:00-05:00
Rated

5

out of

5
by
customer
from
don't buy this
We have now had the printer for 3 weeks, we cannot get it to print from the uber tablet, which is what it is for. Several calls to Uber help have gotten us nowhere. There should be an assistance line to contact someone for help.
Date published: 2017-10-04T00:00:00-04:00
Rated

5

out of

5
by
Mperry1778
from
Printer for UberEats
Find Printer but very expensive. Would buy more but at $300 Mish, too expensive.No startup instructions included
Date published: 2018-05-29T00:00:00-04:00
Rated

5

out of

5
by
JayS
from
Great Product
The printer works great and adds so much convenience. I would recommend. You can also print from multiple devices via Bluetooth.
Date published: 2019-07-17T00:00:00-04:00
Rated

5

out of

5
by
Jh560
from
Very useful!
Great product...made life easy. Especially when it is busy.
Date published: 2017-05-18T00:00:00-04:00
Rated

5

out of

5
by
Henry
from
Works great.. When it does.
Great printer, prints decently fast speed, when we press print it takes about 3 full seconds to print, but the main issue is that we have to disable and reenable the blue tooth to get it working everyday, sometimes 3-4x a day.When it is working it works great, does what I need it to.
Date published: 2018-03-20T00:00:00-04:00
Rated

5

out of

5
by
Jaunet34
from
Buen trabajo
"I was looking for a printer that is compatible with the tablet I use at work Great Printer. I too was suspicious, but did really need this printer. I generally do not rate a seller, or comment about a sale, but I felt compelled to come back and rate them. The shipment was fast.I was very impressed with the service that they provided. The printer was in excellent shape, better than expected, communication was great. I hope that my review will help others in trying to find a product at a great price from a reputable dealer."
Date published: 2017-11-07T00:00:00-05:00
Rated

5

out of

5
by
Mike
from
It does what it is suppose to do
I hooked it up and mounted on the wall. It started printing when we got an order. Can't ask for more.
Date published: 2018-05-29T00:00:00-04:00
Rated

5

out of

5
by
Jay1501
from
TSP143
First off, I do like the overall product. I attempt to contract customer service for several days in order to confirm I was ordering the correct product which was a struggle. Never the less I received the product which was in new condition. Always a which was great. However the shipping time was longer than expected. I was also disappointed that there was no CD-ROM disc that came with the product. It would have been appreciated if the drivers was included in the package even though downloading the software and drivers was not difficult. One last thing; for the love of GOD, please change the product name from Uber TSP143 and tablet business bundle. The product does not come with a tablet. Just name the product TSP143 and call it a day. Lets move away from trying to trick the customer into thinking more product comes with multiple items. Other than these things its a great product.
Date published: 2017-04-05T00:00:00-04:00