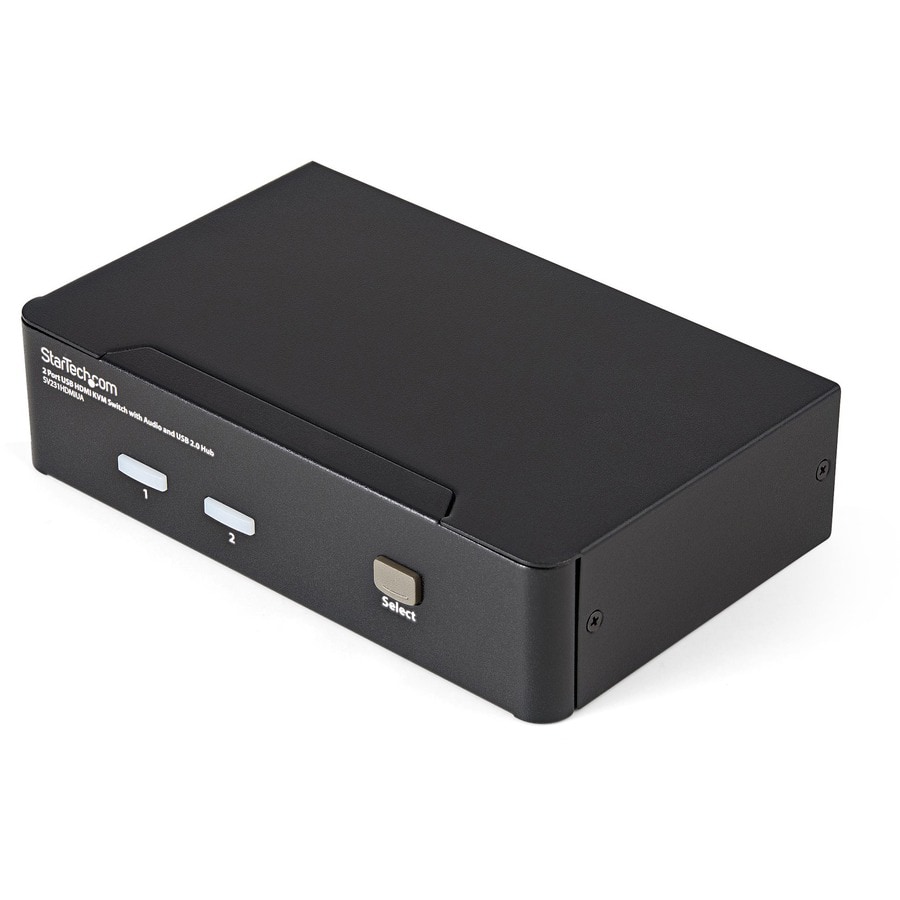 Caractéristiques techniques en un clin d'œil
2-port HDMI KVM Switch
Uses a single peripheral set/console (USB keyboard,mouse,monitor,s- peakers and microphone
Supports both HDMI® audio and 3.5mm analog audio
Share USB peripherals between PCs
Control two USB-enabled multimedia computers or devices with HDMI video interfaces
Independent Audio switching
Integrated USB 2.0 hub
Dual Port KVM Switch
Voir tout
Connaître son équipement
Le commutateur 2 ports USB HDMI SV231HDMIUA vous permet de contrôler deux ordinateurs ou périphériques compatibles USB et dotés d'interfaces vidéo HDMI, à l'aide d'une seule console ou d'un ensemble de périphériques (clavier, souris, moniteur, haut-parleurs et microphones USB).

Le commutateur USB HDMI KVM est une solution KVM véritablement polyvalente, il est doté d'un concentrateur USB 2 ports intégrés qui permet à certains ordinateurs d'accéder à des périphériques USB haute vitesse partagés, supprimant ainsi le coût engendré par des achats supplémentaires de périphériques USB. Garantissant une capacité vidéo de haute qualité, le commutateur HDMI KVM prend en charge des résolutions HD d'au plus 1920 x 1200. Ce commutateur offre une excellente transmission du signal numérique, il peut être utilisé pour partager un panneau HD entre plusieurs sources HDMI, telles que les lecteurs Blu-Ray, les consoles de jeux vidéo et les médiathèques HD.

Le commutateur prend également en charge les fonctions de commutation audio et microphone et vous permet de sélectionner des ordinateurs connectés, des ports du concentrateur du périphérique USB et des canaux audio et micro, de manière simultanée ou indépendante, à l'aide des boutons-poussoir du panneau avant ou des touches de raccourci du clavier.
StarTech.com 2 Port USB HDMI KVM Switch with Audio and USB 2.0 Hub - KVM /
is rated
3.67
out of
5
by
3
.
Rated

5

out of

5
by
1Jammie
from
Could be a Nice Set Up, But Not Reliable
I purchased this switch for a client. It's a simple set up and works fine for a little while. On the first switch I installed, a channel died before I got five minutes away from her office. I got an RMA from Startech and ordered a replacement. The replacement switch lasted a month before it too lost a channel. The manufacturer honored the warranty, and has since refunded all the money. Unfortunately I can't recommend this switch because after two exact same failures I have to assume the engineering design is flawed. HOWEVER, I was very pleased with the responsiveness of StarTech's Customer Support team.
Date published: 2017-07-31T00:00:00-04:00
Rated

5

out of

5
by
Jeffery
from
I love this KVM but...Logitech UNIFYING
Let me start off by saying that I absolutely love this KVM and I adore the quality of the support that Startech provides. I didn't actually contact Startech support on this particular issue since the product details page clearly states that the unit doesn't support USB wireless receivers like those provided by Logitech UNIFYING receiver line of products. That being said I allowed myself to get carried away with reviews on Amazons site and I saw that other people used their Logitech Unifying receivers with no issues. Let me say that with both an older and newer Logitech Unifying receiver I did experience issues with one half of the two devices that I attached to this KVM. On my Lenovo Laptop I had no issues and the L.U.R (unifying receiver) worked like a champ but when I toggled the KVM to go back to my Dell Desktop I had an inordinate amount of lag and loss of cursor and keyboard responsiveness to the point of it being unusable. So if you are wanting to use this device as a your KVM my advice is to adhere to the technical warnings and even ignore my review and others and just be prepared to have a bad experience with your USB based wireless receivers. I do not hold Startech to blame on this issue since they were clear up front and I failed to heed the warning. I highly endorse this KVM but please be prepared to use a wired USB mouse and keyboard with this KVM. Cross posting to the Amazon review as well.
Date published: 2019-01-14T00:00:00-05:00
Rated

5

out of

5
by
nivek
from
Excellent
Easy to setup and easy to use. I just plugged in 2 pc's and was switching back and forth between the two in no time. The audio and mic worked well also.
Date published: 2018-09-14T00:00:00-04:00
Rated

5

out of

5
by
Starr
from
2 Port HDMI KVM Switch
Simple...This product is completely simple. Just plug in 2 computers to it with HDMI Video connections, USB Keyboard & Mice connections, Audio and then plug in your HDMI monitor, Keyboard and Mouse and get to work. Simple push button switch and no software drivers to install.
Date published: 2018-09-10T00:00:00-04:00
Rated

5

out of

5
by
stevejb42
from
Not compatible with multiple keyboards
Thought I was buying quality by paying more, not the case. Didn't work with wireless Logitech so made a special trip to BestBuy to buy a second wired HP keyboard and it doesn't recognize that either. Very disappointed and returning this product.
Date published: 2019-02-24T00:00:00-05:00