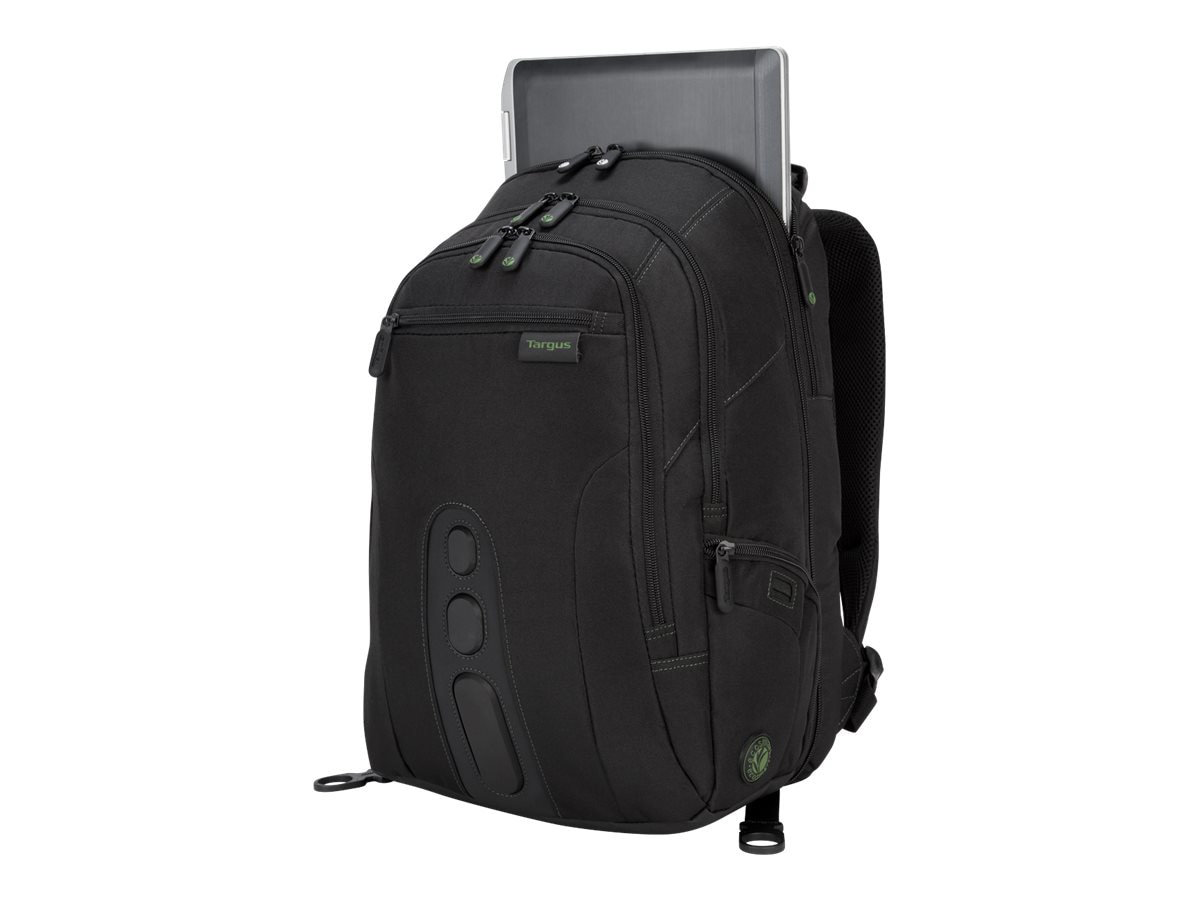 Caractéristiques techniques en un clin d'œil
Sac à dos pour ordinateur portable
16 po
Voir tout
Connaître son équipement
Targus EcoSpruce est une collection de sacs écologiques offrant aux ordinateurs portables la même protection, durabilité et ergonomie supérieures qui ont fait la renommée de Targus. Conçue et fabriquée avec des matériaux recyclables elle contribue à réduire l'impact sur l'environnement.

Le tissu EcoSpruce est tisse avec une fibre polyester 100% PET fabriquée en réutilisant des bouteilles d'eau recyclées.

Le tissu ne contient pas de substances nocives, est conforme à la norme Bluesign, et est certifie Green Mark, une référence globale conçue pour assurer le respect des normes ISO environnementales et des normes de tissu vert.
Coordonnées du soutien après-vente
(800) 972 3922
,
du lundi au vendredi, de 8 h à 22 h HE
Targus Spruce EcoSmart Backpack - notebook carrying backpack
is rated
4.80
out of
5
by
5
.
Rated

5

out of

5
by
Surfettekw
from
Mostly satisfied, previous model was much better
I had the previous model for 3 yrs which had an adjustable strap that connected the 2 shoulder straps so you could pull them together to make it more comfortable - a feature I liked but has been eliminated on this model. That broke (ripped right out of the stitching) so I got a new one. So far the new model straps are comfortable, but I haven't worn it on 2 shoulders enough yet to know for sure.Old model had 2 large zippered pockets which I also liked as I carry 2 laptops in this bag. This model has the same pockets, but eliminates the cushion tray in the bottom of the laptop compartment (I use the TSA zipper compartment for the other laptop). So far this does not seem to be a problem.This model also has the same two smaller zippered compartments, and also a very small front zippered pocket. These are comparable on the new model, but overall the bag is a bit shorter and not as deep (front to back) as the old model). It appears to be about 1.5" shorter and about 1" thinner, which is noticeable since I use all the space.Side pockets are different on this model - serious drawback.- The zippered side pocket is considerably smaller in width and height, and will not fit my hard sunglasses case I usually store there. It will also not completely hold my AC power brick for my laptop, even though it is a very small one by laptop standards.- The other side pocket is now a "strung pouch" presumably for a water bottle, replacing the former mesh elastic pouch. While the new pouch looks better, it's far less practical and seems like things can fall out of it easily.Top Handle - drawback!The top handle is now attached to the upper part of the shoulder straps, slightly away from the very top of the bag. It feels sturdy, however it's somewhat awkward when you carry the bag by the handle as it leans toward you quite a bit and hits your legs as you walk rather than hanging straight down. The old model handle was in the center of the bag on top and allowed the bag to hang straight down.Overall space - drawback compared to former model.This bag is somewhat smaller as mentioned above, and things mostly fit in the same places as with the former model, but it's a bit tighter. The shorter height is very noticeable when the bag is on top of my rollaboard - the carry strap no longer reaches my rollaboard handle so it's a stretch to grab both. It's not adjustable either.Padding - improvementLower back and shoulder blade pads seem to be improved and are very comfortable. On the old model I had a towel stuffed behind the lower back pad for additional padding which so far has not been needed on this one.The bag is light, sturdy, and well-made, but has been slightly de-featured from the former model, but overall a great backpack.
Date published: 2018-02-07T00:00:00-05:00
Rated

5

out of

5
by
Maximus
from
Outstanding Shape, look, and space.
The fact that it has so much space, and a great organizer and look of it makes it a great product. Not to mention that it has lower back support pad makes it a well thought out product in term of design.
Date published: 2018-03-07T00:00:00-05:00
Rated

5

out of

5
by
Patty
from
GREAT FOR DAILY USE
I GOT THIS WHEN CO-WORKERS TALKED ABOUT LIKING IT. IT REPLACED MY OLD BRIEFCASE TYPE BAG, WHICH I DISLIKED. THIS ONE IS LIGHT, FITS ON SHOULDER WELL, EVEN IF NOT WORN AS BACKPACK. GREAT FOR DAILY HAULING OF LAPTOP. ROOM FOR SOME SUPPLIES, TOO.
Date published: 2018-02-28T00:00:00-05:00
Rated

5

out of

5
by
Verified Buyer
from
Just Fantastic
Have the weight correct, its easy to organize...!!!
Date published: 2018-04-17T00:00:00-04:00
Rated

5

out of

5
by
Verified Buyer
from
Love it!
I totally love this bag!
Date published: 2017-04-04T00:00:00-04:00