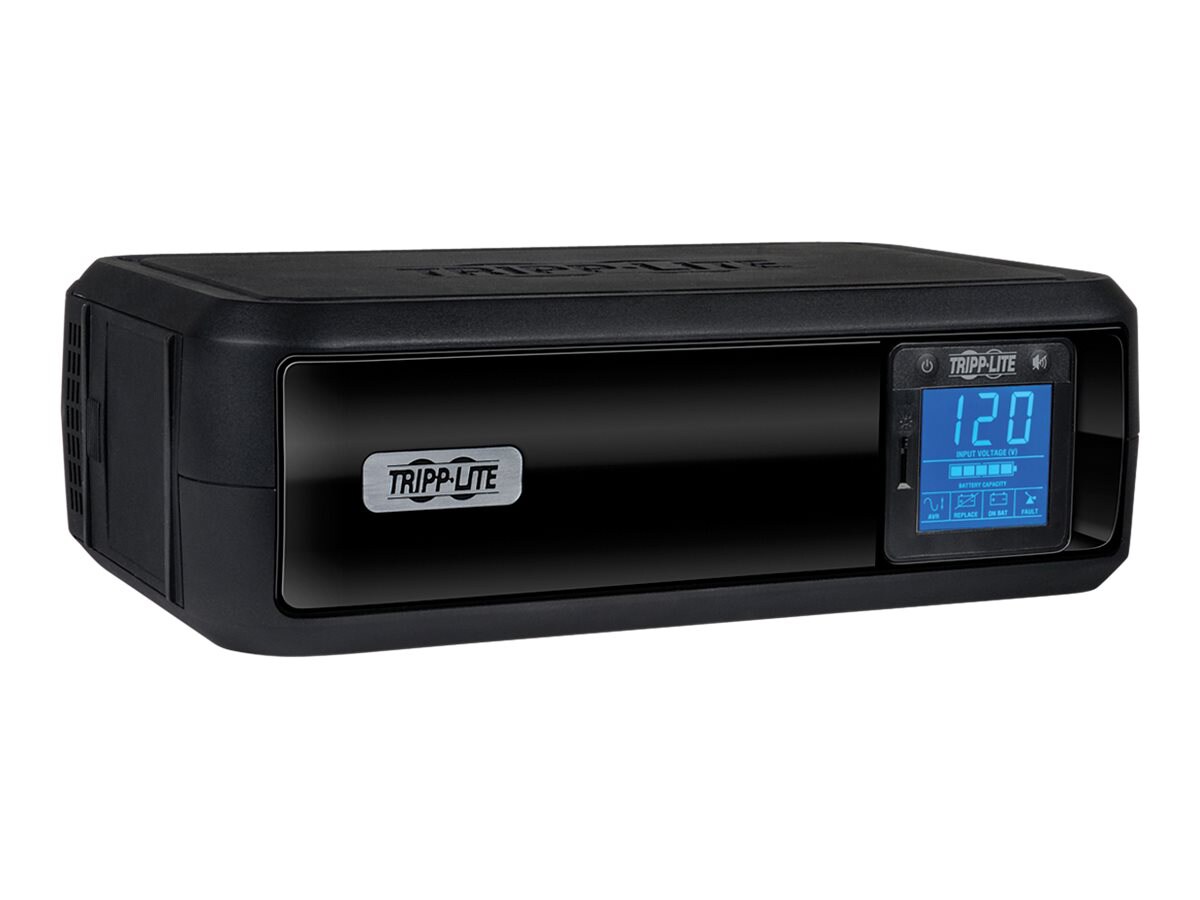 Caractéristiques techniques en un clin d'œil
Système d'alimentation sans coupure en attente active 900 VA à 120 V avec écran ACL
L'écran ACL indique la capacité de la batterie de tension d'entrée et d'autres conditions de fonctionnement
La régulation automatique de la tension corrige les creux de tension et les surtensions sans utiliser l'alimentation de la batterie
Comprend ports USB/ prises de surtension seulement/ 97 % d'efficacité
4 prises d'alimentation sans coupure et prises protégées contre les surtensions plus 4 prises supplémentaires protégées contre les surtensions
Assurance à vie 200 000 $ / garantie Tripp Lite de 3 ans
Voir tout
Connaître son équipement
Tripp Lite est le plus important fabricant de dispositifs de protection d'alimentation, notamment dans le domaine des systèmes UPS, des dispositifs anti-surtensions C.A. et de lignes de transmission de données, des filtres de secteur, des produits de câblage et de connectivité ainsi que des accessoires de gestion de réseaux.
Tripp Lite OmniSmart OMNI900LCD
is rated
4.71
out of
5
by
24
.
Rated

5

out of

5
by
JKJKJK
from
They can shut down unexpectly!!!
They are a nice unit, heavy by weight. They do generate more heat then other units I have used in the past. I had two just shutdown on me! Running nothing more then a cable modem (unit1) and a TiVo (unit2). I was on generator power so my power quality was good but not perfect, however a UPS should never shut down without warning. They could use better packaging, I bought 20 units, the foam packing was damaged on most of them. However only one unit had a small chip in it. I now have them all in service, still worried why two would just quit on me...
Date published: 2018-03-13T00:00:00-04:00
Rated

5

out of

5
by
paraskier
from
Small compact easy to put anywhere
Bought 3, one for PC workstation one for Media center, and one for Master Bedroom TV and cable box. Power back up for 20 min. or so. Adjustable LED lighting panel so you can dim the brightness, great for in the bedroom. lay it on its side or stand upright. Perfect for the home UPS soultion.
Date published: 2012-04-29T00:00:00-04:00
Rated

5

out of

5
by
Ken
from
Works great!
We had a brief interruption where the power went off and then back on. My computer never missed a beat!
Date published: 2017-06-19T00:00:00-04:00
Rated

5

out of

5
by
garyu203
from
Excellent Product
I bought this product seven years ago, the battery went bad six months ago and replaced it and now the unit just went bad, so I was still able to purchase a new one. Very little change, I now have an extra battery. Seven years and it always worked perfectly 24/7 I believe, I can call it an excellent product.
Date published: 2012-11-08T00:00:00-05:00
Rated

5

out of

5
by
mrflorez
from
Works great!
I've owned the UPS a couple years now, we've had several power outages and it has continued to work great!
Date published: 2013-09-05T00:00:00-04:00
Rated

5

out of

5
by
MINNESOTA
from
EXCELLET CUSTOMER SERVICE; GREAT PRODUCT
HAVE USED SEVERAL OF THEESE UNITS AND PERFORM GOOD. HAD ONE THAT HAD PROBLEM AND CUSTOMER SERVICE WAS EXCELLENT AND FAST RESPONSE DEFINATELY A GREAT COMPANY AND HIGHLY RECCOMEND THEM AND THEIR PRODUCTS
Date published: 2015-12-03T00:00:00-05:00
Rated

5

out of

5
by
Skooter in The AUG
from
Great product!!!
Great product at a great price, too! The LCD display on the front lets you know that actual line-in current, which is great to have. There's a slider to attenuate the LCD display if you need/want to dim the display or even turn it off. The LCD display can be rotated so the UPS may be placed vertically or horizontally - nice when placing it where space constraints exist.
Date published: 2013-09-06T00:00:00-04:00
Rated

5

out of

5
by
GAB2
from
Great product for my needs
So far so good. Product has small footprint, great LCD read out and plenty of outlets for all items needed.
Date published: 2012-10-23T00:00:00-04:00
Rated

5

out of

5
by
Duddly
from
The software doesn't work.
This UPS in itself is fine. The software does not work. I downloaded the software that was recommended and it still does not work. I would not recommend this product.
Date published: 2013-09-08T00:00:00-04:00
Rated

5

out of

5
by
Josh O
from
Working as they should
As far as I know these are operating as they should be. I purchased several of these to use in portable control stands so that we wouldn't need to restart the PC every time we moved them from one machine to another. The only issue we've had is the need to replace a couple batteries that overheated, but that doesn't appear to be an issue that was caused by faulty design (they were in a small enclosed compartment with no ventilation).
Date published: 2013-09-17T00:00:00-04:00