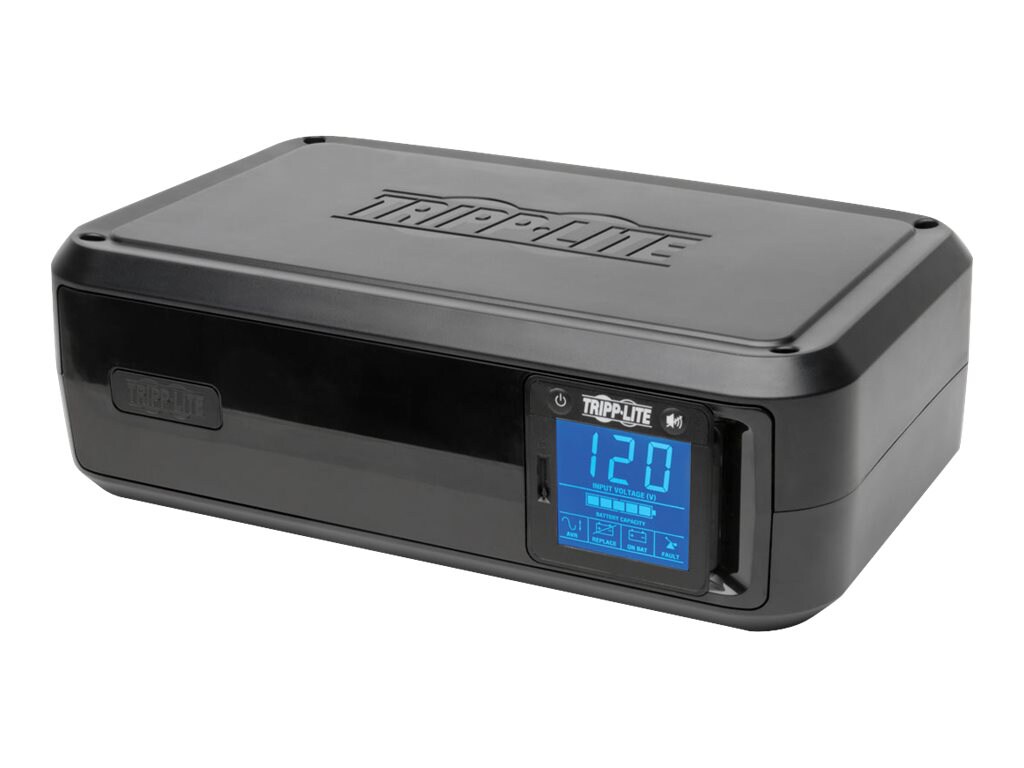 Caractéristiques techniques en un clin d'œil
Smart Line-Interactive Sine Wave Uninterrupted Power Supply provides Battery Backup through blackouts voltage fluctuations and surge
LCD screen reports real-time UPS and power status
Features 8 outlets (4 battery-protected / 4 surge-only)
Garantie de base Tripp Lite de 3 an et assurance à vie Ultimate de 250 000 $
Ideal for desktop computers and audio/visual equipment
Supports a basic PC up to 60min during power outage
NEMA 5-15P right-angle plug w/ 6ft cord connects to any NEMA 5-15R socket
Voir tout
Connaître son équipement
Les onduleurs SmartPro de Tripp Lite offrent un large choix de dimensions et de configurations et fournissent une protection contre les variations de courant à tous les environnements de réseau, quelle que soit la taille du réseau. Mis au point pour venir au secours des charges de réseau critiques, les onduleurs SmartPro ont un microprocesseur intelligent qui commande toutes les fonctions de régulation de tension. Grâce à un ensemble d'instructions avancées, cette puce surveille sans interruption la tension d'arrivée et les conditions ambiantes et réagit en fournissant une protection d'alimentation ultra fiable.
Tripp Lite SmartPro SMART1000LCD
is rated
4.88
out of
5
by
59
.
Rated

5

out of

5
by
Ruben
from
Excellent product for home office PC
Excellent for home office applications, it offers enough time to turn off the equipment correctly
Date published: 2019-05-23T00:00:00-04:00
Rated

5

out of

5
by
Mike
from
Bought two for security camera DVR and broadband router
Bought two to combat our more-frequent brownouts and power outages in the Phoenix desert. It was frustrating to constantly lose internet and my security camera DVR during quick brownouts or power outages during the desert summer. One is hooked up to my security camera system/DVR and a HDTV and the other is hooked up to my smart device hubs and broadband router/modem. Both kick on quick and provide ample backup power. Now I don't lose internet or my cameras. I like the display readout. I stand both up in their vertical setup.
Date published: 2018-11-28T00:00:00-05:00
Rated

5

out of

5
by
Taigater
from
Solved my power problems
Solved my office brownout problems when my refrigerator compressors starts. Taigater
Date published: 2018-10-25T00:00:00-04:00
Rated

5

out of

5
by
Verita
from
EXTREMELY HAPPY!
My power went out three days ago and my TRIPPLITE SMART1000LCD performed like a champ! I work from home so it's imperative that my computer is running even in the worst of weather. The TRIPPLITE SMART1000LCD gives me complete confidence that none of my work will be lost! I would recommend TRIPPLITE over all other UPS products!
Date published: 2015-02-12T00:00:00-05:00
Rated

5

out of

5
by
Tim23
from
Stopped Working
This product worked well for 3 years, but then quit working. Will not perform self test, and provides no backup in power outages. Will also turn off on its own even without power outage.
Date published: 2014-10-29T00:00:00-04:00
Rated

5

out of

5
by
Geolaley
from
Excellent item, will buy again
I plug the TV, DVD, Surround System, and my Satellite Dish Antenna. The system works great. I recommend it.
Date published: 2016-10-14T00:00:00-04:00
Rated

5

out of

5
by
javalentin
from
Very good
I am very pleased with this product. I have common short term electrical outages and this equipment has helped protect my home theater system. The only recommendation I have for the future is to provide options for deactivating the alarm. You can turn it off, but I would like it if I can just configure it so that it doesn't activate on the first place. Otherwise, a great product.
Date published: 2011-12-09T00:00:00-05:00
Rated

5

out of

5
by
Builder
from
By far the best UPS I could own
I have two of these backups. They are easy to use, dependable, and have the best guarantee I have found among UPS units.
Date published: 2016-12-12T00:00:00-05:00
Rated

5

out of

5
by
Red Admiral
from
Great Protection at a reasonable price
I have two of these units, one for my computer and one for my home entertainment equipment. They have protected my electronics admirably and allowed me to finish what I was doing on my computer and shutdown in an orderly fashion when hit with power outages. They actually did the job! The software that came with the unit fails often, never really allowing me to keep a continuous log of the power. I have contacted the manufacturer about it and they had me reload the software several times. It works for a little while then fails. In a perfect world the unit would have more outlets on the back to allow for more peripherals to be protected. All in all the unit performs admirably.
Date published: 2013-09-05T00:00:00-04:00
Rated

5

out of

5
by
chui11
from
Excellent Service
Excellent Product
Date published: 2017-07-22T00:00:00-04:00