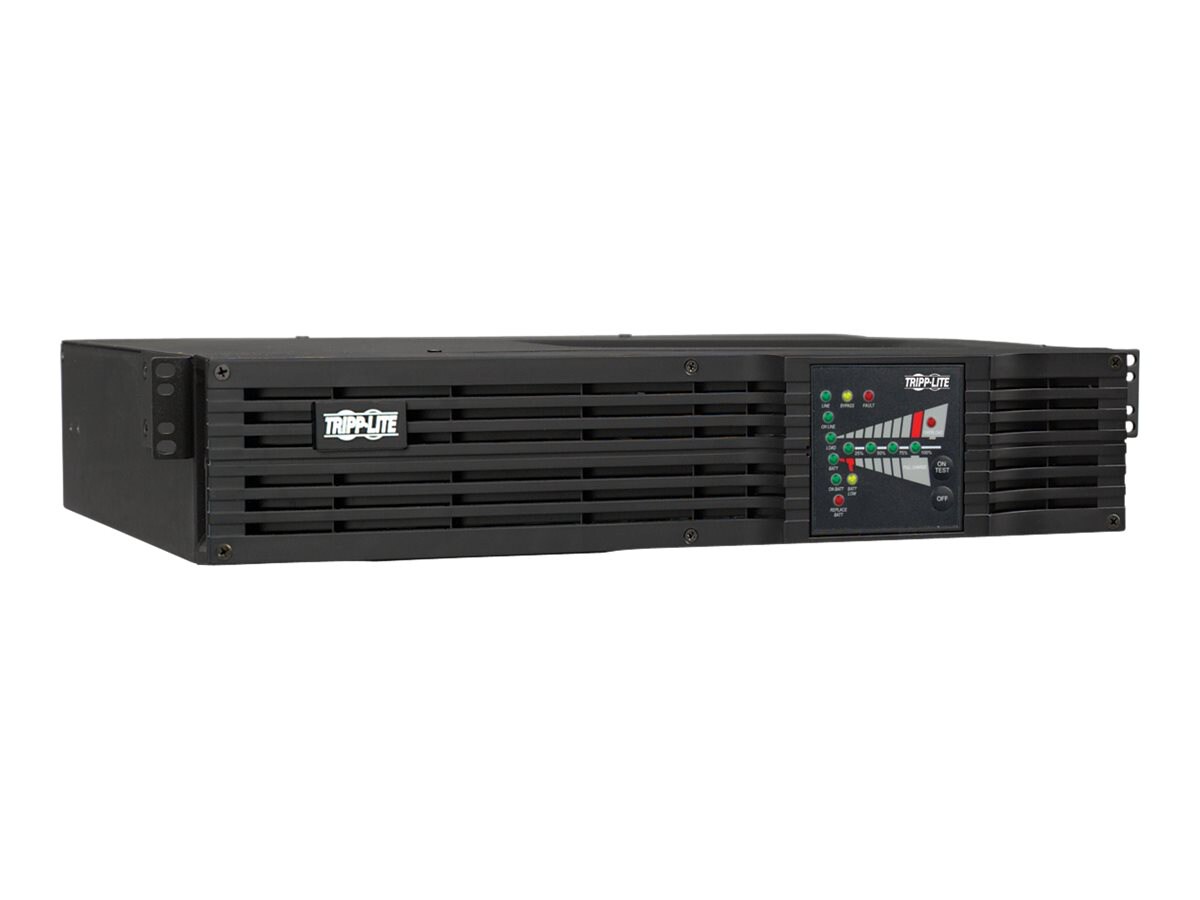 Caractéristiques techniques en un clin d'œil
L'alimentation sans coupure intelligente Online en format tour ou bâti à onde sinusoïdale ininterrompue à double conversion tient lieu de batterie de secours en cas de panne et protège des variations et des fluctuations de tension
100/110/120V +/-2% output at 50/60Hz high efficiency economy mode option
NEMA 5-15P input/ 6 5-15R outlets
Garantie de base Tripp Lite de 2 an et assurance à vie Ultimate de 250 000 $
Idéal pour les serveurs, les réseaux et les équipements de télécommunication
Batteries extensibles/remplaçables à chaud; 19 po/48,3 cm de profondeur installées
USB port/ RS232/ EPO port/ LED
Voir tout
Connaître son équipement
Les systèmes d'alimentation continue sans coupure SmartOnline assurent aux équipements en fonction cruciaux le plus haut niveau de protection d'alimentation électrique pour les systèmes montés en baie. Une technologie de conversion double convertit continuellement l'alimentation CA d'arrivée en alimentation CC filtrée, puis la resynthétise en retour en alimentation CA avec une onde sinusoïdale pure. Un fonctionnement en ligne constant isole complètement les équipements sensibles de tout problème d'alimentation électrique sur la ligne CA. Les modèles SmartOnline acceptent l'échelle la plus grande de tension d'arrivée et de variations de fréquence, délivrant l'alimentation CA la plus pure en continu, et hautement régulée.

Les systèmes d'alimentation continue sans coupure SmartOnline assurent une alimentation par batterie fiable avec un temps de transfert zéro pour maintenir en fonction des réseaux en toute sécurité pendant les courtes coupures de courant et offrent un temps suffisant pour les fermer en toute sécurité pendant les longues coupures. En outre, ils arrêtent les éclairs nuisibles et les surtensions, et filtrent les bruits de ligne perturbateurs.
Tripp Lite SmartOnLine SU1500RTXL2Ua
is rated
4.25
out of
5
by
4
.
Rated

5

out of

5
by
Lewis
from
I specify these at remote transmitter sites.
This product has been a solid performer at remote transmitter sites where I need to protect sensitive electronics. Modern FM transmitters are essentially a computer that controls the RF section. We have not had one problem with these units. The web card access option is an essential feature. I am 100% satisfied.
Date published: 2012-10-29T00:00:00-04:00
Rated

5

out of

5
by
Tyler
from
Will Not Correct Frequency Issues
I called TrippLite and asked if the unit would correct minor frequency issues from a backup generator. They indicated that it would. This however isn't true, in testing the unit passed 62Hz to my equipment before switching to batteries. I guess the "Online Double Conversion" only applies to voltage issues. Now I am stuck fighting to return this item to Tiger Direct because of misinformation.
Date published: 2015-02-06T00:00:00-05:00
Rated

5

out of

5
by
Fish with an 'E'
from
Good product, fair price
No issues, easy installation
Date published: 2016-10-25T00:00:00-04:00
Rated

5

out of

5
by
mike in toronto
from
Difficult to configure. Noisy.
We use a couple of these devices in small offices to provide power and shut down multiple computers. Once configured the Agent and UPS perform this function fine. Cons: 1. The fan is very noisy. This system should only be considered for server rooms, not for places people will be working. 2. PowerAlert Power Management Software used to configure the UPS is a complicated beast of a program written in Java. I've run into issues just getting this software to work. Java support on newer computers is becoming less common, and I had to try multiple browsers on my Mac to get it to work. On a Windows 10 computer I had to install Firefox to get the software to work. If this is going in a server room them perhaps I would recommend it, otherwise, no.
Date published: 2016-07-08T00:00:00-04:00
Rated

5

out of

5
by
Exelax
from
This product keeps your computer from crashing due to power glitches.
This unit already saved my system computer from crashing twice in just one week due to power outages. Ordinary UPS's have to switch power which often would drop out our operating program. Love this product.
Date published: 2019-06-11T00:00:00-04:00
Rated

5

out of

5
by
AlVenus
from
Works Great
This UPS is used to power a phone closet with PBX and other communications gear. During storms or brownouts we no longer experience vague issues with our communications gear. This has definitely reduced the number of calls to our Help Desk. Previously, we had another manufacturers mini-UPS installed and would still have unexplainable problems with our customers. We have been replacing these units with TrippLites and have been very satisfied.
Date published: 2011-09-23T00:00:00-04:00
Rated

5

out of

5
by
Gerry
from
Poor quality assurance
I tried these at the insitance of my (then) CDW rep. We bought five of these units. Two required technical support during installation to get them to startup. One was DOA and had to be replaced.
Date published: 2012-04-02T00:00:00-04:00