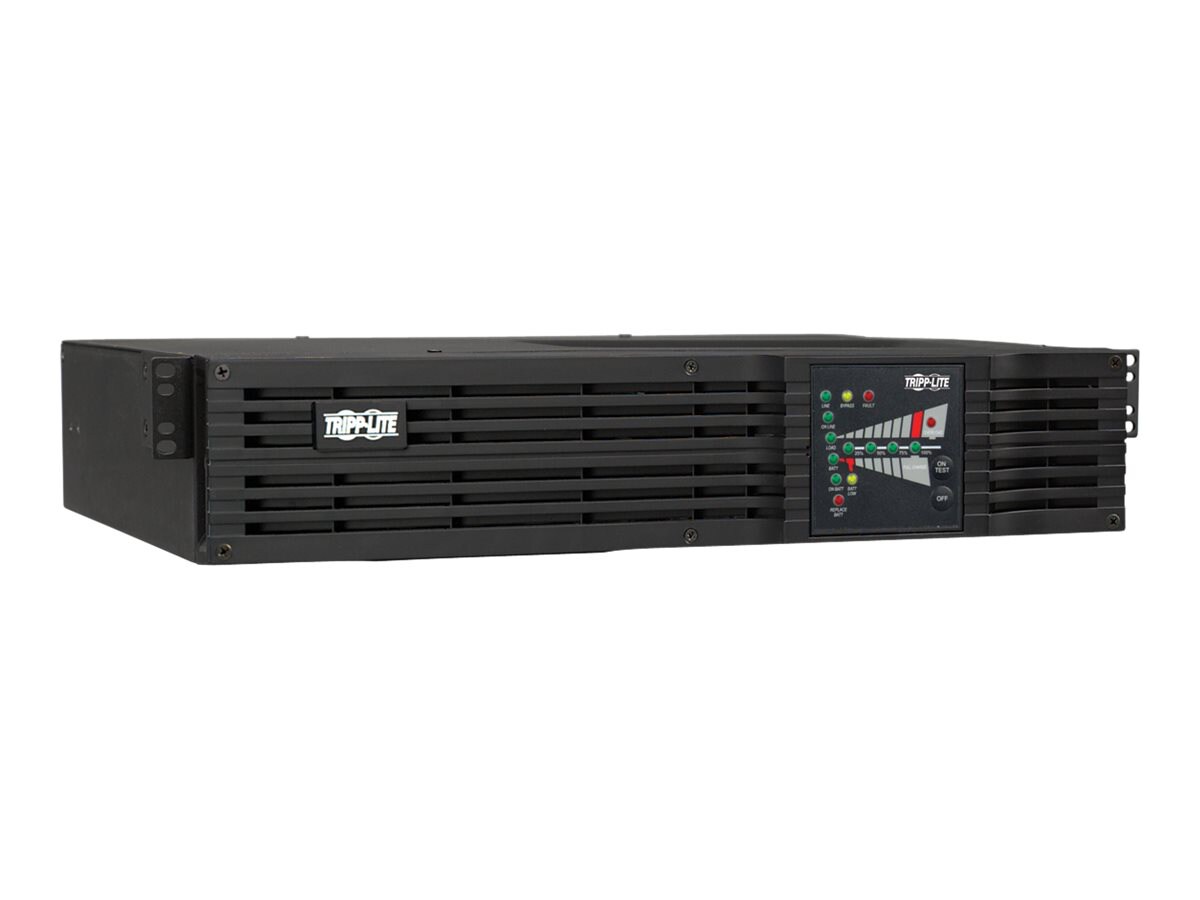 Caractéristiques techniques en un clin d'œil
L'alimentation sans coupure intelligente Online en format tour ou bâti à onde sinusoïdale ininterrompue à double conversion tient lieu de batterie de secours en cas de panne et protège des variations et des fluctuations de tension
110/120V +/-2% output at 50/60Hz high efficiency economy mode option
Batteries extensibles/remplaçables à chaud; 19 po/48,3 cm de profondeur installées
Ideal for servers/network/ telecommunications equipment and more
NEMA 5-20P input; L5-20R and 5-15/20R outlets/ USB port/ EPO port
Garantie de base Tripp Lite de 2 an et assurance à vie Ultimate de 250 000 $
Voir tout
Connaître son équipement
Les systèmes d'alimentation continue sans coupure SmartOnline assurent aux équipements en fonction cruciaux le plus haut niveau de protection d'alimentation électrique pour les systèmes montés en baie. Une technologie de conversion double convertit continuellement l'alimentation CA d'arrivée en alimentation CC filtrée, puis la resynthétise en retour en alimentation CA avec une onde sinusoïdale pure. Un fonctionnement en ligne constant isole complètement les équipements sensibles de tout problème d'alimentation électrique sur la ligne CA. Les modèles SmartOnline acceptent l'échelle la plus grande de tension d'arrivée et de variations de fréquence, délivrant l'alimentation CA la plus pure en continu, et hautement régulée.

Les systèmes d'alimentation continue sans coupure SmartOnline assurent une alimentation par batterie fiable avec un temps de transfert zéro pour maintenir en fonction des réseaux en toute sécurité pendant les courtes coupures de courant et offrent un temps suffisant pour les fermer en toute sécurité pendant les longues coupures. En outre, ils arrêtent les éclairs nuisibles et les surtensions, et filtrent les bruits de ligne perturbateurs.
Tripp Lite SmartOnLine SU2200RTXL2Ua
is rated
5.00
out of
5
by
2
.
Rated

5

out of

5
by
spencelk
from
great vaule
Great product for the money. The management software is a little clunky but it sets up very easily. I will more than likely look to these if i need another UPS - though I'd probably go with a unit that offers an LCD display to avoid the software. Once you have the software figured out it's not bad just clunky.
Date published: 2012-10-22T00:00:00-04:00
Rated

5

out of

5
by
Mark
from
Have had unexplained failures
We have 2 being used on our nurse call system computers. I have had 2 of the 2200 models have un-explainable shutdowns. They have both been checked as directed by your tech support and passed the checks. In my shop, I am unable to duplicate the failure. It remains a mystery.It would be good to get some idea of the expected service life of these. One unit only had 120 days in service before failure.
Date published: 2019-02-04T00:00:00-05:00
Rated

5

out of

5
by
BK
from
Loud but does the job
Not meant for use in your room, but in a cabinet it works wonders.
Date published: 2017-09-29T00:00:00-04:00
Rated

5

out of

5
by
David
from
I need a better equipment grounding (earthing) post
These new UPS are going in at a two-way radio "high site" - a tall radio tower. In that, the tower is susceptible to lightning strikes and power anomalies. All equipment is bonded to ground (earthing) using Motorola's R56 Site Installation Standards manual. This stipulates that major equipment (like this Tripp Lite UPS) must have a ground bonding post suitable to attach a #6 AWG conductor. Typically a 1/4" x 20 or better post is what we look for. The UPS has a small ground screw that has become inadequate for today's ground bonding requirements: NFPA Chapter 70 - 2005, Article 250.8: self tapping or sheet metal screws shall not be used for attaching grounding or grounding conductors to any surface. AC Line Cord Ground Conductor shall not be relied on for grounding (earthing).
Date published: 2019-07-01T00:00:00-04:00
Rated

5

out of

5
by
Facility/ Biomed Engineer
from
Reliable
Our UPS is used with the nurse-call system at a health care facility, so dependability is an important issue. We are required to do back up generator checks each month, which involves disconnect & reconnect to city power. This UPS provides necessary surge protection.
Date published: 2016-02-24T00:00:00-05:00
Rated

5

out of

5
by
rmuniz9336
from
First rate, easy to configure, easy to setup
We've well over a dozen of these on campus and they proved very easy to setup and very easy to use. Everything is monitored using the network, and it's easy to see what each system is doing at any given time using the web interface. The reporting features are easy to setup and use. One thing I do like that's built is an attempt to be pro-active, so that we receive alerts when a battery is starting to reach its end of life. This should save us a lot of the headaches we had with our former UPSs.
Date published: 2011-12-21T00:00:00-05:00
Rated

5

out of

5
by
cjimbowork
from
Reliable and Easy To Use
Our company began replacing our other UPS brands with Tripp-lite over the last few years. This model resides in our branch offices' IT room. Easily setup in a rack, with simple alert options added.. the unit has endured many brown outs, outages and other power issues. Throughout, it has had a higher than average battery life ( as well as ease of replacement), superior reliability, and performed it duties quietly:) We had one instance of customer service and felt it was much better experience than the other brands. Purely based on reliability, I give this 5 stars as it has great endurance and its reliability has saved so much downtime, headaches and additional workload.
Date published: 2013-09-06T00:00:00-04:00