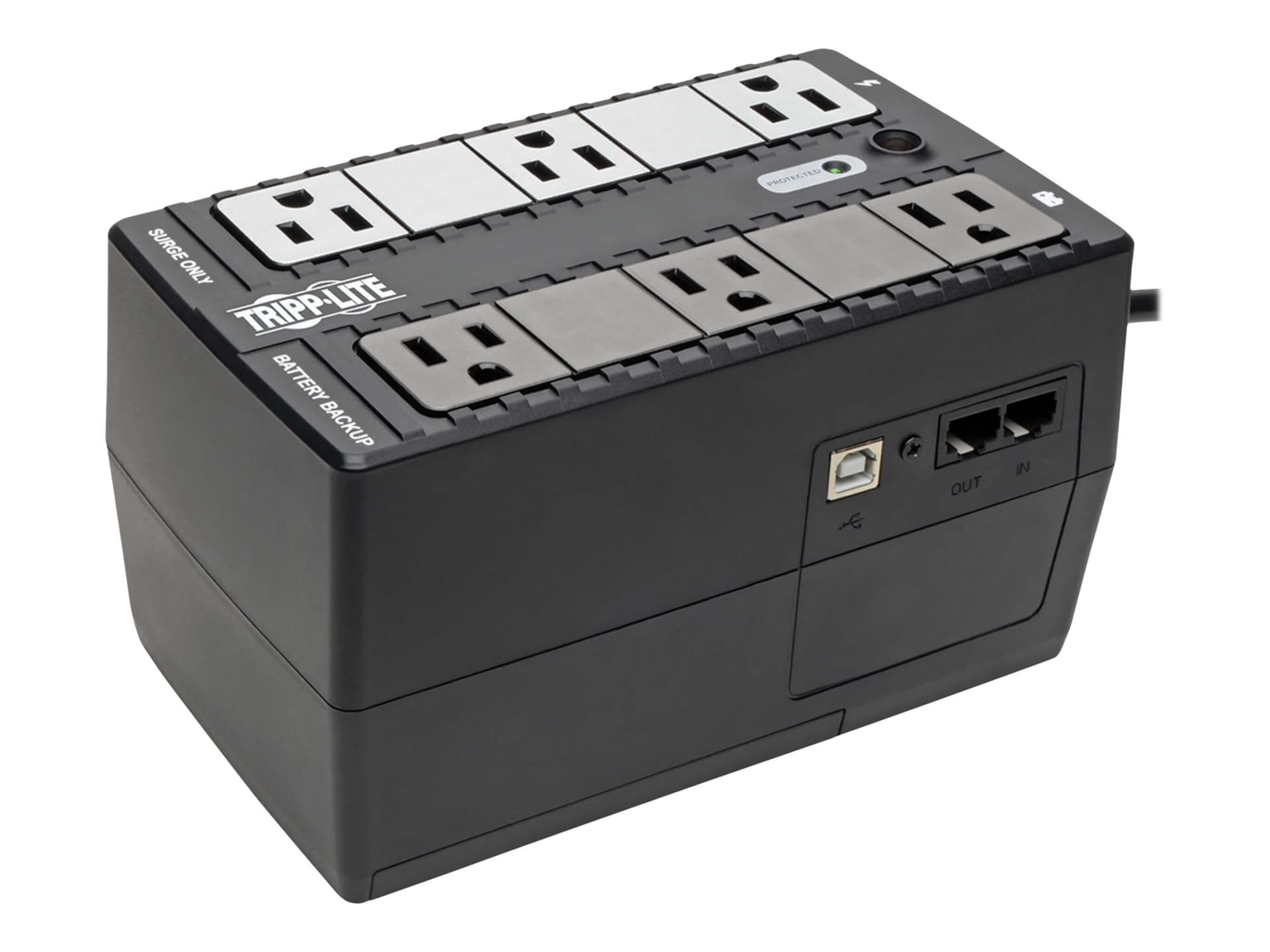 Caractéristiques techniques en un clin d'œil
Desktop Internet Office standby 6 outlet Uninterrupted Power Supply offers complete protection from blackouts brownouts and surges on both AC and TEL/DSL line connections
Built-in single-line tel/DSL connection with surge suppression protects modems fax machines or cordless phones
Mountable/ USB Port
Supports a variety of PCs workstations and other sensitive electronics
3 UPS battery supported and 3 surge-only outlets
3-year Tripp Lite Warranty/ $100 000 Lifetime Insurance
Voir tout
Connaître son équipement
Tripp Lite est le plus important fabricant de dispositifs de protection d'alimentation, notamment dans le domaine des systèmes UPS, des dispositifs anti-surtensions C.A. et de lignes de transmission de données, des filtres de secteur, des produits de câblage et de connectivité ainsi que des accessoires de gestion de réseaux.
Tripp Lite Internet Office 350U
is rated
4.83
out of
5
by
18
.
Rated

5

out of

5
by
Chris
from
Great product . I would buy it again
I lose power frequently so i purchased a generator and was advised to purchase this for my internet modem
Date published: 2018-09-12T00:00:00-04:00
Rated

5

out of

5
by
Ron M
from
Great product!
Great to have the security that my pc is protected!
Date published: 2017-10-23T00:00:00-04:00
Rated

5

out of

5
by
RJ
from
Easy to use, handy on the wall mount.
Keeps my satellite receiver from losing all sat info when get power loss/outage.
Date published: 2015-12-03T00:00:00-05:00
Rated

5

out of

5
by
CBC_Commodore
from
Good layout and connectivity.
Widely-spaced outlets permit use of large power-blocks. USB is the direction of PC connectivity. Convenient size. Bright LED indicators. Loud beep for getting attention. Adequate run-time for small systems. Non-glare finish. Black color coordinates with other hues. Cord length is generous, but not so long as to pose a risk for tripping. It is designed to be energy-efficient, and, thus, minimize heat generation, which is a key consideration for tightly-closed spaces. Rounded corners of the case help to avoid sharply compressing objects near it, such as cables. The three battery-backed outlets reinforce, that this product is designed for small systems, while the three non-battery-backed outlets protect larger power usage equipment. The On/Off Switch is heavy-duty, with little travel, for reliability. The black on white background lettering provides high contrast. The components are not frozen for the life of the product line, so that improvements can be incorporated into the product, with the evolution of the components. The multi-language Owner's Manual thoroughly informs on the basic operation.
Date published: 2012-10-10T00:00:00-04:00
Rated

5

out of

5
by
Catharine L
from
Good Product
I use this in the office, we are in a area prone to lightening strikes, and my office in particular has weird electrical issues that make me nervous to have my PC plugged into the wall directly and this is exactly what I needed for piece of mind and to protect the company's fixed assets. I know it works because I have been able to save my work and power down the PC during a power outage already, and I can hear the surge protection kicking in (it BEEPS loudly) when I use a laser printer (NOT plugged into the surge protector at all, it's plugged into a completely different outlet in my office) which means it is protecting some type of weird electrical surge in the wiring in my office -- Definitely worth the investment by far.
Date published: 2015-12-03T00:00:00-05:00
Rated

5

out of

5
by
CityLights
from
Some issues
I have 4 of these through out my restaurant. 3 work perfectly. 1 I had some major issues with. The battery life was not long on it and it died on me, had to be replaced. It was constantly beeping and didn't do it's job.
Date published: 2013-10-03T00:00:00-04:00
Rated

5

out of

5
by
Mediadon
from
Good value product
My last UPS died after five years and after doing my homework decided that this ultracompact was my best option. It arrived promptly and was easy to set up and since then has performed well. As I live just outside Orlando which is the world lightning capital I need a UPS that I can rely on.
Date published: 2017-07-12T00:00:00-04:00
Rated

5

out of

5
by
bes
from
Great Customer Service
I had a problem. During a lightening storm, we did not loose electricity to the house, but the TrippLite battery backup turned itself off, and my connected NAS died (totally unresponsive to pressing the power button to turn it on). TrippLite Customer Service was excellent. They were very helpful, clear, and communicative about the assessment and warantee process. Their followup through the process was excellent. I wish the customer service at other companies was great like theirs. Its nice to use good products and know that the company will professionally stand behind them when there is an issue.
Date published: 2018-11-02T00:00:00-04:00
Rated

5

out of

5
by
Ginger
from
Good product
Nice and compact, easy to set up.
Date published: 2019-05-09T00:00:00-04:00
Rated

5

out of

5
by
JonLAWeiss
from
No worries when you have one of these - or more.
Power went out briefly while I was on a phone call and taking notes on my computer. Good news: Uninterruptible power supply (UPS) number 1 kept computer running while I saved files; UPS 2 (Tripp Lite) kept wifi and phone (also over the Internet) up and running. No interruption except my hooting and hollering about it working. Finally, an insurance policy I was able to use. Highly recommend having UPS on the rare occasion we get real weather.
Date published: 2017-02-20T00:00:00-05:00