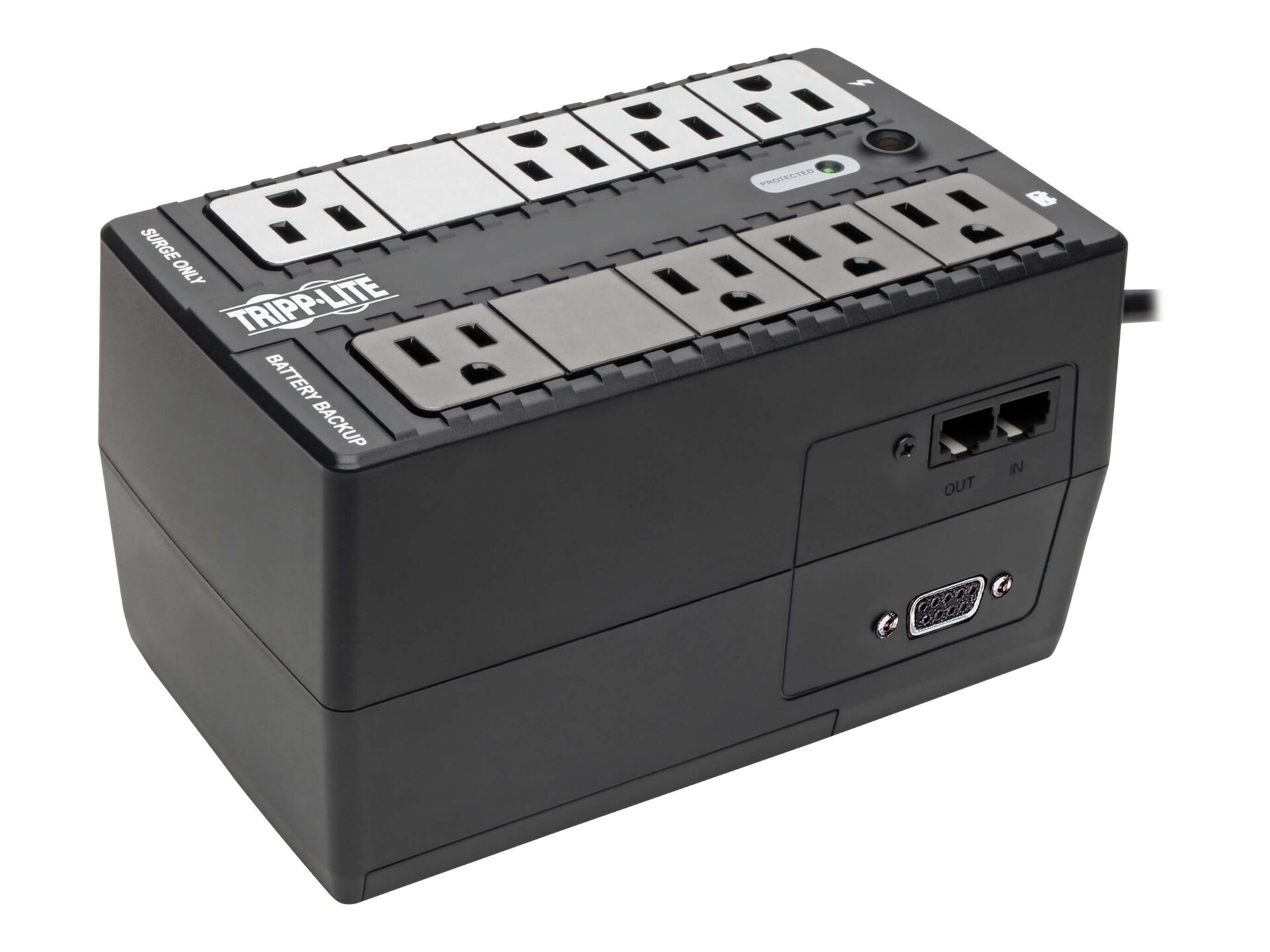 Caractéristiques techniques en un clin d'œil
Desktop Internet Office desktop standby 8 outlet Uninterrupted Power Supply protects your computer and its peripherals from blackouts brownouts power surges and line noise that can damage or destroy equipment wipe out valuable data
Single-line RJ11 jack protects phone/fax line against surges
DB9 Serial Monitoring
4 battery supported and 4 surge-only outlets
12,2 min. runtime at half load; 3,3 min. at full load
3-year Tripp Lite Warranty/$100,000 Lifetime Insurance
Voir tout
Connaître son équipement
The standby INTERNET550SER UPS system provides reliable battery backup and AC power protection against blackouts, brownouts, overvoltages, surges and line noise that can damage valuable electronics or destroy data. The eight-outlet 120V battery backup is ideal protection for your home office, media center or professional kiosk, security and small-business phone applications that rely on a DB9 serial port for remote notification of site power and UPS operating status information.

Backup support allows you to work through short power failures and gives you enough time to safely save files and shut down your system in case of a prolonged blackout. Backup time varies according to load, but the INTERNET550SER should keep an energy-efficient desktop computer with small LCD monitor powered as long as 16 minutes. During normal operation, incoming utility power keeps the replaceable internal battery fully charged, so backup power will always be available.

Four 5-15R outlets provide battery backup and surge protection for your computer, monitor and other crucial components. The other four 5-15R outlets provide surge suppression only for printers, speakers and other desktop equipment regarded as non-essential during a blackout. A high >98% line mode efficiency rating reduces BTU emissions, energy consumption and, ultimately, your energy costs.

Une capacité de limitation de surtension de 316 joules protège les composants connectés contre les effets nocifs des surtensions. Les prises de suppression des surtensions de ligne de données du réseau double protègent un périphérique contre les surtensions dangereuses grâce à une seule connexion réseau commutée ou 10/100Base-T.

This DB9 port connects the INTERNET550SER to a computer running Tripp Lite's free downloadable PowerAlert software to enable safe unattended file saves and system shutdown in case of a prolonged power failure. DB9 cable is included. Battery independent restart ensures automatic UPS power-up without user interaction after lengthy power outages, even when batteries are expired and require replacement.

Les diverses sources radio et électromagnétiques qu'on peut rencontrer dans pratiquement toutes les maisons et entreprises peuvent perturber la ligne c.a. Connu sous le nom d'IEM (interférences électromagnétiques) et IFR (interférences de fréquence radio), ce bruit de ligne est une cause fréquente de problèmes de performance et peut entraîner des dommages matériels, la corruption des données et des problèmes de transmission audio/vidéo. The INTERNET550SER incorporates technology that filters out disruptive line noise so that it won't affect your equipment.

The UPS remains silent in both line and battery backup modes. The alarm sounds only to warn you of a low battery or fault condition. A front-panel green LED indicates line/battery mode status, overloads and low/replace battery alert.

The space-saving ABS housing fits on a desktop, shelf or anywhere else convenient to your workstation or home theater. Keyhole mounting tabs on the rear allow easy wall-mount installation. The five-foot power cord with NEMA 5-15P plug connects to any compatible AC outlet.


Tripp Lite Internet Office INTERNET550SER
is rated
5.00
out of
5
by
2
.
Rated

5

out of

5
by
Ace MSP
from
Great price - very light wight
Used to backup a desktop tower style PC. Works great.
Date published: 2018-11-11T00:00:00-05:00
Rated

5

out of

5
by
Homeport
from
Generator Switchover
Working in a government office we have a large generator that kicks in if we loose power. Sometimes it takes a minute for it to switch over, just enough time for the computers to loose power. We installed the Tripp-Lite's at every workstation and now when we switch to generators our computers remain on. Also, we don't have to worry about power surges when power is restored.
Date published: 2013-09-06T00:00:00-04:00
Rated

5

out of

5
by
E. Center
from
Perfect for my Entertainment Center
I use this for my 65" LCD and Dish Network DVR as a backup against sudden power outages. It's funny when the power goes out and I'm still watching TV! It gives me enough time to power down each device correctly instead of them taking a direct hit.
Date published: 2014-10-02T00:00:00-04:00
Rated

5

out of

5
by
Bill
from
Ready to go, right out of the box.
Installation was simple, instructions were clear, and the unit performed exactly as the literature explained. The camera system in our building failed due to an unexpected failure of a similar UPS unit, causing a loss of monitoring of the site, and also caused a video monitor to fail. The Tripp unit offered an interface with the controlling computer, allowing an unattended shutdown. Very satisfied with the unit.
Date published: 2013-01-10T00:00:00-05:00
Rated

5

out of

5
by
AppDev
from
Love this unit!
I am an application developer and work from home 50-hours per week. We get temporary outages (10 seconds to 4 minutes) on a weekly basis and my two INTERNET550SER's keep my laptop, 4 monitors and Internet connection up and running. I love these units. I can plug them in and feel confident that my equipment will stay powered.
Date published: 2014-10-01T00:00:00-04:00