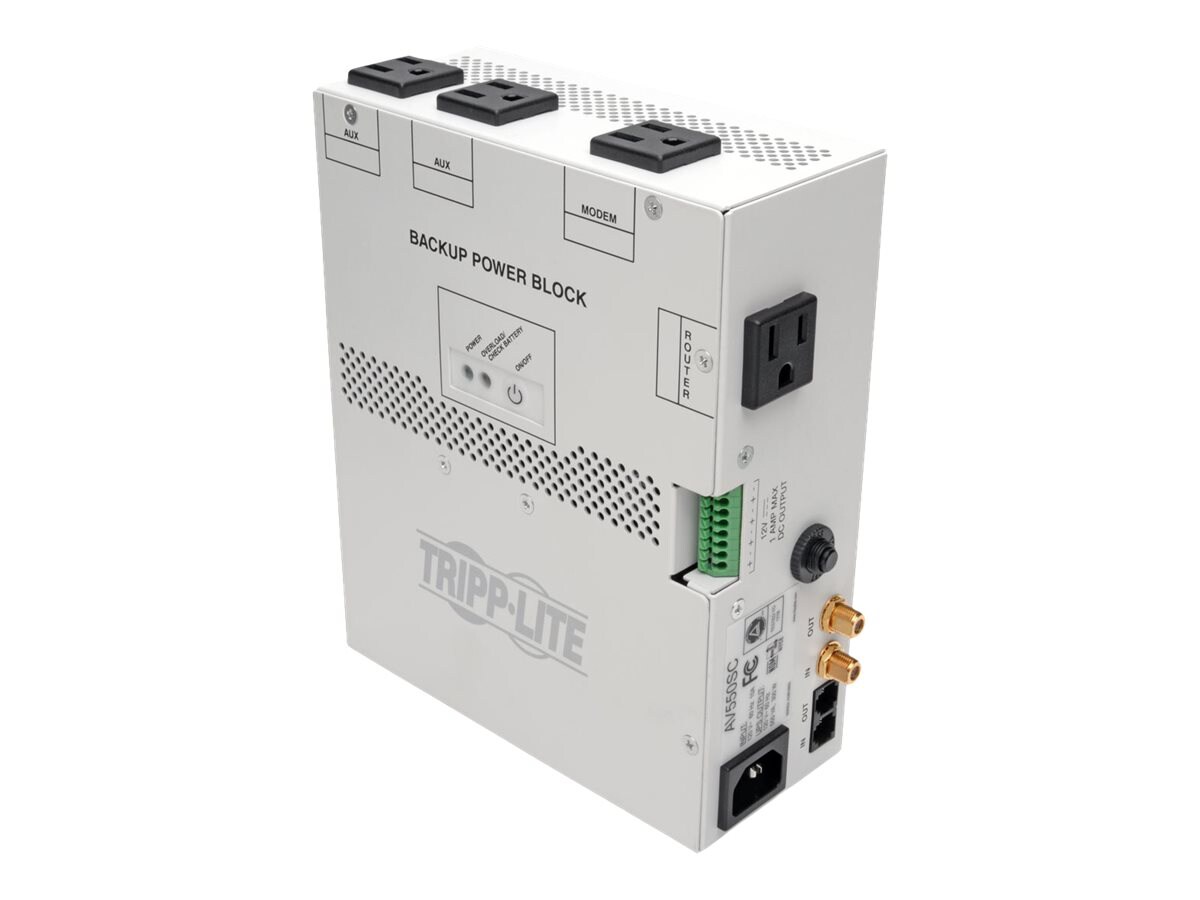 Caractéristiques techniques en un clin d'œil
Audio/Video Backup Power Block provides the highest level of protection for structured cabling installations with reliable battery backup surge protection and EMI/RFI line noise filtering for Structured Wiring Enclosure
Internal UPS/ Surge Suppressor/ AC 120 V/ 300 Watt/ 550 VA
Ideal for telephone Internet coax connections DSL modems routers RF amplifiers network interfaces cameras modulators and other equipment
2-year Tripp Lite Warranty
Voir tout
Connaître son équipement
Le bloc d'alimentation de secours AV550SC offre le plus haut niveau de protection pour les installations de câblage structuré (c'est-à-dire les connexions téléphoniques, Internet et coaxiales). Avec une batterie de secours fiable, une protection contre les surtensions et un filtrage du bruit de ligne EMI/RFI, le AV550SC fournit une solution de protection complète pour les systèmes de distribution audio/vidéo en supportant les modems, les routeurs, les amplificateurs RF, les interfaces réseau, les caméras, les modulateurs et d'autres équipements à travers tous les problèmes d'alimentation. En cas de panne de courant, le AV550SC comprend une fonction de redémarrage automatique qui élimine la nécessité d'effectuer un redémarrage sur site. En outre, en cas de blocage du modem ou du routeur, le AV550SC est doté d'un bouton de recyclage/réinitialisation avec démarrage séquentiel des prises pour un redémarrage correct du modem et du routeur.
Tripp Lite Audio/Video Backup Power Block - UPS - 300 Watt - 550 VA
is rated
4.00
out of
5
by
5
.
Rated

5

out of

5
by
Will of Texas
from
Great product that could be improved
This product fills a niche, I haven't found any other UPS that would fit in the structured wiring cabinet as well as this one. And is does it's job very well too. The problem I have with it is that when the battery goes bad, it shuts down even if line power is available. This makes no sense as the primary purpose is to keep power up.
Date published: 2015-11-28T00:00:00-05:00
Rated

5

out of

5
by
drshock
from
One of a kind product
Excellent fit for the On-q Legrand 42" structured wiring enclosure. Using to backup power to an Arris cable modem, Ubiquity router, and two D-Link managed switches.
Date published: 2016-07-24T00:00:00-04:00
Rated

5

out of

5
by
RandyL999
from
When they work they're great!
Had to replace a four year old model when the battery failed. Bought the same unit, and it was defective. Tripp Lite replaced it immediately. Second unit was also defective, and again Tripp Lite replaced the unit. Third unit working like a charm. Very solid construction and hopefully this one keeps working!
Date published: 2017-06-28T00:00:00-04:00
Rated

5

out of

5
by
Gary
from
Works well in On-Q
Good packaging, sufficient power connection for small network (modem, router, switch) and surge suppression for cable. Battery is documented as NON user replaceable. The product is very expensive for what it does but there are few other options.
Date published: 2015-11-23T00:00:00-05:00
Rated

5

out of

5
by
Chris
from
Worked well for just 1 year
Worked very well for about 1 year, then it stopped working as a backup battery. Power flows through just fine when plugged in, but as soon as the power is out all output is gone.
Date published: 2018-10-27T00:00:00-04:00
Rated

5

out of

5
by
Macs R We
from
King of the niche
There simply aren't many units designed to fit inside a structured wiring cabinet. This is my pick of the tiny set of contenders. It was designed wisely, with all extrusions and connections limited to its top and one edge surface. It's also light enough to be portable and used temporarily outdoors (it's not weatherproof). I knocked off one star because the internal battery is supposedly not customer-replaceable (we'll be attempting that challenge when the time comes).
Date published: 2018-10-14T00:00:00-04:00
Rated

5

out of

5
by
kasabe
from
A must have for structured wiring enclosures
By far the most important component of any residential structured wiring enclosure should be the AV550SC. Compact and designed for perfect fit in most structured wiring enclosures. This beauty allows all components like modems, routers, switches and distribution hubs to get surge protected, filtered, an uninterruptible power. If the power goes out its good to know these systems will still be able to function. Works best in enclosures where the power outlet of the enclosure is to the far right side. Avoid enclosures with the power outlets in the middle at the bottom.
Date published: 2012-10-29T00:00:00-04:00
Rated

5

out of

5
by
Terry.
from
Just what I was looking for.
I needed a good UPS that I could mount with wall mounted equipment.
Date published: 2016-07-05T00:00:00-04:00
Rated

5

out of

5
by
The control system engineer
from
Works great, wish it had more VA
This is a great product. It fits well inside the small spec home wiring cabinets (spec homes are not built with UPS systems). I also use one behind a wall mounted flat screen TV. I would love to buy a product that had more VA and was slightly larger footprint or the same footprint. These systems back up my TV (one 550) and my router/modem (one 550). Longer life would be better. My 55" flat screen (don't have specs in front of me) last about 40 min, and my router/modem lasts about 55 min on power outages.
Date published: 2019-05-04T00:00:00-04:00
Rated

5

out of

5
by
Terry
from
Working Good.
Using the 550VA ups on our IP phones and switches to keep the systems running when the grid power fails, I have installed four of these ups's without any problems yet.
Date published: 2016-09-26T00:00:00-04:00