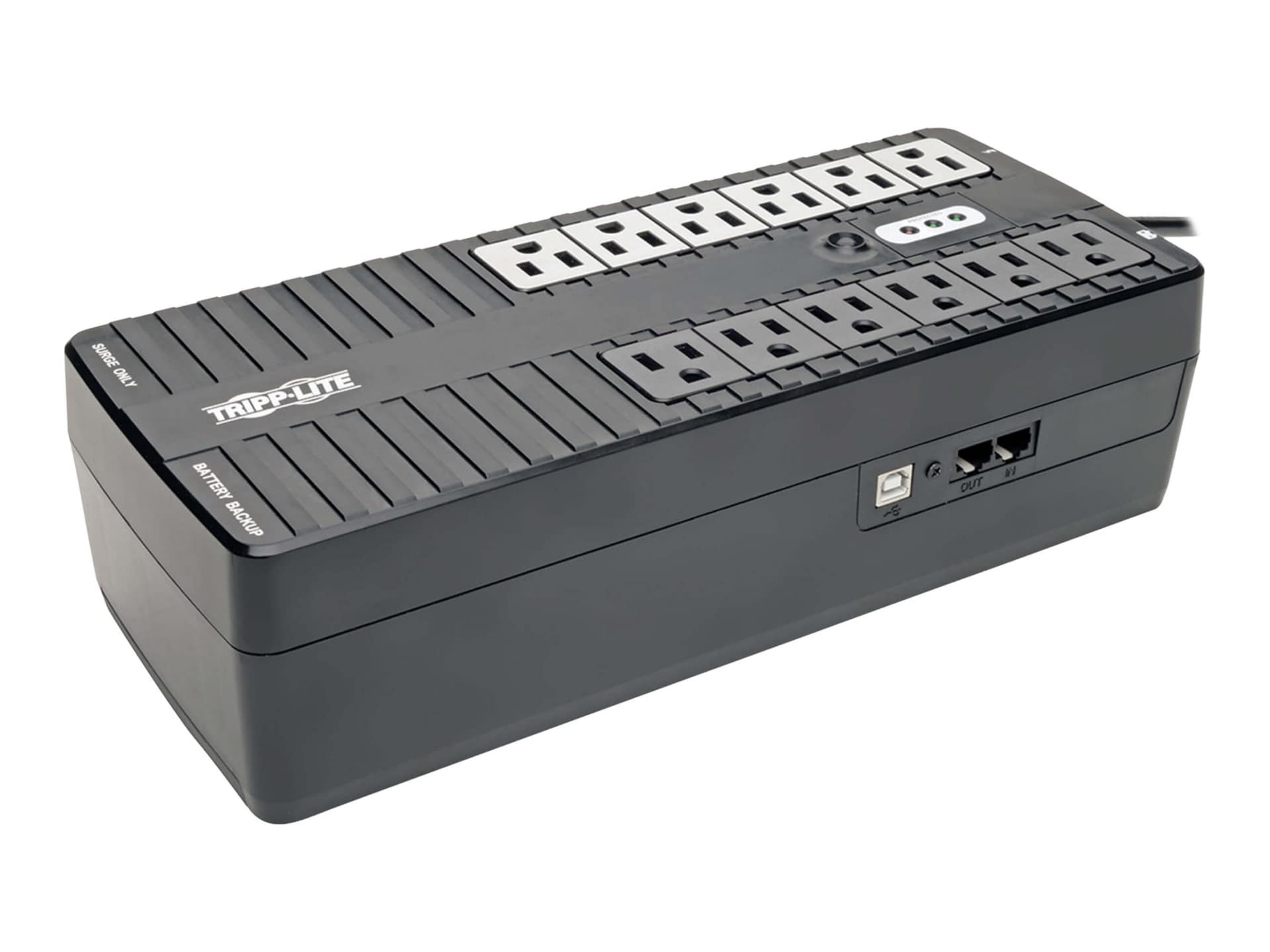 Caractéristiques techniques en un clin d'œil
Compact desktop UPS with silent alarm provides battery backup support for your home/office network system or digital signage components
12 NEMA 5-15R outlets power and protect PC/ home theater or digital signage equipment
Energy Star Qualified/ 120V UPS
Keeps AC power running during blackouts to allow time for file saves and safe shutdown
High >98% efficiency with low BTU ratings saves electricity and lowers energy costs
3 Year Tripp Lite Warranty/ $100 000 Lifetime Insurance
Voir tout
Connaître son équipement
Tripp Lite est le plus important fabricant de dispositifs de protection d'alimentation, des produits de câblage et de connectivité ainsi que des accessoires de gestion de réseaux. Les produits de qualité Tripp Lite accroissent la fiabilité et la protection des postes de travail, des serveurs d'archivage électronique de réseau, des systèmes téléphoniques, des terminaux de point de vente, des systèmes audio et vidéo.
Tripp Lite Internet Office 750U
is rated
4.50
out of
5
by
10
.
Rated

5

out of

5
by
Greatographer
from
This UPS is a must have!
As a photojournalist, I'm frequently on the computer editing photos and writing articles/stories. Power failures... resulting in a loss of valuable work... are dreaded. If you're a photographer or writer... you know what I mean. Hence my computer, printer and monitor are connected to a Tripp Lite Internet750U UPS. My Internet750U is now 14 months old and working perfectly... never hiccups. For the times it's saved my bacon... so to speak... because of power failures... I am so grateful. Furthermore, I'm a full-time RVer so the compact Internet750U small size is another advantage. This Internet750U UPS just flat-out works... like a gem. Also... because the electrical power supply is not always the proper voltage nor as steady as I'd like... I also use a Tripp Lite LC2400 line conditioner. Another awesome Tripp Lite product I totally rely on. I can't compare my Internet750U UPS or the LC2400 line conditioner with competitors because I learned long ago I can rely on Tripp Lite products to perform dependably. So why would I use another brand? Bottom line... I heartily recommend the Tripp Lite Internet750U. Or any other Tripp Lite that better fulfills your needs.
Date published: 2013-09-05T00:00:00-04:00
Rated

5

out of

5
by
tripp user
from
great product
easy to use and does the job--less expensive than other device considered is an added bonus
Date published: 2015-01-30T00:00:00-05:00
Rated

5

out of

5
by
rt
from
Great Product
Small compact size, worked fine in a power outage. Came highly recommended by several electrician friends. Also have 4 other Tripp light products in our house. Surge protectors have been doing the job well protecting my computers, televisions, and gaming system.
Date published: 2012-11-13T00:00:00-05:00
Rated

5

out of

5
by
Insurance Agent
from
Very reliable.
Computer Battery Backup
Date published: 2017-10-27T00:00:00-04:00
Rated

5

out of

5
by
Vectrexer
from
Great Product with Excellent Support!
Love the INTERNET750U's compact size without being too small. That mean plenty of room to plug in all of those power bricks without have to resort to adding in an external power strip. The UPS is just the right size to protect and backup your shelf mounted flat screen and cable modem without sticking out. Tripp Lite's customer support is also legendary. They will help you resolve your problems quickly. When needed they support department will send out a replacement on their dime. But in over 20 years of using multitudes of Tripp Lite products I have only had to return two items that were still under warranty. I recommend the INTERNET750U, or any other one of their products for use.
Date published: 2013-02-05T00:00:00-05:00
Rated

5

out of

5
by
tsharpton
from
It just plain works. No worries. Great performance.
It just works. I do not have to worry about it. Occasionally our power in the store will go out and the 750U maintains the computer power a long time. It gives me pleasant of time to save my work and shut down but most of the time my power has come on before I would even need to shut down. A+. Not too big. I keep it under the counter. I recommend this for any business or home. Great product. Great performance. What piece of mind knowing Tripp-Lite has your back!
Date published: 2014-10-06T00:00:00-04:00
Rated

5

out of

5
by
jmlpa
from
Flawless operation
Our power blinks off at least 3-4 times a year in our plant. My INTERNET750U has worked flawlessly, I also purchase one for my home as well.
Date published: 2014-10-02T00:00:00-04:00
Rated

5

out of

5
by
dianaaskew
from
This product has a small footprint and weighs much less!
This product takes less space than any of my previous UPS Backups. I love the extra outlets and the spacing of the end outlets allows for AC converters to be plugged in without covering more than one outlet. The attachments for the phone lines are on top where they are easy to get to. The biggest advantage is that is not as heavy as other products I have owned for the same purpose. The price is right too!
Date published: 2012-03-21T00:00:00-04:00
Rated

5

out of

5
by
Trey
from
Great all around UPS
We live in a mountain rural community and sometimes the power goes out at my business. This product has worked great in giving me time to save my work before loosing it. Very strong. I have a full sized pc, lcd monitor and a printer on it and it keeps them up great not to mention the fact that this product conditions the line and protects you from surges. Thanks Tripp-Lite!
Date published: 2013-09-07T00:00:00-04:00
Rated

5

out of

5
by
HogBoy
from
Best choice out there!
I use this for an entertainment system. Due to the number of devices, I need both a surge protector and a battery backup with the space to handle everything. NOTHING else on the market offers that. Coupled with the Real World Guarantee that Tripp-Lite offers (that other only allude to), this makes this Tripp-Lite not only the best choice, but pretty much the only choice!
Date published: 2015-12-03T00:00:00-05:00