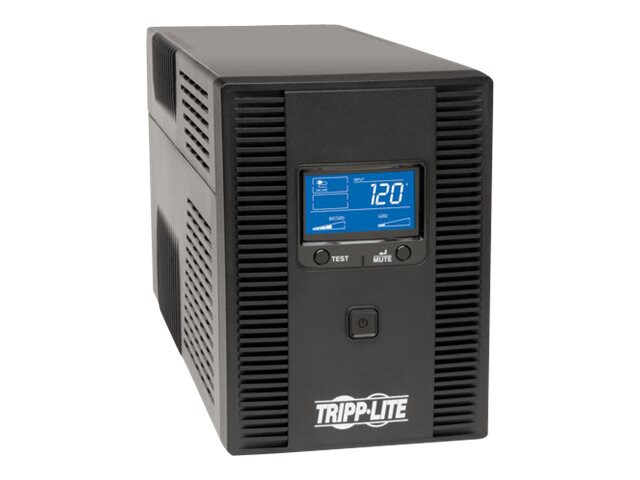 Caractéristiques techniques en un clin d'œil
Smart Tower Line-Interactive Sine Wave Uninterrupted Power Supply provides Battery Backup through blackouts/ voltage fluctuations and surge
Automatic Voltage Regulation corrects brownouts/ over-voltages w/o using battery power
LCD screen reports real-time UPS and power status
Garantie de base Tripp Lite de 3 an et assurance à vie Ultimate de 250 000 $
Ideal for desktop computers and audio/visual equipment
10 protected outlets; 5 battery-protected/ 5 surge-only
Plugs into any NEMA 5-15R socket
Voir tout
Connaître son équipement
Aucune description marketing n'est disponible.
Tripp Lite SmartPro LCD 120V 50/60Hz 1500VA 900W Line-Interactive UPS, AVR,
is rated
4.76
out of
5
by
71
.
Rated

5

out of

5
by
Chris
from
Doing well
I have two of these and they're great. Currently have one supporting two computers, hard drives, a Eizo Monitor, & an Epson Scanner. The other is also supporting two computers.
Date published: 2017-01-07T00:00:00-05:00
Rated

5

out of

5
by
Pepechevron
from
Worth every penny
I work at home and I need I reliable power source and the Tripp Lite 1500 does just that, my previous computer was blown by lighting the main chip got melted, I have been using this ups for a couple of weeks now, and the power lines outside my house were stroke twice by lightning and this ups protected my computer perfectly, I could not be happier.
Date published: 2017-06-20T00:00:00-04:00
Rated

5

out of

5
by
Kozanno
from
Solid backup device
We recently moved to a more rural area that immediately stuck us with some fall brown-outs. I had never had a battery backup solution in place because we used to be in a skyrise building in downtown Minneapolis, that had generator backup power. We had never had a power failure. Now that we're in a suburban neighborhood, thunderstorms and winter storms have quickly made it clear that my equipment was at risk, so I started the hunt for a UPS. The budget was limited - I needed a good product at consumer pricing. The Tripplite, Smart Pro came just in time. The day after I hooked it up we experienced a major outage. It kicked in and did its job as expected. the power was out longer than the battery, so it gave me time to simply shut everything down normally. The unit is plug and play, no software to configure. So far, no complaints and I would recommend this product.
Date published: 2016-12-17T00:00:00-05:00
Rated

5

out of

5
by
Marc
from
Replacement of Ultra 1500 UPS
I purchased this to replace a defective Ultra 1500 UPS. I also have 2 American Power Conversion SmartUPS 1500 units which have worked well over the years, but when comparing purchasing another of their units vs. a TrippLite I decided to give TrippLite a shot. I am pleased with it so far after about 60 days, and it is comparable to the their units I still have but at a significantly lower price point. The LCD display shows the same information as theirs and so far it's handled my needs just as well.
Date published: 2017-03-31T00:00:00-04:00
Rated

5

out of

5
by
jimsadpa
from
A good surge protector
Very good protector easy to set up and register.
Date published: 2016-11-14T00:00:00-05:00
Rated

5

out of

5
by
EB
from
Great Product
Bought this for my A/V equipment. Works great!!! All the outlets I need.
Date published: 2017-02-16T00:00:00-05:00
Rated

5

out of

5
by
Aldo Alfaro
from
I bought tripplite products of very good quality.
the tripplite products are of very good quality, although you have to know how to choose the right product for each need, when the product is not the indicated one can be problems.
Date published: 2017-10-17T00:00:00-04:00
Rated

5

out of

5
by
Chuck
from
I feel secure with this UPS protecting my equipment
As I am sitting here in my rural home the wind is blowing and the rain is driving sideways. Minutes ago while doing my daily business the power went out for a minute. No problem with the Tripp-lite battery backup on duty. I was able to complete my work with not so much as a hiccup. If you don't have your equipment protected you should. That small power failure could have been enough to take out my hard drive and leave me high and dry with months of work lost. Not to mention family pictures and other valuable data.
Date published: 2015-12-03T00:00:00-05:00
Rated

5

out of

5
by
Terk
from
Good UPS, great support experience
I have a single computer which is always on hooked to this UPS. It generally will keep that system up for 20 minutes or so of a power failure. I had my first UPS of this model for about a year when it started beeping and giving me a fault notice and it wouldn't keep the system on with power failures any longer. I contacted support and after just a few questions they sent a replacement unit which has been working fine since as far as I know as I have only tested it once since then.
Date published: 2017-08-23T00:00:00-04:00
Rated

5

out of

5
by
SerenityChuck
from
Easy Install
Just installed, took minutes. Works well so far. Will update as we have power hits.
Date published: 2013-09-13T00:00:00-04:00