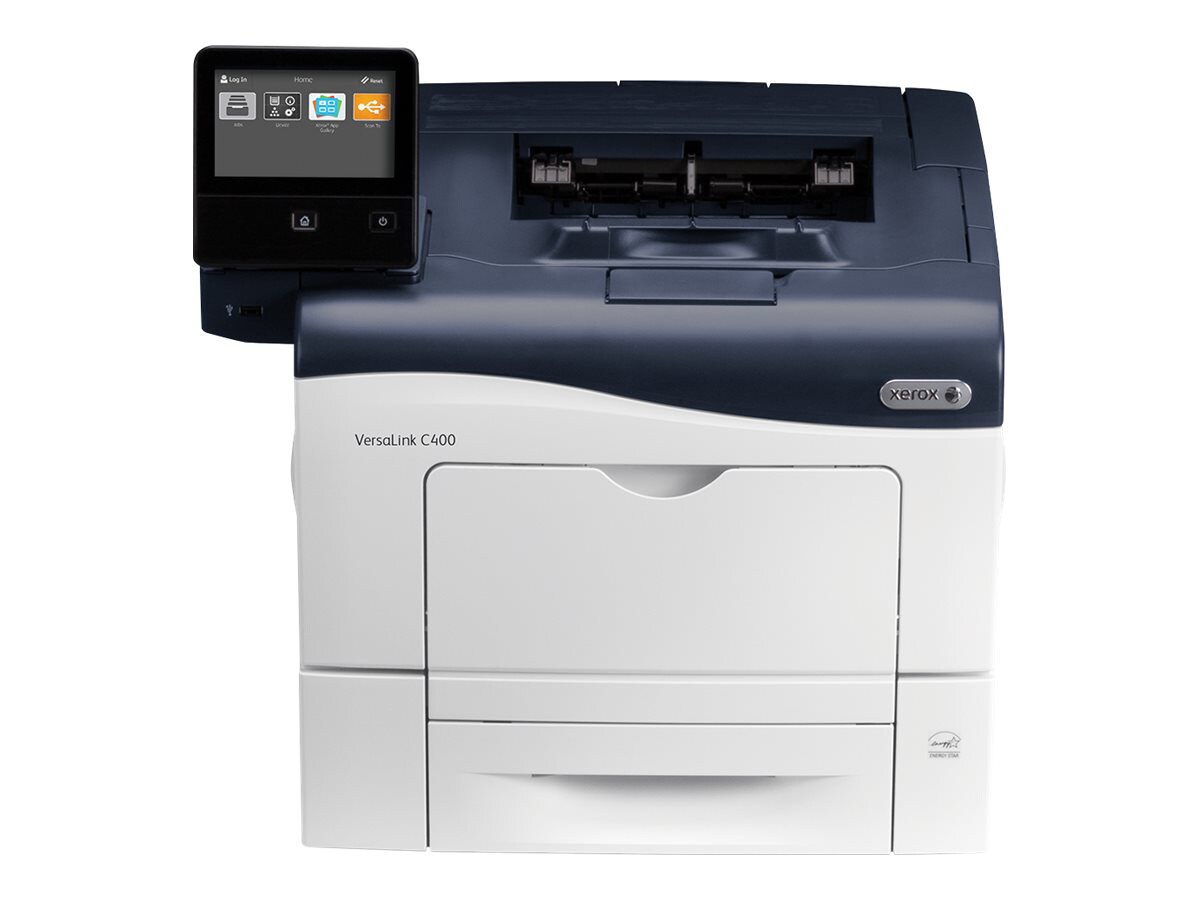 Caractéristiques techniques en un clin d'œil
Imprimante
Recto verso
A4/Légal
Jusqu'à 36 ppm (mono) / jusqu'à 36 ppm (couleur)
Gigaoctets LAN
USB 3.0
Couleur
Laser
101.6 x 152.4 mm (min.) - A3/Ledger (297 x 432 mm) (maximum)
Capacité : 700 feuilles
NFC
Voir tout
Connaître son équipement
Aucune description marketing n'est disponible.
Xerox VersaLink C400DN - printer - color - laser
is rated
3.70
out of
5
by
64
.
Rated

5

out of

5
by
dsdewitt
from
great prints, quirky printer
20 days after receiving this printer, It would no longer print cyan or magenta. yellow was streaking and causing yellow halo effect around images. Black text seem to print fine. Since I use with Xerox printers, both small and larger. I have had experience working with there tech support. Called the number listed on their web site. Listen to the standard recorded red tape. Had a live english speaking tech on the phone in a minute or so. After describing my issue and my trouble shooting. He knew what to do. He told me they would send the parts and if I had any issues installing them, to call back and he would help. The parts arrived by 10 the next morning. Since I have worked on many Xerox printers I had no problem install the parts. I can see that some tech challenge people may have problems with the provided instructions. Printer is up and running just like new. Just hope it last more than twenty days. We have two of these here and both print great. Maybe a bit of delay for first print when printing over network. Would be nice to have it automatically pickup from manual tray. Our other versalink c400 is on a Mac. Every once in a while you just can not print to it. I can go to its internal web pages, so not a network issue. It's screen is active. So I found to just restart the printer and all is good. Seriously this is a wonderful color printer, just a few quirks.
Date published: 2021-10-13T00:00:00-04:00
Rated

5

out of

5
by
agapenet
from
Great Work Horse – Excellent Value
We've owned Xerox machines for nearly fifteen years, and just upgraded our Phaser Colorcube 8570 for a Xerox VersaLink C400DN. It took a moment to get used to, only because the older Colorcube automatically sensed what size paper or envelope was in the manual tray. I didn't know on the newer VersaLink there are 2 places on the printer itself you have to change a setting each time a different job is sent to the manual feed tray. It's a little annoying, but livable. That's the reason I deducted a star both for Design and Ease of Use. Speed – While the specs have this printer slightly slower than the Phaser (Colorcube) 8570 we were using, we're finding that this new VersaLink C400 is ready to go much faster and doesn't take all the warm-up time the older Phaser models do. Ergo, for most of our print jobs, this VersaLink C400 printer is way faster. The VersaLink C400 also doesn't have to keep the ink hot like the solid ink Phaser printers. I imagine our electric bill will be relieved. This is now our second of two VersaLink C400 printers. We love em.
Date published: 2019-02-21T00:00:01-05:00
Rated

5

out of

5
by
jimg57
from
Great product,could be better
I have had this printer for about 2 weeks now and it does a great job printing with great color. I would recommend this printer. The only thing I do not like about it is the ability to do auto duplex printing on 65 lb. cardstock. I use 8.5 x 11 inch stock that is perforated to be 10 x 7 inch, that way I could print to the edge of the card. It will print the one side just fine but will jam when going back in the machine to print the other side, but if I remove the edges to make it 10 x 7 it will duplex just fine. Also, it will not duplex using 80 lb glossy cardstock that is perforated to print 2 up A2 Cards. Overall though it is a good machine.
Date published: 2018-11-14T00:00:01-05:00
Rated

5

out of

5
by
VINCENT F.
from
This printer is awesome. Printing is quick and the toner is lasting. I enjoy it greatly.
Date published: 2020-06-12T09:28:41-04:00
Rated

5

out of

5
by
RSC35
from
SImple to use, Fast and efficient
We love our VersaLink C400. It prints fast and is so easy to navigate and use.
Date published: 2018-03-08T00:00:01-05:00
Rated

5

out of

5
by
Adam915
from
Great color and easy to use
Bought this to replace an inkjet printer and wish I'd done it sooner. The speed and printer quality is a night and day difference! I've printed newsletters, brochures, and invitations all without a hitch. The color looks fantastic. The screen is really nice but I think I still prefer physical buttons (I'm old school). Wish the toner was a bit cheaper but it doesn't look like I'll be needing to buy any for a good while.
Date published: 2017-08-02T00:00:00-04:00
Rated

5

out of

5
by
Shahab Ali
from
Excellent : Top of all
This is the best A4 Color Printer i have ever used in my whole life. i recommend all users (who wants A4 color) to buy this.
Date published: 2018-01-25T00:00:00-05:00
Rated

5

out of

5
by
Tee
from
disappointed
Does not fax ,needs kit to become wireless ,not worth the money spent
Date published: 2019-05-01T00:00:00-04:00
Rated

5

out of

5
by
Kim56
from
Great Printer
I have had this printer for a while now and it works great. I print postcards, letterhead, regular paper, envelopes and it works beautifully. I would recommend it to anyone.
Date published: 2019-05-21T00:00:00-04:00
Rated

5

out of

5
by
Alex2502
from
Easy interface & high quality prints
I work at a non-profit and our printer gets a lot of action. This scans well, prints cleanly, and does 2-sided jobs well. We sometimes experience paper jams when using cardstock, but otherwise its a great piece of equipment.
Date published: 2019-01-29T00:00:00-05:00
Rated

5

out of

5
by
Erik32
from
Print is great
Speed of touch pad is very slow. Function is good. Smaller sized paper is difficult to use.
Date published: 2019-01-30T00:00:00-05:00
Rated

5

out of

5
by
D Stotts
from
Good product-just a few gliches
I like this new machine but the gliche I have is when it does not print because the paper or something else is wrong. I cant get the job deleted and I cant figure out how to change the problem. Also, when I change to black and white for one print job, you have to go into the printer properties to change it back to color. These waste my time.
Date published: 2019-06-02T00:00:00-04:00
Rated

5

out of

5
by
TenczarTeam
from
Overall this printer is good
I am a Real Estate agent in San Jose and I heavily depend on my printer for a majority of my marketing needs. Overall the Versalink C400 is a decent printer. The speed of printing is great and the picture quality is good. My only issue with the printer is that it seems to have a hard time printing on Heavy Card Stock or Index type paper. Other than that I like this printer a lot.
Date published: 2019-02-01T00:00:00-05:00
Rated

5

out of

5
by
Centra360
from
Excellent Print Quality
Just purchased this printer to replace our 10 year old Xerox Phaser 8860. Although I was sorry to see the Phaser go after all its hard work :-), it was very adequately replaced by the Versalink C400. Print quality is excellent! Presentations look professionally done! Easy to set up and start printing!!
Date published: 2019-01-29T00:00:00-05:00
Rated

5

out of

5
by
GC
from
Reliable and easy to setup
This printer replaced a color inkjet which I was always fiddling with to get to work. While actual photos do not come out as nice as the inkjet when it was working, all other media comes out beautiful and with a lot less hassle. Easy to maintain and works over my home network without any issues. Nice printer. Especially like the super size laser cartridges for each of the colors...really reduces the cost per page for color to a very low level.
Date published: 2018-12-30T00:00:00-05:00
Rated

5

out of

5
by
gma209
from
Not as good as the previous printer
This printer was recommended to me by Xerox to replace my previous printer, which I loved. This one doesn't match up. Print quality is good, but you have to get up and change the settings every time you print something different, which I wish it detected automatically. The features are more complicated and set up took longer. Slightly disappointed and will probably shift to another brand next time.
Date published: 2019-01-25T00:00:00-05:00
Rated

5

out of

5
by
KAB
from
Reduces errors in printing
When using the manual feed tray, you have the ability to verify what type of paper you are using whether it be for labels or envelopes or letterhead. At first, it seemed annoying to have to verify what you are printing on but it has saved a lot of misprinting and errors. A very handy feature to have once you get used to it!
Date published: 2019-03-12T00:00:00-04:00
Rated

5

out of

5
by
Kim1974
from
Great Printer
This printer has been great. I print many different types of medium and it does it all (post cards, letterhead, envelopes, card stock, labels). Easy to use and clear printing.
Date published: 2019-01-02T00:00:00-05:00
Rated

5

out of

5
by
MickinYork
from
Annoyingly over complicated
This is quite the most frustrating toner printer I have ever had. Unless the settings on your computer match exactly those on the printer, it won't print. Plus, you get about a 50 sheet warning before your toner expires – nowhere near long enough to re-order for a rush job, and once it says you're out of toner, you cannot override it (except to print in black only). Let's suppose the magenta cartridge gives out, you would think that deleting any red on the job would allow you to print anyway. Dream on. Why did I leave my tried and trusted previous manufacturer for a cheaper on-the-day deal with Xerox? Dunno, but won't repeat the mistake.
Date published: 2017-11-20T00:00:00-05:00
Rated

5

out of

5
by
APRYLE
from
I WOULD BUY ONE FOR HOME
HIGH COLOR YIELD, HIGH VOLUME PAGES, GREAT FOR THE AMOUNT OF PRINTING WE DO A LOT OF PRINTING IN MY OFFICE GREAT SIZE JUST WISH IT WAS A LITTLE FASTER BUT NOT REALLY SLOW AT ALL
Date published: 2019-06-18T00:00:00-04:00
Rated

5

out of

5
by
K
from
This product is flimsier than the solid ink units we had used for years
We're frustrated with this model. We've had it for about 2 months, replaced toner cartridges, and the other thingie. Every time we touch something, it feels like it will break off. The colors are disappointing and inconsistent compared to the solid ink.
Date published: 2019-04-17T00:00:00-04:00
Rated

5

out of

5
by
Tipstechguy
from
This product has proven to be reliable and trouble free so far
I am a "Computer Media Specialist" for a public Middle/High School. I have been using the Xerox Phaser and ColorQube solid ink printers over the years with beautiful printouts, however there has always been an issue with print head alignment, sensor failure, "error code" or some other pesky issue that the printer won't work anymore, (school districts rarely repair items, but replace items). I decided to go with a color laser printer with toner instead, I am very pleased with the Versalink C400 so far, and really don't anticipate any problems, it seems it is built well and the technology is stable on this printer
Date published: 2019-03-18T00:00:00-04:00
Rated

5

out of

5
by
Miguel
from
It's a great light weigh printer, except
I like the printer very much. The speed is good, color is great and accurate and the duplex feature works well. Also, the control panel is very convenient. However, the envelope printing has been a total frustration. I started off trying to print envelopes from Word using the envelope feature and the bypass tray and that didn't work, tried to print envelopes from the bypass tray with my own envelope page setup, didn't work, then change the default to envelopes which was a mistake because I'm having a problem reverting back to standard 8.5 x 11. I really like the printer as it fits what I need and will be happy with it once I get the envelope featured figured out.
Date published: 2018-10-18T00:00:00-04:00
Rated

5

out of

5
by
Sterk2
from
works great so far
Installed on our network for most users without problems but for some that had several previous Xerox printers it wouldn't install with out deleting a few Windows registry keys. After that it was good.
Date published: 2018-03-28T00:00:00-04:00
Rated

5

out of

5
by
USAFS22
from
Not the Best Printer for Small Business
I purchased this printer for my small business, and am using it to print carbonless forms, pads, etc. I purchased this C400 to replace my smaller HP printer that suddenly began experiencing problems. I was much happier with my HP printer than I am with this Xerox C400. The quality of the C400 is excellent if you're printing just a few forms at a time. However, when printing 50 or more forms, the print quality goes out the window. The print is not crisp, and the colors on the forms look like someone took a sponge and ran it across the form before it dried. I print vinyl labels for some customers, but unfortunately this printer doesn't print on vinyl. The ink doesn't dry on the vinyl and it all comes off on your hands when handling the paper. The ink cartridges are over $200 each and don't print a fraction of what they say they will. The only good thing that I can say about this printer is that it is fast. It prints a form per second. Unfortunately the quality is terrible when printing when printing more than just a few forms, so the speed is obsolete. If you're looking for a quality small business printer, stay away from the Xerox VersaLink C400. I have had this printer for a few months now and have regretted buying it every day since. Unfortunately I'm stuck with it until I can afford something else...which will be another HP.
Date published: 2022-01-27T00:00:00-05:00
Rated

5

out of

5
by
mychrch
from
Decent Printer
The printer overall is good. It is VERY expensive to replace ink! That is the biggest fallback. It is fast and has lots of options.
Date published: 2020-10-26T00:00:00-04:00
Rated

5

out of

5
by
ndtwhite
from
Good not Great
It does everything I would like it to, but every now and then it goes offline then gives me print errors. I have to uninstall then reinstall back on computer.
Date published: 2020-03-29T00:00:00-04:00
Rated

5

out of

5
by
Fish
from
Very hard to connect
Expensive with limited features. Quit working after a short move to new office. Dead-no power. Hard to connect to WiFi. Tossed it in dumpster
Date published: 2020-09-24T00:00:00-04:00
Rated

5

out of

5
by
Andy YourLaser
from
Unreliable and poor support afterwards.
Bought early for an anticipated Christmas printing rush. Two months and 200 pages later it failed - just when it was most needed. Engineer visited quickly, but pronounced it dead and would need swapping. Two weeks on, I have to phone Xerox daily to be told that this is being arranged and that they will get back to me. They haven't. I've had to buy another (non-Xerox) printer.
Date published: 2020-12-02T00:00:00-05:00
Rated

5

out of

5
by
PrinterX
from
Works great when it is online
Printer is often offline and doesn't communicate with wifi. What's more, always it prints a test page upon rebooting wasting precious ink. Haven't figured a way to turn off this auto-print feature.
Date published: 2019-12-22T00:00:00-05:00
Rated

5

out of

5
by
AH
from
Goes to sleep and won't wake up without powering off/on
I spent over an hour on the phone with a very helpful customer support person the other day to try to help me with the "sleep" issue on this printer - but it still has the problem and now, since then, it's slow when I click on printer properties. Just doesn't seem like it should be this hard to print a page. Won't purchase again.
Date published: 2020-06-01T00:00:00-04:00
Rated

5

out of

5
by
Toni01
from
Great print quality
This printer gives a great clear print. The drawbacks are 1. No way to cancel the print job once it has started 2. When printing an envelope or other non standard paper You have to change the settings on your computer as well manually on the machine. And then change them back. This seems very backwards and non-intuitive. This is my second Xerox printer. I would not have purchased this if I knew it was going to be so much trouble to print an envelope.
Date published: 2020-02-07T00:00:00-05:00
Rated

5

out of

5
by
Jack
from
good solid printer
This printer struck me as quite heavy. Which I am happy with because we are using this printer in a demanding environment. We print a ream of paper every two days. It is great to be able to put a whole ream of paper in the printer at one time. This printer was very easy for us to setup and use. We do have an IT department and the drivers installed flawlessly. Haven't found any short comings yet.
Date published: 2019-12-05T00:00:00-05:00
Rated

5

out of

5
by
MrsB
from
Good Print Quality, but Slow Warming Up
I did not personally choose the printer, it was ordered for me at work. I was thrilled to have a brand new printer as my old one was over 15 years old. So far the VersaLink C400 print quality is very good as you would expect from a new machine, crisp print and great color printing. There is a long pause getting that first sheet to print. So if your job requires mostly printing one sheet at a time be prepared to wait. On the other hand, with bigger jobs like check runs, once it does finally get started the printing goes very quickly. So there is that trade off between printing 1 page at a time and heavy duty printing. Overall I am very happy with this printer and it should last a long time.
Date published: 2020-02-26T00:00:00-05:00
Rated

5

out of

5
by
Andy
from
Excellent print quality/performance to cost
Very good print quality, for the price, and fast enough for my use. Our small office of 6 people use it many times daily, with superb results and highly reliable. It replaced a prior Xerox printer, replaced after 6 years or so of reliable use. Once I went to Xerox, I've not considered another brand, and this printer is the right price and capabilities for my offices use.
Date published: 2020-06-29T00:00:00-04:00
Rated

5

out of

5
by
Winslowtech
from
Great printer, but a little glitchy
Got this printer mainly because it has a real PostScript interpreter. The color matching is very good for a printer in this price range and the build seems solid. It's a little finicky when it come to matching apple print drivers, media types, etc.; so be prepared to argue a little with it when printing labels, card stock and envelopes. Did a have a major problem when it asked for a firmware update, and the printer bricked itself because of a write error during the process. Not only time this has happened apparently--online instructions for loading the firmware manually got it back up and running in no time. The built-in webserver is a very nice feature, as well as the ability to assign jobs and codes for billing jobs. Overall an outstanding printer for the price, and a great little printer if you have a small shop or business.
Date published: 2020-01-04T00:00:00-05:00
Rated

5

out of

5
by
ggrims
from
Poor connection to workstations
8 out of 10 of our users linked to this printer a getting a print error. Uninstalling and reinstalling the drivers does not work. The printer is only a year old and will have to be replaced. I doubt we will go with another Xerox.
Date published: 2019-12-16T00:00:00-05:00
Rated

5

out of

5
by
Ministry Printer
from
Wish It Were Smarter
I went from ColorCubes to the C400 and C405 Printers. Print quality is about the same, though the ColorCube has a slightly glossier look to the printed page. These C400 and C405 printers are faster than the ColorCube printers, in that they don't waste time warming up. Overall, they are great printers. The only negative so far (and it is major for me), is that they are not as smart as the ColorCubes. For example; to print a folded double-sided bulletin on the ColorCube, I only had to select 2 options – Double Sided - Flip on short edge, and then the bin where I loaded the paper. The printer knew how to adjust for portrait and landscape and just started to print upon request. With the C400 and C405, I not only have to make the above selections, but now have to go into another menu and select portrait or landscape AND ALSO have to make selections in both the GUI and on the printer as to what kind of paper I will be using. THIS MAY BE A FEATURE TO SOME PROGRAMMER, BUT IT'S ABSOLUTELY A FRUSTRATING AND ANNOYING WASTE OF TIME. The printer just will not print if the selection in the GUI EXACTLY doesn't match what you told the printer you've loaded in the tray. THIS IS TOOOOO much. I just need a printer that prints when and where I tell it to. I'll figure out what paper to use – Don't need or want my printer to second guess me every time!! THIS NEED TO BE AN OPTION THAT CAN BE TURNED OFF! If Xerox can either upgrade this firmware, or tell me how to disable this feature, I would recommend these printers to others. If not, Buyer Beware of this extremely time-wasting feature.
Date published: 2019-10-07T00:00:00-04:00
Rated

5

out of

5
by
water girl
from
just a few quirks
I really like this machine and would rather LOVE it; BUT..... I wish it would automatically take the paper in the bypass try instead of ALWAYS having to approve which paper size; type, color, etc. is in the tray. It EVEN does this EVERY time tray 1 or 2 is opened & closed. It is annoying and slows me down since I always have to go to the printer; confirm then wait for the printer to start up. If I have chosen the paper type and size within my software (word, publisher, excel, etc.) WHY do I have to keep changing it on the printer; shouldn't that already be a given? It is not fast to change between letter, index cards and envelopes and back & forth so I have to group my tasks by printing papers for more convenience (which isn't really convenient for me). AND since I have the "free phone support" it would be great to have a phone number on my supplies assistant screen that says I have "free phone support" instead of me having to search all over the internet for a phone number to call for my "free phone support" ughh.
Date published: 2020-01-09T00:00:00-05:00
Rated

5

out of

5
by
ECLT
from
Disappointed
I bought my printer last month after lots of research. I had an HP but it was having problems and was discontinued. After much study (but evidently not enough), I chose the Xerox C400 (over many other brands.) My printer is on a table a little away from my desk. I assumed that when I opened my bypass tray it would print from there without having to reset it every time. I put my checks in the bypass, go back to my desk to print them and then have to go back to my printer to reset them to print from the bypass. One tech guy I talked to right after I got my printer and it didn't pull from the bypass "showed" me how to do it. I am having another issue yesterday and today so I called back today (ref. #25423847) and "when it happens again" I will call back and give the reference number (no solution), I asked the tech person I had on the phone about my bypass tray. He informed me this model does not use the bypass tray as the primary if it is open, you have to reset it each time. I absolutely would not have bought this particular printer if I had known it did not do what I expected.
Date published: 2020-09-24T00:00:00-04:00
Rated

5

out of

5
by
lee
from
Best printer i have ever owned
I love the speed, performance, and the ease of maintenance. Mostly I love the ink is cheaper than my ink was for a low level HP printer.
Date published: 2020-09-24T00:00:00-04:00
Rated

5

out of

5
by
David
from
This printer performs beautifully
This printer was purchased for a home business that requires fast, high-quality printouts, with low maintenance needs. This printer excels on all issues. In addition, color prints are vibrant, the website is clear and easily navigated, and the printer, itself, is affordable, as are its supplies and maintenance costs.
Date published: 2020-07-08T00:00:00-04:00
Rated

5

out of

5
by
Bebeque
from
Good Product!
I would like to emphasize that this is a unique, enjoyable product. I hope to keep it in the family.
Date published: 2020-05-16T00:00:00-04:00
Rated

5

out of

5
by
Hitch
from
Works great, but disconnects
When the printer is connected (online it works great), but it randomly disconnects from the network and I can't get it to reconnect.
Date published: 2021-05-07T00:00:00-04:00
Rated

5

out of

5
by
Taylor
from
Office printing quick as a breeze.
We bought this printer for our office where we print a ton of marketing material for the company. This thing keeps us afloat. Honestly, we've never had issues, and it's really easy to use as a tech aware person. That's the only downside, the UI isn't necessarily perfect for those of us less tech-savy, but that's usually true with printers.
Date published: 2020-08-25T00:00:00-04:00
Rated

5

out of

5
by
Michael
from
Great Value, Great Quality
I have had a color Xerox printer for 12 years and purchased the VersaLink C400 a few years ago and have been impressed with image quality, speed and as well, the duplex printing capability. I highly recommend it, especially when you add its reasonable price.
Date published: 2020-08-22T00:00:00-04:00
Rated

5

out of

5
by
Kade
from
Just so-so
If you want a reliable printer to make copies then this would be great. If you want a printer to scan, fax and print from your computer without problems on a regular basis, this is NOT your printer. You cannot count on it from one day to the other to print from your computer and to scan to your computer. Good luck with that!
Date published: 2020-06-29T00:00:00-04:00
Rated

5

out of

5
by
Fun2020
from
WONERFUL PRODUCT
This printer has great features and is the best Xerox product I have ever bought and I have used several of them. This printer is a savoir for my company and has allowed me to expand.
Date published: 2020-11-24T00:00:00-05:00
Rated

5

out of

5
by
AZRoger
from
Good product with some bad behaviors
I like the print quality and speed of printing. There are two things that are not good. (1) When I put legal paper in the bypass tray and print a legal size document, all is well. What's bad is that the printer still uses the legal paper for the following letter sized documents. I have to physically remove the legal paper to have is stop using that tray. (2) I can't can't walk away from the printer and really trust that it will print. It often throws an error code and says to wait until it has finished recording the details. Then I have to power it off and wait for the blinking (literally) power light to go dark. Then I can power it back up again. It is OK after that - until it's not OK. I've had the printer several months and this has occurred a dozen times. Driver updates made no difference at all.
Date published: 2019-09-23T00:00:00-04:00
Rated

5

out of

5
by
scott833
from
hard to reset after entering sleep mode
This printer is less than 6 months old. The only way to bring the printer out of sleep mode is to turn it off and back on. It tries to reset at least 7 times before it is functional. We must turn it on and off several times each day. We have contacted Xerox twice and each time we have been told that Xerox is happy to send a repairman to our office but it will cost $299 for the first 30 minutes and $80 for each 30 minutes thereafter. The printer is under warranty but Xerox wants to charge us for the repair trip?? The printer only cost $450.00!! I am extremely disappointed with this printer and Xerox and will not be a return customer.
Date published: 2019-09-30T00:00:00-04:00
Rated

5

out of

5
by
VersaLinkHater
from
A Brick
Our office traded out some HP printers that worked great for these terrible VersaLink400 printers that either do not work or were not set up properly. We have had them a year and so far all I can get it to print is 8 1/2 by 11 paper. I used to be able to print all kinds of labels on the by pass tray but when I try with this machine all I get are error messages. A "technician" set up a "template" that was ridiculous to use to print one of the labels that I used to use. I hate this machine and wish that I could get my old HP printer back. I was much more productive using it. Now I use an ancient electric typewriter in the hallway to type labels. Really!
Date published: 2020-11-25T00:00:00-05:00
Rated

5

out of

5
by
DarrinP
from
Excellent Printing
I have owned this printer for 2+ years now. It is rock solid and the print quality is excellent. At home, I purchased the equivalent Brother printer and the difference in print quality is clearly visible - using the same exact paper!
Date published: 2021-04-29T00:00:00-04:00
Rated

5

out of

5
by
rgdavisatc
from
nothing to write home about
Just a basic printer that I nothing to write home about. I will continue to purchase canon printers.
Date published: 2020-02-08T00:00:00-05:00
Rated

5

out of

5
by
DD love the machine
from
It's fast and quiet
I would buy another. Price is right good quality. what else do you need.
Date published: 2020-03-13T00:00:00-04:00
Rated

5

out of

5
by
SusieGP
from
Love this copier
This copier is so easy to use! I set it up out of the box and began using it immediately.
Date published: 2019-09-09T00:00:00-04:00
Rated

5

out of

5
by
pres154
from
Ease of operation and support is excellent
I have found this printer to be an excellent machine of high quality. Very little concerns or maintenance issues so far. Support staff on and to lead you through problems issues were both responsive and knowledgable
Date published: 2019-07-25T00:00:00-04:00
Rated

5

out of

5
by
JSimpso
from
Great Produce
We had a Dell printer for about 12 years, great workhorse. Finally started to decline and had to find a replacement, worried that we wouldn't find anything of good quality and ordered the Xerox C400 - it's better than what we had! Quality is excellent, speed is excellent, can hold a whole ream of paper, and the ease of replacing cartridges is wonderful! Would absolutely recommend this for a small office like ours.
Date published: 2019-09-10T00:00:00-04:00
Rated

5

out of

5
by
BethKL
from
Excellent printer for the price
This is a 600x600 dpi (dot per inch) printer and not a 1200x1200 dpi printer, so if the highest possible print quality is a requirement in a given application, choose a 1200x1200 dpi printer instead. Also, while some competing color laser printers are equipped with so-called REt (Resolution Enhancement technology) that works to improve the print quality beyond what one would expect given the native resolution of the device, the Xerox VersaLink C400 series of printers appear to lack such a feature. With the C400, we have found that using a high-quality, very smooth paper stock, rather than lower-cost, rough-surface copier paper, results in a visible improvement in print quality. While the higher-quality paper may cost somewhat more than ordinary copier paper, we feel that the improvement in print quality is well worth the extra cost and helps to compensate for the apparent lack of an REt-like feature. We consider the C400 to be an excellent 600x600 dpi PostScript printer given its price and would highly recommend it to others. Oh, and so far at least, we have not experienced a single paper jam - and the duplexing feature works perfectly.
Date published: 2019-07-30T00:00:00-04:00
Rated

5

out of

5
by
Kelly
from
Xerox 400
This printer is sufficient as "extra" printers for staff that don't need higher quality documents. Our bookkeeper also uses this for reports and check writing and it is adequate for this.
Date published: 2021-08-19T00:00:00-04:00
Rated

5

out of

5
by
Mirox21
from
- VersaLink C400Great Color and Value
Several years ago I purchased the VersaLink C400 as a replacement for my Xerox Phaser 6300. Immediately, I found it to be a world of improvement in print quality, speed, and color accuracy. And, I still think that today. It seems that the color clarity and sharpness keep getting better. This printer offers a wide range of features that I use including envelopes, multiple paper sizes and weights, ink savings, and black & white instead of color, and enhanced color, plus the duplex printing option. The C400 price is a great value, too...it matches its light weight, compact desktop size. Really like the printer!
Date published: 2021-07-21T00:00:00-04:00
Rated

5

out of

5
by
xdelk
from
Not user friendly
Great print quality, very complicated for easy choices, not user friendly, tomer is very expensive. If you want great print quality, don't care about toner price or are willing to put up with the unfriendly time consuming machine, this could be a good printer for you.
Date published: 2021-12-16T00:00:00-05:00
Rated

5

out of

5
by
mbr
from
These are the worst printers ever
These printers will not print! The settings are too complicated and you have to go through at least 10 different steps to set up paper tray etc. We are a school that used precious grant money to buy 10 of these printers and it is horrible. I have called Xerox 3x for help and no response. I wish I had selected a different printer.
Date published: 2022-01-21T00:00:00-05:00
Rated

5

out of

5
by
Gaynor
from
Replace Black toner and restart printer
I cant print - for weeks the error message says Replace Black toner and restart printer. I have maybe done this 100 times now. It still wont print.
Date published: 2022-08-19T00:00:00-04:00
Rated

5

out of

5
by
unhappy
from
Awful
I was given insufficient information when I bought and the paper and ink wastage each time you switch it on is terrible. I bought it as a local printer and they tell me the only way to solve the issue is by making it a network printer.
Date published: 2022-05-17T00:00:00-04:00