StarTech.com and CDW make it easy to enable and enhance your tech solutions, helping you at each step.

Shop StarTech.com Products and Solutions
Trusted by IT professionals around the world, StarTech.com products offer leading brand compatibility to fit every operating system and connectivity need. Add ports to your laptop, SFP transceivers to your network or mounting TVs and monitors and get the parts needed to enhance business connectivity solutions. 

What's new from StarTech.com?
Get an in-depth look at the latest connectivity products and solutions available.

Laptop Backpack with IT accessories case
Introducing StarTech.com's new line of laptop backpacks thoughtfully designed for the IT Pro's Work/Travel/Commute needs.


USB-C to HDMI Adapter - HDR - 4K 60Hz
Connect your USB Type-C computer to an HDMI display, with a video adapter that supports HDR video and resolutions up to 4K at 60Hz.


Full Motion Monitor Mount with Laptop Tray
Raise your laptop off your desk to save space and increase productivity.


Trusted by IT Professionals since 1985.
Reliability & Compatibility. Products developed to meet the rigorous performance needs of IT Pros.

Transform Your Laptop into a Powerful Workstation
Avez-vous l'impression d'être restreint par les limites du port de votre ordinateur portable? Vous pouvez facilement augmenter son affichage, son périphérique et ses capacités USB à recharge rapide. StarTech.com's universal laptop docking stations (PDF) work with all laptop makes and models, including those with USB-C and Thunderbolt 3 connectivity.  

Display Mounts and Ergonomic Products: Work with Flexibility and Comfort
With all of the hours, you spend in front of a screen, having a workspace that's comfortable and flexible is an easy way to boost your productivity. Create a comfortable, flexible and ergonomic workspace by adding the right accessories and furniture add-ons, including cost-effective StarTech.com monitor mounts and tablet mounts.
StarTech.com defines reliability, with a wide range of products and support in the form of free pre- post-sales support from trained tech advisors and product warranties and certifications. You can count on StarTech.com.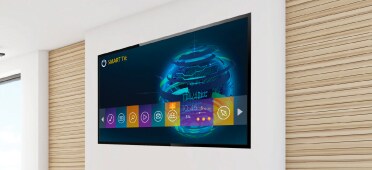 Innovative Display Mounts
With a wide selection of mounts designed with the IT professional in mind, including these unique options for demanding applications. Find the right equipment mounting hardware with StarTech.com.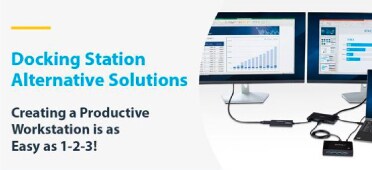 Docking Station Alternatives
Three simple steps with StarTech.com to create productive, high-performance workstations, without relying on docking stations.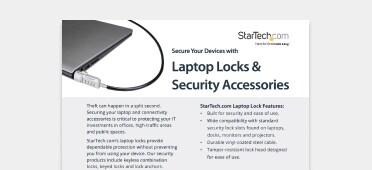 Laptop Locks from StarTech.com
Theft can happen in a split second. Secure your laptop and connectivity accessories to protecting your IT investments.