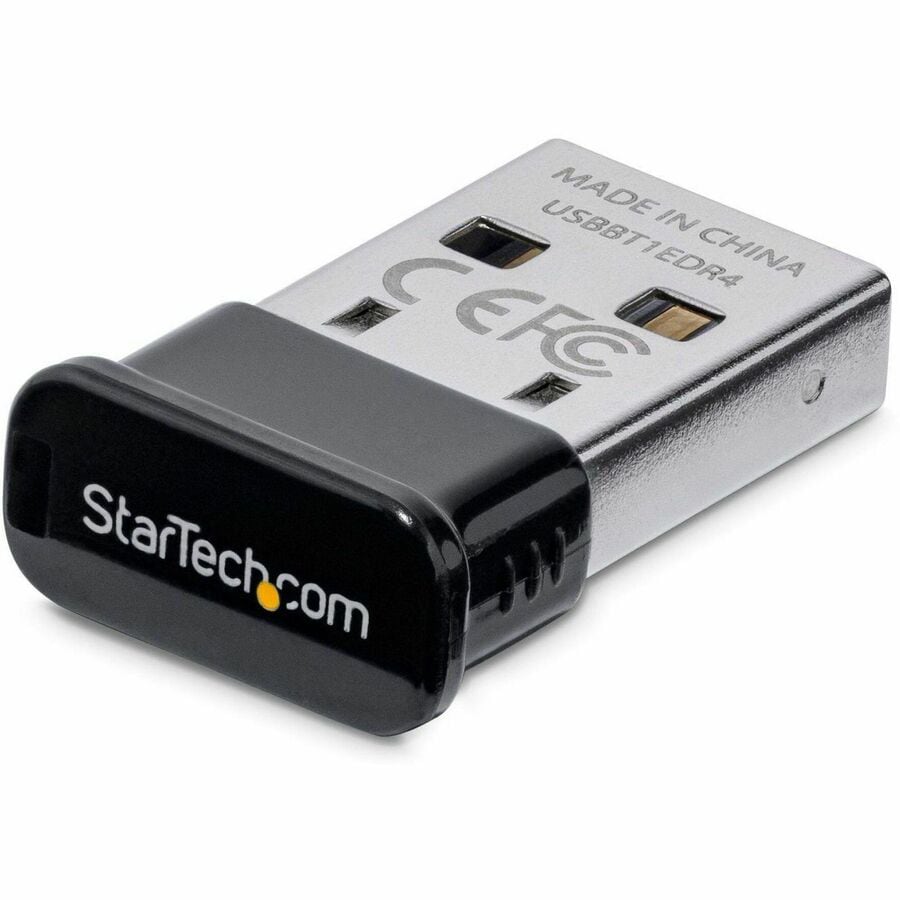 Caractéristiques techniques en un clin d'œil
Add Bluetooth 4.0 capabilities to your laptop or desktop computer through USB
Bluetooth 4.0 LE compliant Bluetooth Smart Ready transceiver
Ultra-compact form factor and Low-power consumption
Mini USB Bluetooth 4.0 Adapter/50m (165ft) Class 1 EDR Wireless Dongle
Supports Enhanced Data Rate (EDR) with data transfer rates up to 3 Mbps
Mini Bluetooth Dongle/Bluetooth Smart Ready/LE+EDR/Class 1 EDR Bluetooth Wireless Adapter/Bluetooth 4.0 Low Energy
Voir tout
Connaître son équipement
Le dongle USB vers Mini Bluetooth de catégorie 1 USBBT1EDR4 vous permet d'ajouter des capacités sans fil Bluetooth à un ordinateur portable ou de bureau via USB, avec la prise en charge de distances de transfert pouvant atteindre 50 m.

Conforme à la norme Bluetooth 4.0 LE +EDR, cet adaptateur USB Bluetooth offre des vitesses de transfert jusqu'à 3 Mb/s et une faible consommation d'énergie. Ce transmetteur Bluetooth Smart Ready représente un moyen efficace de connecter la gamme de plus en plus étendue de périphériques Bluetooth Smart sur le marché, dont les derniers smartphones et tablettes Apple et Android. La norme Bluetooth v4.0 comprend également une sécurité accrue pour tous les transferts utilisant le chiffrement AES 128 bits.

Appareil portable pratique, cet adaptateur ultra-compact est discret lorsqu'il est connecté à votre ordinateur portable; vous n'aurez donc pas à le retirer à chaque fois que vous rangez votre ordinateur dans son sac ou sa housse de transport. Il est également rétrocompatible avec les normes Bluetooth antérieures (v3.0, 2.0, 1.2 et 1.1) pour garantir la connectivité avec tous vos appareils Bluetooth.
StarTech.com Mini USB Bluetooth 4.0 Adapter - 50m (165ft) Class 1 EDR Wirel
is rated
4.25
out of
5
by
8
.
Rated

5

out of

5
by
BrotherMo
from
Works well, but not as flush with chassis as I'd like
This BT USB adapter is easy to setup and works well. My minor peeve is that the USB adapter is a bit longer than the logitech branded version.If you look at the image of the product, that black plastic housing protrudes outside the USB port -which is about 1/3 of this item.
Date published: 2016-08-09T00:00:00-04:00
Rated

5

out of

5
by
WBCilliers
from
Works perfectly with my Mac Pro Tower (Mid-2012)
I bought the Bose QC35 wireless headphones and could not connect to my older Mac Pro. Turns out the Bose QC35 required Bluetooth 4.x, and the Mac Pro has Bluetooth 2.1. So I bought this adapter and it worked like a charm. I can now connect to my iPhone 6S and switch to the Mac Pro easily.
Date published: 2017-03-26T00:00:00-04:00
Rated

5

out of

5
by
Gorilla
from
It works
It works as advertised. Was able to hookup on old laptop so i can use my Bluetooth headset. Has a decent range away from laptop.
Date published: 2016-07-19T00:00:00-04:00
Rated

5

out of

5
by
gomi
from
Manual Driver install
Windows 10 couldn't find the proper drivers for the adapter and Startech didn't have driver download for product on website. I had to use the CD. The CD installer failed to install the drivers for the adapter and I had to use device manager to point to the CD to install the drivers.
Date published: 2019-05-01T00:00:00-04:00
Rated

5

out of

5
by
BigMacPoppa
from
USBBT1EDR4 is a very good product.
Mini USB Bluetooth® 4.0 Adapter is a fantastic product! Better working range than other Bluetooth receivers/transmitters. Works great with Sony MDR-10R after checking ALL of the configuration for USBBT1EDR4. You MUST install ONLY the last version of the CSR Harmony software; if you have an older version installed, you MUST uninstall the older version first. The new version unfortunately does not include drivers for all of the older transmitters and you can't have more than one version installed at the same time.I highly recommend this product.
Date published: 2015-04-10T00:00:00-04:00
Rated

5

out of

5
by
allthunbs
from
a few surprises
we defined a requirement for a small computer and purchased an ASRock BeeBox n3000. this design lacks substantial punch when it comes to distance for the built-in Bluetooth. the beebox is attached to a 42" 1080p TV as the primary display. since this TV could be used with a sickbed, it was determined that a Bluetooth keyboard and mouse were desirable. the distance was beyond the capabilities of the BeeBox. I purchased this dongle specifically to handle the distance problem and it works as intended. there are a few things that have proven desirable, the driver software installs a second bluetooth control panel in the computer. this allows you to use speaker support close to the computer and keyboard and mouse further from the computer. there is also another complication. the dongle is directional. make sure you test the directionality of the dongle before fixing your installation. I can find no documentation that indicates what the radiation pattern is. this is good for personal security but not so good when you want to cover a wide area, i.e. a large back yard with a working gazebo.I hope this helps.
Date published: 2016-01-18T00:00:00-05:00
Rated

5

out of

5
by
RacerX
from
Bluetooth adapter
works good, no problems, nice range. only used for 5 days so far, FYI
Date published: 2016-02-23T00:00:00-05:00
Rated

5

out of

5
by
AlexK
from
Best BT adapter known to man !
Works like bt should, easy to setup and use. Its small and fits in USB 2 or 3
Date published: 2017-04-25T00:00:00-04:00
Rated

5

out of

5
by
JayMes
from
Great product
USB doggle has good range, I've been using for a month now and now issues. Reconnect without a problem upon restart.
Date published: 2015-05-05T00:00:00-04:00
Rated

5

out of

5
by
BenB
from
Key get more than 30 feets
I bought this 2 days ago to connect my headphones to my computer and I can't get further than 30 feets. I tought maybe it was my headphones so I tried with my phone and it's the samething.someone wrote that it was unidirectional so I tried to align the "signal" with me. Same results.I used a usb extender... tought maybe it was the issue so I removed it. same thing.I tried to put the dongle higher so it wouldn't cause interference with my computer... same result.For now, I'm a bit disapointed of the product.It says 165 feets... I know it's probably on a straight line with nothing in between... but 30 feets... well not far...
Date published: 2017-04-27T00:00:00-04:00