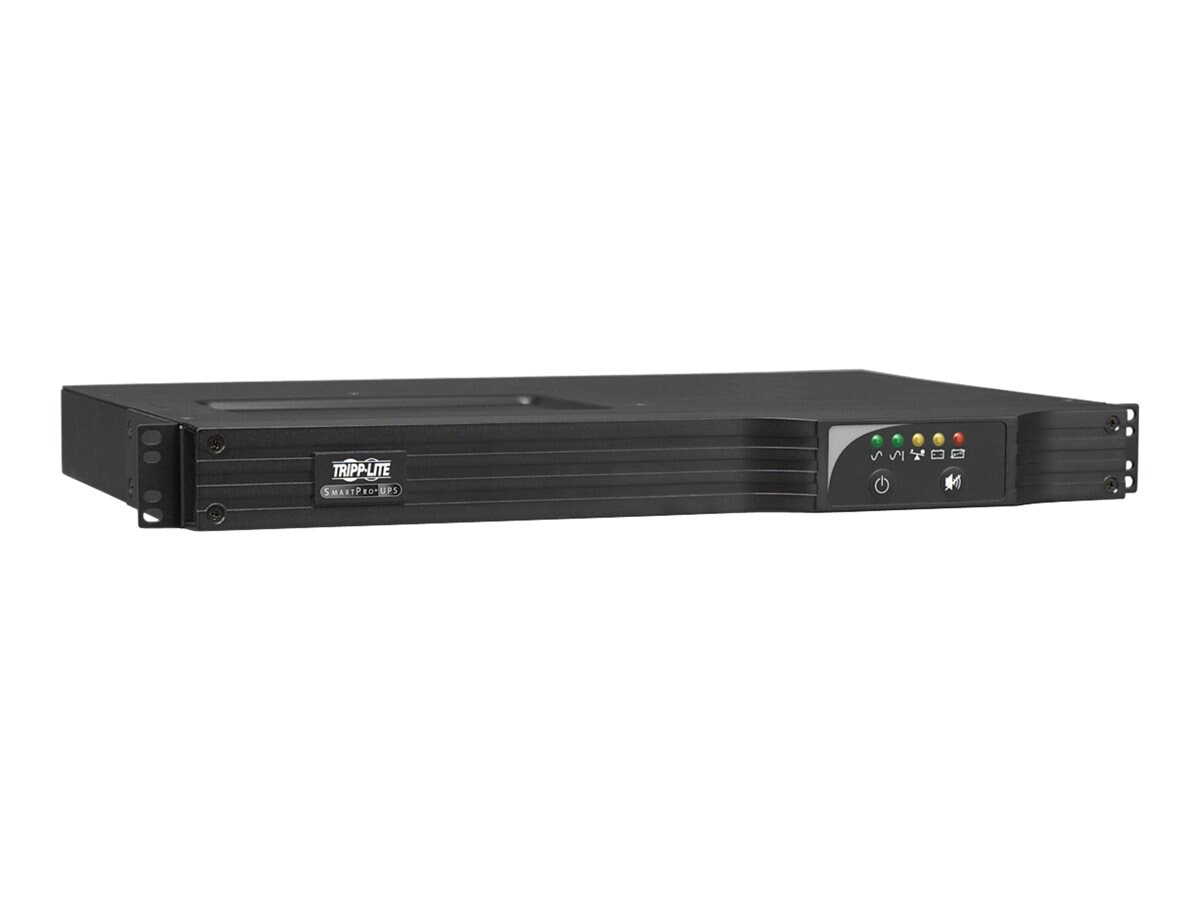 Caractéristiques techniques en un clin d'œil
Smart Line-Interactive Sine Wave 1U RackMountable Uninterrupted Power Supply w/Network Card Options provides Battery Backup through blackouts voltage fluctuations and surge
Automatic Voltage Regulation (AVR) corrects brownouts and over-voltages without using battery power
14,6 min. runtime half load; 3,2 min. full load
Ideal for servers network and telecom hardware
NEMA 5-15P input; 7 NEMA 5-15R outlets
2 year Tripp Lite Warranty/$250,000 Lifetime Insurance
Voir tout
Connaître son équipement
Tripp Lite est le plus important fabricant de dispositifs de protection d'alimentation, des produits de câblage et de connectivité ainsi que des accessoires de gestion de réseaux. Les produits de qualité Tripp Lite accroissent la fiabilité et la protection des postes de travail, des serveurs d'archivage électronique de réseau, des systèmes téléphoniques, des terminaux de point de vente, des systèmes audio et vidéo.
Tripp Lite SmartPro 500RT1U
is rated
4.71
out of
5
by
14
.
Rated

5

out of

5
by
Brian
from
Works Great
I purchased this product to replace a normal consumer grade UPS I was using as a battery backup for my home server. I'm in the process of moving everything to a rack, so I figured I'd replace my UPS with a rack mount alternative in the process. The unit itself works great and I'm very happy with in. The only drawback (which I didn't find out until after my purchase) was that the SNMPWEBCARD accessory is poorly reviewed. I was drawn to this unit based on the idea that I would later add the SNMPWEBCARD, but now I'm having second thoughts. Nonetheless, I'm happy with my purchase.
Date published: 2016-02-23T00:00:00-05:00
Rated

5

out of

5
by
Kev
from
Great product. Exactly what I expected.
This is replacing the one that we had, so it's exactly what I expected.
Date published: 2017-04-10T00:00:00-04:00
Rated

5

out of

5
by
Scott
from
Great low profile & rack mountable UPS.
I have stopped buying other brands of UPS product. This stuff always works. Priced well. Plenty of options. This is a great space saver in your rack.
Date published: 2017-09-01T00:00:00-04:00
Rated

5

out of

5
by
HFBiomed
from
Good small rack mount unit
Economical 1U rack mount unit that works well for our application (healthcare i/t).
Date published: 2011-12-09T00:00:00-05:00
Rated

5

out of

5
by
KCHSteveB
from
1U works for brown outs, but not surges!
I used to buy these by the dozen to support a offices that had a vertical Hubble cabinet with only 3U of space total. I have found that APC brand UPS's tend to die around the time that you need to replace the battery. And I mean, the entire unit dies. Trip-Lite's seem to last forever so long as you feed it a new battery every three years or so. Now the bad news. 1) These units can't take a hit. Given a brown out, or any sort of loss of power - they are fine. Give them a surge or spike, and they just SHUT OFF! 2) The management is a joke. Trip-Lite makes a small insert that provides network management. But the overall management system is terrible. And that network card costs more than the UPS itself.
Date published: 2016-09-29T00:00:00-04:00
Rated

5

out of

5
by
MRB9
from
Awesome product for Network racks
This item really fit well in all network cabinets and really gives you the time you need to keep your network up during an outage. Great product.
Date published: 2018-05-02T00:00:00-04:00
Rated

5

out of

5
by
Mel
from
We will keep purchasing and selling this product
The customer service was great when we had a faulty unit. The sent us a new one as soon as defect was figured out.
Date published: 2017-10-02T00:00:00-04:00
Rated

5

out of

5
by
JJARDINA
from
Great little UPS, needs a little more
Replaced 1U SchniederAPC with this model. So far, so good. It would've earned 5 stars if all six outputs were switchable, sadly only 1 outlet is switchable between on/off, to remote kill power. Good little UPS for the money, would have been much better if all outputs were switchable.
Date published: 2017-02-24T00:00:00-05:00
Rated

5

out of

5
by
bwnewton
from
Great UPS - Great Value
This has been a great UPS that I've used at two locations. Great value and features for a rackmount UPS.
Date published: 2011-12-08T00:00:00-05:00
Rated

5

out of

5
by
Steforce
from
Flawless
Flawless in the recording studio. Works well with computers.
Date published: 2014-10-01T00:00:00-04:00